See the 100 Hot Comics for Investment in 2022!
What's This Comic Book Worth?
"What's this comic book worth?" is a question we hear a lot.
The answer is, of course: "That depends."
There are several factors which influence the value of vintage comic books.
Demand (how many people want to own the comic book). Factors influencing demand include state of the economy (how much money people have to spare) and whether a book has inspired a movie or TV series
Supply (how many comic books are available to meet demand)
Condition (how close to mint the comic book is)
Read on for more detailed notes on why a comic book worth depends on these factors.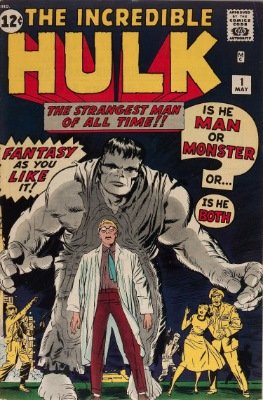 Incredible Hulk #1: first appearance of the Incredible Hulk. Most collectors would love to own this book, and therefore demand is high. Supply is low. It's a comic book worth money
Incredible Hulk #234 is a later book. Nothing really important happens in this comic book. It is not featured in a TV show or movie (yet!). It is a low-demand book.
Why is a Comic Book Worth Money? Demand is the #1 Driver of Value
New Mutants #98 (first appearance of Deadpool) is a VERY common book. It turns up in almost every comic collection from the 1990s
You hear a lot of rubbish spouted about the value of collectibles.
Limited Edition this, rare comic books that.
Two of the most ridiculous statements are:
"It must be valuable because it's RARE."
"It must be valuable because it's OLD."
If either were true, then the world's most valuable comic books would be obscure 1930s funny books. Some issues are extremely rare, with a handful of surviving copies known.
(In reality, most people don't care about those at all.)
It is DEMAND, not SUPPLY, which determines value.
A comic book worth real money is only valuable because lots of people want to own it.
I'll give you an example. New Mutants #98 (first appearance of Deadpool) is a VERY common book. It turns up in almost every comic collection from the 1990s.
It is no more rare or hard-to-find than New Mutants #97 or New Mutants #99.
But because thousands of collectors and Marvel fans love Deadpool, his first appearance is a hugely important issue. And it's a comic book worth decent money.
There are many factors which influence demand for comic books. Two of the major ones are:
AWARENESS (how many people know about a character or story). The major driver of awareness is TV shows and movies
AFFORDABILITY (how much money people have to spend on comics). If somebody has lost their job, then they are less likely to buy expensive comic books
Superhero Movies and TV Shows Hugely Influence Demand
All bets are off when a comic book movie is announced.
Marvel Comics pulled the rug when they told the world that Guardians of the Galaxy (what? who?!) would be a movie. (They even made two of them!).
First appearances of Star Lord (Marvel Preview #4) and Guardians of the Galaxy (Marvel Super-Heroes #18) saw the comics rocket in value.
The same happened to key issues of Green Lantern comic before the 2011 movie release.
The fuss tends to die down pretty quickly, and prices soften a little, but they a comic book's worth enjoys a permanent higher value in the long run.
State of the General Economy
While comic books are always appealing to collectors, nobody (we hope!) is going to stop paying their mortgage to buy a vintage comic.
Like it or not, comic book worth depends on the general economy.
2008-09 saw some of the panic in the financial markets spill over into comic collecting, with lower prices realized.
The effects of Coronavirus on comic book worth are discussed in a full article here.
Record sales in recent years go to show that there is strong support for vintage comic book prices, especially books in very high grade.
Supply is the Secondary Driver of Comic Book Worth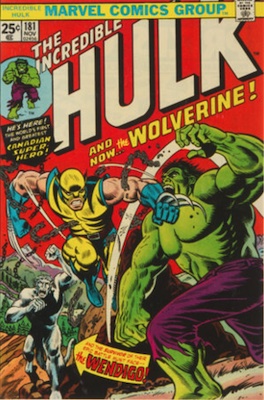 Rather common comic books such as Incredible Hulk #181 are still expensive because so many people want the first appearance of Wolverine
How rare your comic book is will have an impact on its value.
There are exceptions to every rule: some rather common comic books from the 1970s, such as Incredible Hulk #181 or Amazing Spider-Man #129, are still expensive because so many people collect that series, or (in the case of Wolverine) want the first appearance of the character.
There are also some very rare comics that not many people are interested in collecting.
Plenty of issues from the 1930s, 1940s and 1950s almost never turn up for sale, but nobody is really looking for them, and they don't fetch anything like what their scarcity should demand for them.
In most cases though, the rarest IN-DEMAND comics will be the most expensive, and net you the most cash when you choose to sell yours.
A great example is Batman #1. It's the first appearance of the Joker and Catwoman. It's a pretty rare book, and in very high demand.
Read these articles to see the value of some of the world's most popular or famous comics!
(The comic book worth article continues below)
Condition is a Huge Factor in the Value of Comic Books
This could almost be ranked at #1, because comic book worth is massively influenced by condition.
In some extreme cases (even if you don't get into fantasy land comics like Action Comics #1), the difference in a single jump in grade can be thousands of dollars.
Here's an example. Amazing Spider-Man #300, a very common late-1980s comic book.
Some example prices from actual sales of CGC graded comics are shown below. The difference between grades is quite noticeable.
CGC 9.9 $13,500
CGC 9.8 $4,000
CGC 9.6 $1,475
CGC 9.4 $800
CGC 9.2 $500
CGC 9.0 $700
CGC 8.0 $400
CGC 7.0 $400
CGC 6.0 $250
CGC 4.0 $150
Amazing Spider-Man #300, a very common late-1980s comic book but with huge demand
You'd expect a more modern comic to have this kind of pattern. What about a Silver Age comic though?
Here's the same breakdown for Journey Into Mystery #100. (9.9 and 9.8 don't exist! So I used 9.6 instead, the highest sold.)
CGC 9.6 $2,800

CGC 9.4 $1,550
CGC 9.2 $1,050
CGC 9.0 $450
CGC 8.0 $290
CGC 7.0 $185
CGC 6.0 $100
CGC 4.0 $70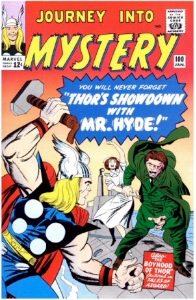 Journey Into Mystery #100 is a much older book, but with less demand
These comparisons are interesting for two reasons.
You can see the effect of DEMAND on comic book worth.
Amazing Spider-Man #300 is worth MORE than Journey into Mystery #100 in every grade. (JIM #100 in CGC 9.8 would sell for more than ASM #300 in 9.8 if one ever comes to market.)
You can also see how much difference small improvements in condition make. The gap between a CGC 9.0 (very fine to near mint) and a CGC 9.6 (near mint plus) is huge.
This shows the extreme importance of accurate comic book grading.
Get Cash For Your Comic Book Collection!
Now is a good time to sell. Records are being set for key comics, so if you own a nice vintage collection, get in touch and we'll value them for you free of charge.
We'll also make a cash offer if you want to sell.
Click Here to Get Your Free Appraisal!
---