Key Issue Comics:
Amazing Fantasy 15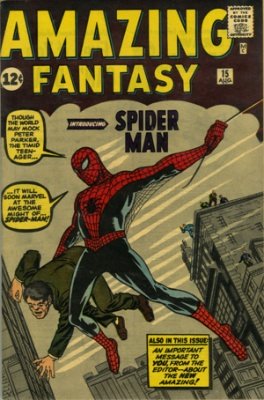 Key Issue Comics: Amazing Fantasy 15. Click to find yours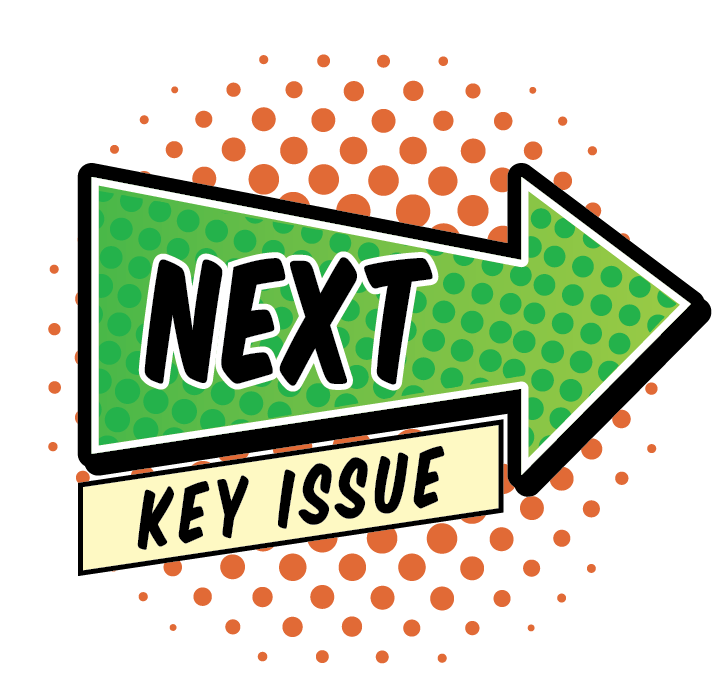 Why Amazing Fantasy 15 is a Key Issue Comic
Perhaps THE most famous comic book published since the rare Action Comics #1 (first Superman) and Detective Comics #27 (first Batman), AF15 introduces the world's most popular superhero, the Amazing Spider-Man.
It took several months for Marvel to cash in on this success with the spin-off title, Amazing Spider-Man.
It's number one on the world's most valuable Silver Age comic books, too.
Reprints of Amazing Fantasy #15
This landmark book has been reprinted more than once. If you have one of the reprints, then unfortunately it's not got a huge value.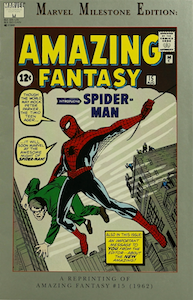 Amazing Fantasy 15 REPRINT: Marvel Milestone Edition, limited value
Amazing Fantasy 15 REPRINT: Marvel Spider-Man Collectible Series Edition, limited value
Guide to AF15 Comic Book Values, Recent Sales

9.6 $3,600,000
9.4 $795,000
9.2 $810,000
8.5 $552,000
8.0 $448,500
7.5 $198,000
7.0 $168,000
6.5 $96,000
6.0 $93,000
5.5 $66,000
5.0 $49,500
4.5 $38,000
4.0 $37,500
3.5 $36,000
3.0 $28,800
2.5 $26,400
2.0 $22,200
1.8 $19,200
1.5 $21,275
1.0 $15,000
0.5 $16,000
Certainly, AF15 is the most sought-after first appearance of a superhero, as Amazing Spider-Man comics are the world's most collected.
Ironically, it was a very successful Marvel experiment, and sold very well, making it probably less rare than some of the other early 1960s Silver Age Marvel comics. But demand is so great among collectors that the prices continue to soar.
If you have found a copy of AF15 in your comic book collection, or inherited one from a relative, then you're in luck.
This comic is a great find, and certainly worth in the thousands of Dollars if complete.
Value of Amazing Fantasy 15 Comic
Here are the record sales for each CGC grade level.
Prices for AF15 have continued to beat the stock market, and almost every other mainstream investment!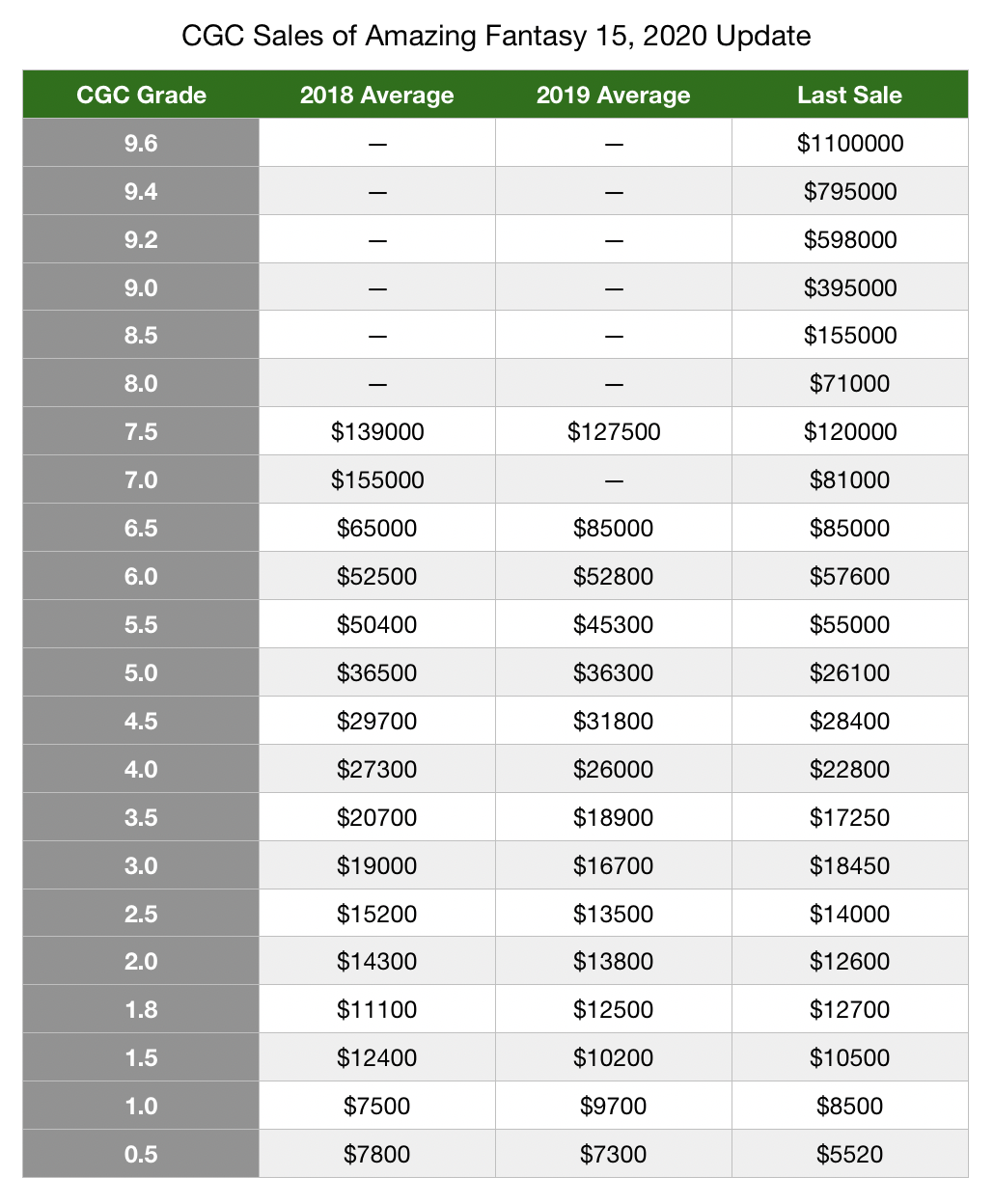 Amazing Fantasy 15 sale prices. Click for values
Amazing Fantasy 15 is only the third comic book to break $1m. The other two are Action Comics #1 ($3.2m) and Detective Comics #27 ($2.1m).
At the time the record-breaking comic sold, it was the single highest graded, at CGC 9.6. There are now three copies at that grade.
As this comic sold well, who knows how many other high-grade examples are out there, waiting to be discovered?
Marvel chipping (scoop-shaped color loss along the edges of the comic) is very common on certain 1960s books, including AF15.
Below is an example. Apart from creasing and kids drawing on the book, this is the most common problem with discovered copies of this comic.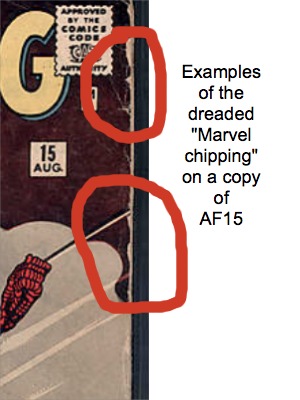 Marvel Chipping is very common on AF15. Click for eBay values
Warning: Fake AF15s Being Offered!
You can see the label on this book has been faked.
Also the inner well (plastic bag-like pouch which holds the comic book) shows signs of tampering (milky discoloration near the top of the holder under the label).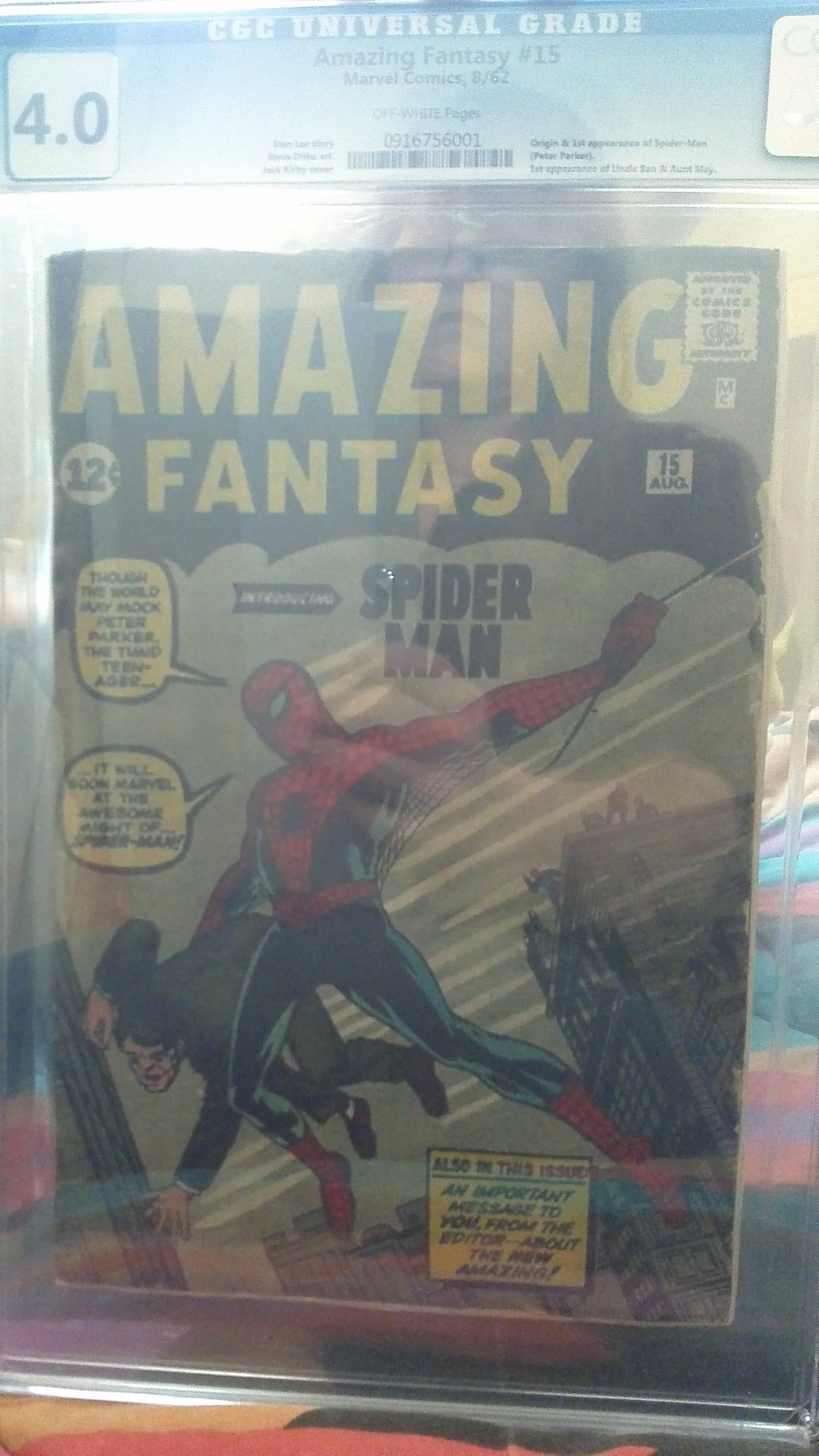 See our Newsletter article for warning of two attempts to sell us a faked AF15.
Don't fall for these scammers!
Publication History

The early Silver Age title, Amazing Adventures, was renamed Amazing Adult Fantasy in 1961 with Amazing Adult Fantasy #7.
Have this book? Click to appraise its value or Consign Yours for Auction!
Have this book? Click to appraise its value NOW!
Go from Amazing Fantasy 15 to the Marvel Comic Superheroes Price Guide