IT'S READY! The 100 Hot Comics list is updated for 2020! Be prepared for some BIG surprises...
NOTE: We use eBay to provide references to live prices of comic books. Clicking a text link or image marked 'Check live prices' will take you to eBay.

Key Issue Comics:
Avengers Comic Book 3, Hulk Fights the Avengers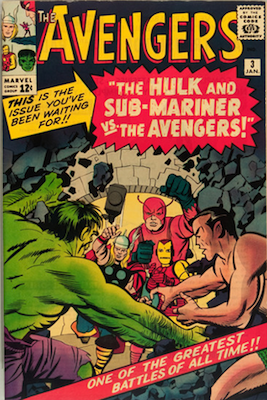 Key Issue Comics: Avengers Comic Book 3, Hulk Fights the Avengers. Click for values

Why Avengers Comic Book 3 is a Key Issue Comic
Avengers #3 featuresHulk vs. The Avengers!
After quitting the team in Avengers #2, Hulk has decided that not only did he not want to be in the group, he wants to SMASH them into the ground! Maybe he was upset that he no longer had his own solo series.
In Avengers #3 (1964), not only is the Hulk facing off against Earth's Mightiest Heroes, he's allied himself with Namor the Submariner, who hopes to finally rule over humanity (yeah, right).
While locked in battle, the Hulk is forced to quit when extreme stress and anger cause him to transform back into Bruce Banner.
If you thought the Avengers movies had a lot of heroes in one scene, Avengers #3 has cameos from the entire X-Men team, Fantastic Four, and Spider-Man. This is the first time any of these Marvel legends meet the Avengers.
In Spider-Man Annual #3 (1966), Spider-Man is actually offered membership into the Avengers, but declines. He doesn't join the team until decades later.
Did you notice Iron Man's new MK III armor? Finally getting rid of that ugly gold suit, Iron Man created the MK III in Tales of Suspense #48 (1963), one month before Avengers #3.
Guide to Avengers Comic Book 3 Values

For the ultimate X-Men, Spider-Man, or Fantastic Four collector, hunting down every cameo is essential.
Avengers comic book 3 features so many cameos, it has become an important (and affordable) piece of many collections.
The average shape of this book is around 4.0 (VG) when it shows up in collections, though a much nicer copy can be quite valuable, as shown in the recent sales below:
9.4 $5,000

9.0 $1,600

8.0 $930

7.0 $580

6.0 $425

5.0 $350

4.0 $200

3.0 $210(!)

2.0 $175

1.0 $95
Have this book? Click to appraise its value NOW!
Click Here to Get Your Free Appraisal!
Go from Avengers comic book 3 to the Marvel Comic Superheroes Price Guide