What Are Your Deadpool Comics Worth?
There are very few valuable Deadpool comics. Let's just get that out there from the off. While the character is popular, he simply hasn't been around long enough. Though the movie and sequel are helping prices across the board...
Since this character first appeared in 1991, there aren't any rare comics at all. The condition of modern comic books is so crucial that any tiny fault renders most of them virtually worthless.
Click Here to Get Your Free Appraisal or Consign Your Books to Auction!
New Mutants #98: First Appearance of Deadpool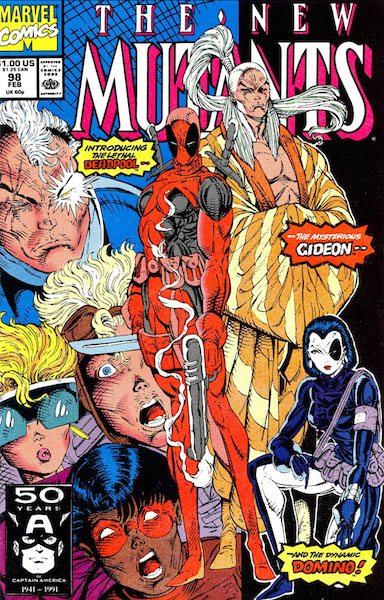 New Mutants #98 will always find a new home when it gets listed for sale. Click to buy one at Goldin
This is the only Deadpool regular issue with real value.
Although lower-grade examples do sell, and for crazy prices, if you want a proper investment grade book, then it should be a 9.8 with white pages.
New Mutants #98 is the first appearance of Deadpool, and in 9.8 condition (near mint/mint), it's worth about $1,500. Prices have risen consistently in the past few years. Check values here.
There have been some crazy sales since the Deadpool Movie and pandemic bubble, but things have settled down recently:

9.8 $1,735
9.6 $565
9.4 $475
9.2 $370
9.0 $335
If you happen to have it in mint (9.9) or gem mint (10), then this is a much more valuable comic, but comics in those kind of grades are extremely rare, even in a comic that's just over 20 years old.
The last 9.9 graded copy sold for around $6,000. That's 8+ times the 9.8 condition!
Get in touch to have your copy of New Mutants #98 valued.
Click Here to Get Your Free Appraisal or Consign Your Books to Auction!
X-Force Comic #2: 2nd Deadpool

Another key issue is X-Force #2, the second appearance of Deadpool: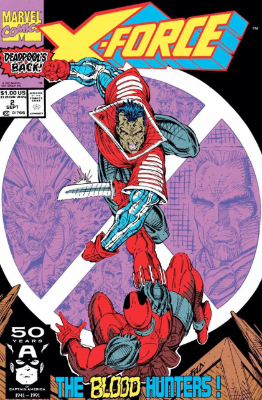 X-Force #2, the second appearance of Deadpool. Click for values at Goldin
Click to see the value of X-Force #2, the second appearance of Deadpool

Hot Deadpool Variant Covers

Modern variant comics are not usually our thing, but it would not be smart to forget them in this Deadpool comic book price guide.
Some are trading for FOUR FIGURES! J. Scott Campbell is ridiculously hot right now, and the Deadpool variants are really on fire.

Why This Guide is AWESOME for Wannabe Comic Investors

If you have either tried (and failed) to make money flipping comic books, or are frustrated by the huge array of choice out there, then this is the eBook for you.

It's packed with 32 in-depth analyses of easy-to-buy and sell comic books from the Bronze to Modern ages.

These are titles we have personally made a lot of money buying and selling. So can you.

Make more than your money back with your first successful trade (or by NOT buying a losing book!).

If you are not completely satisfied, we have a 365-day money-back guarantee.

Click to read more, or order your copy today!
What Next for Deadpool Comics?

New Mutants #98 continues to rise in value. Maybe it will be the Incredible Hulk #181 of the future...
Certainly you've got a good return if you bought it for cover price in 1991.
There are also plenty of Deadpool appearances in Cable comics you should be aware of.
Other Appearances of Deadpool
Unless you have 9.9 or 10-rated copies of these other issues, CGC Signature Series, or some other special edition, there really is not a lot of value in any other Deadpool comics.
Deadpool appeared in a self-titled four-issue run from 1993.
Another four-issue series appeared in 1994.
The longest run was a series started in 1997. It ran until 2002. Issue #1 in 9.8 condition is worth about $85.
More of our Comic Price Guides
Find out the value of your vintage comic books at Sell My Comic Books!