Key Issue Comics:
Tales of Suspense 50, First Appearance of the Mandarin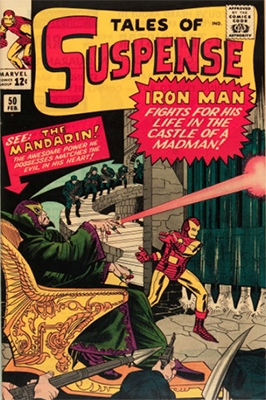 Key Issue Comics: Tales of Suspense 50, First Appearance of the Mandarin. Click for values

Why Tales of Suspense 50 is a Key Issue Comic
Tales of Suspense #50: First Appearance of Mandarin!
With nearly a year starring in Tales of Suspense, Iron Man was becoming Marvel's most popular hero.
With a great backstory, super cool armor and gear, and the ultimate lady swag that all teenage boys love to dream about, Iron Man had it all except a central enemy.
Finally, in Tales of Suspense #50, Iron Man's archenemy, the Mandarin (played expertly by Sir Ben Kingsley in the movie Iron Man 3), appears for the first time.
A shadowy villain who wears 10 mystical rings, the Mandarin lives deep in the jungles of China. Using his 10 rings, genius intellect, and superhuman combat skills, Mandarin is a true match for Iron Man's might.
Tasked to learn more about Mandarin, Iron Man infiltrates Mandarin's castle. After a lengthy battle, Iron Man barely escapes with his life, leaving Mandarin behind and starting a lifelong rivalry that continues today.
Guide to TOS #50 Comic Book Values

As one of the most important and popular enemies in the Marvel Universe, Mandarin's first appearance in ToS #50 is an issue that's worth decent money.
The record sale of $15,000 for a CGC 9.8 seems cheap considering the character's importance. This book seems under-valued relative to other issues from this run.
Now the movie has come and gone, there seems to be little future for the Mandarin in the Marvel Cinematic Universe.
Prices:
0.5 $10
2.0 $20
4.0 $70

6.0 $100

7.0 $180

8.0 $300

8.5 $450
9.0 $600
9.2 or higher: Contact Us
Have this book? Click to appraise its value NOW!
Go from Tales of Suspense 50 to the Marvel Comic Superheroes Price Guide