IT'S HERE! Click for the 2021 edition of 100 Hot Comics!
NOTE: We use eBay to provide references to live prices of comic books. Clicking a text link or image marked 'Check live prices' will take you to eBay.

Key Issue Comics:
Fantastic Four 52, First Appearance of the Black Panther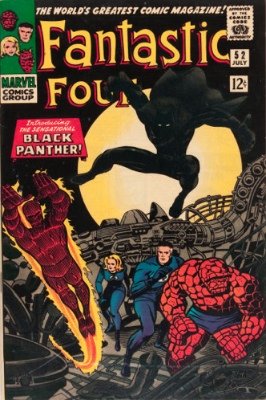 Key Issue Comics: Fantastic Four 52, First Appearance of the Black Panther. Click for values

Why Fantastic Four 52 is a Key Issue Comic
Who knew that Fantastic Four #52 would be the place Marvel debuts their first black superhero?
As one of the most popular characters in Marvel history, Black Panther's legendary debut  completely changed the face of comics forever.
After five years of fighting Doctor Doom, Galactus, Mole Man and others, Black Panther (real name: T'Challa) invites the Fantastic Four to his hidden country Wakanda (also making its first appearance).
Testing their abilities, Black Panther individually defeats each member of the Fantastic Four, but when they join forces, they finally win against the Wakanda King.
Like their other issues, FF #52 created another major overhaul to the comic industry, and Black Panther would go on to become an Avenger and eventually star in his own (but poor-selling) series Jungle Action.
The bigger news is that Black Panther is appearing in movies in the Marvel Cinematic Universe. Already part of the Avengers franchise, T'Challa is starring in his own standalone movie early in 2018.
Demand for key issues is usually driven by TV shows and movies these days, and there has bee a spike in interest since.
Guide to Fantastic Four #52 Comic Book Values

With the Black Panther coming to the Marvel Cinematic Universe in a big way (making his first appearance in 2016's Captain America: Civil War), the value of Fantastic Four #52 has reached all-time highs.
In 2018, Black Panther will receive his own movie, ensuring that FF #52 will forever be cemented as one of the most valuable comics.
If you've got a copy of FF #52 just gathering dust, get it professionally appraised – for free! No matter the condition, we're interested in seeing your copy of FF #52.
Here is a guide to recent sales of this important book.
0.5 $40
1.0 $80
2.0 $120
4.0 $180
5.0 $220

6.0 $400

7.0 $500

8.0 $750

8.5 $1,000
9.0 $1,800
9.2 or better: Contact Us
Have this book? Click to appraise its value NOW!
Go from Fantastic Four 52 to the Marvel Comic Superheroes Price Guide