Key Issue Comics: Fantastic Four 45, First Appearance of the Inhumans in Marvel Comics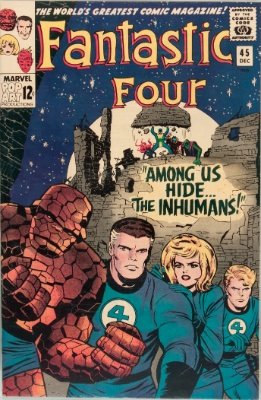 Key Issue Comics: Fantastic Four 45, First Appearance of the Inhumans in Marvel Comics. Click to buy and sell at Goldin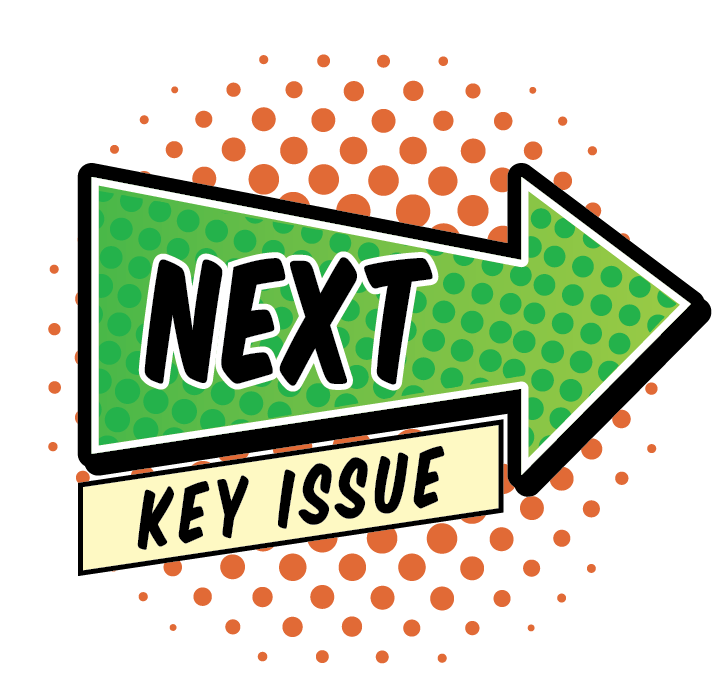 Why Fantastic Four 45 is a Key Issue Comic
Among Us Hide... The Inhumans!
It might come as a surprise, but the Fantastic Four comic books series was instrumental in featuring first appearances of iconic characters, including Doctor Doom, Ronan the Accuser, and the Silver Surfer.
With Fantastic Four #45, we're given a true treat – The Inhumans! The original line-up was their mute King, Black Bolt, and the Inhuman Royal Family, Medusa, Karnak, Gorgon, Triton, Crystal, Maximus the Mad, and the weird huge dog, Lockjaw.
The Inhumans were created when the Kree experimented on early Neanderthals, creating an advanced sect of human.
Hiding themselves from the rest of the world, Inhumans hoped to go unnoticed, until Johnny Storm meets Crystal... A fiery redhead (pun intended).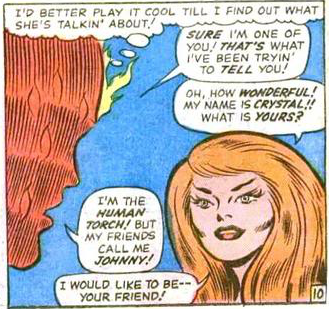 Johnny Storm of the Fantastic Four meets Crystal of the Inhumans in Fantastic Four #45. Click for values
These iconic characters would later star in their own comic series and play integral roles across the Marvel Universe.
The value of FF#45 has been on a rollercoaster, due to the uncertainty over the future of Inhumans in the Marvel Cinematic Universe.
Guide to Fantastic Four #45 Comic Book Values

9.6 $13,200
9.4 $5,600
9.2 $5,040
9.0 $1,755
8.5 $1,250
8.0 $840
7.5 $650
7.0 $610
6.5 $420
6.0 $400
5.5 $360
5.0 $290
4.5 $240
4.0 $215
3.5 $155
3.0 $155
2.5 $135
2.0 $105
An Inhumans movie was announced for 2019 a couple of years ago, but was subsequently shelved. But it seems that Marvel suits still fancied the Inhumans for at least a TV series.
Finally, it premiered in IMAX cinemas, and then on the ABC network in September 2017.
But the curse of the Fantastic Four continues (all FF movies have bombed). Inhumans was not well-received.
Still, it's a Silver Age first appearance, and it was under-valued for many years. Here are recent prices for Fantastic Four #45. These are well down from the high prices seen in 2015, when books in any grade would set records.
The exception is prices for books at VF-NM and above. It's a tough book to find in high grade, because of the midnight blue cover which shows creasing or wear very easily.
Have this book? Click to appraise its value or Consign Yours for Auction!
Go from Fantastic Four 45 to the Marvel Comic Superheroes Price Guide