IT'S HERE! Click for the 2021 edition of 100 Hot Comics!
NOTE: We use eBay to provide references to live prices of comic books. Clicking a text link or image marked 'Check live prices' will take you to eBay.

Key Issue Comics:
Marvel Avengers 1
First Appearance of the Super-Team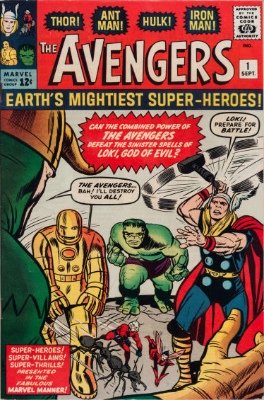 Key Issue Comics: Marvel Avengers 1. Click to see values

Why Marvel Avengers 1 is a Key Issue Comic
Loki is the antagonist in Marvel Avengers 1, just like the first Avengers movie, using his illusions to pit the superheroes against each other and the Hulk.
Eventually, Thor solves the Loki problem and the superheroes vow to watch each other's backs. Surprisingly, it's the Wasp who comes up with the name "the Avengers" for the super-team to use for the next 56 years and counting.
At the time, Iron Man had only been in existence for a few months, as seen by his gold armor on the cover of Marvel Avengers 1.
Perhaps the most surprising addition to the Avengers was the Wasp, who seemingly was there for pint-sized sex appeal and comic relief.
This was Hulk's next appearance after his comic series was cancelled after only six issues. It wouldn't be until 1968 that his solo series was rebooted.
Guide to Marvel Avengers 1 Comic Book Values

With multiple blockbuster movies, including the record-breaking Avengers: Infinity War and Avengers: Endgame and a series of spin-off characters about to appear in their own, there is no doubting the place of Marvel Avengers 1 among the world's most important comic book back issues.
We are looking forward to the Black Widow movie, a new version of Captain America, an uncertain future for Iron Man and War Machine...
...But what's really important is there is still Avengers movie action to look forward to.
Movies drive the value of vintage comic books, more than anything else. Just knowing there will be more of them is all that matters.
Here are recent sales:
9.2 $46,800

9.0 $36,000
8.5 $16,800
8.0 $11,100
7.5 $11.600(!)
6.0 $6,000

5.0 $3,150

4.0 $2,230

3.0 $1,205

2.0 $1,150

1.0 $950
Whatever shape your Avengers #1 is in, we want to buy it!
Click Here to Get Your Free Appraisal!
Have this book? Click to appraise its value NOW!
Have this book? Click to appraise its value NOW!
Related Pages on Sell My Comic Books
Go from Marvel Avengers #1 to the Marvel Comic Superheroes Price Guide