Key Issue Comics:
Fantastic Four 48, First Appearance of Silver Surfer and Galactus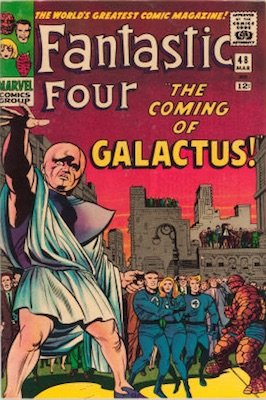 Key Issue Comics: Fantastic Four 48, First Appearance of Silver Surfer and Galactus. Click for values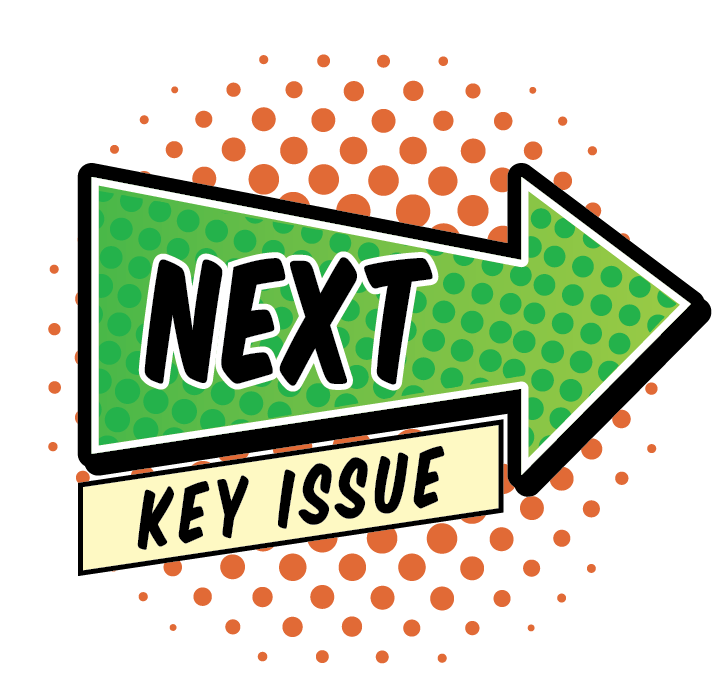 Why Fantastic Four 48 is a Key Issue Comic
These classic Fantastic Four issues greatly expanded the pallet of memorable Marvel villains, and in FF #48, we get two of the most beloved characters of all time.
Two major debuts in one issue!
Riding through space is a sleek and shadowy silver figure. Quickly gliding past the Skrulls, the usually fearless aliens freak out about this silver mystery – who could bring such trepidation?
The Silver Surfer! Acting as the scout for world-devouring supervillain Galactus, Silver Surfer finds Earth (despite The Watcher's best attempt to hide it) and sends a signal telling Galactus to come. The fate of the Earth is about to get heated!
For the next three issues, now known as the Galactus trilogy, Stan Lee and Jack Kirby created one of the most memorable story arcs ever, forever cementing Silver Surfer and Galactus as two of the Marvel's most dynamic characters.
While Silver Surfer has appeared in all the FF movies (which have sucked), he's overdue for a "good" big screen appearance. There is a Doctor Doom movie planned, and it's possible that Silver Surfer might cross over.
Guide to Fantastic Four #48 Comic Book Values

9.8 $108,000
9.6 $36,000
9.4 $31,200
9.2 $18,000
9.0 $12,000
8.5 $9,200
8.0 $7,750
7.5 $5,000
7.0 $5,760
6.5 $4,080
6.0 $3,340
5.5 $3,000
5.0 $3,050
4.5 $2,500
4.0 $2,660
3.5 $1,680
3.0 $1,680
2.5 $1,680
2.0 $1,240
1.8 $1,130
1.5 $1,110
1.0 $900
0.5 $1,200
Despite Fantastic Four #48 being considered one of the greatest comics ever, it is still an undervalued comic and highly affordable as a long-term investment.
By this point in Fantastic Four's publishing life (1966), thousands of fans were purchasing this comic, resulting in higher printings and less rarity than the first few issues.
A CGC 9.0 FF #48 is worth roughly $2,000. 
If you're holding a Fantastic Four #48 and want a professional appraisal, we would love to take a look at it!
Guide to FF#48 values (NOT in CGC holders):
Have this book? Click to appraise its value or Consign Yours for Auction!
Go from Fantastic Four 48 to the Marvel Comic Superheroes Price Guide