IT'S READY! The 100 Hot Comics list is updated for 2020! Be prepared for some BIG surprises...
NOTE: We use eBay to provide references to live prices of comic books. Clicking a text link or image marked 'Check live prices' will take you to eBay.

Key Issue Comics:
Amazing Spider-Man #2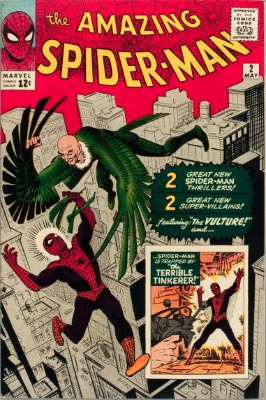 Key Issue Comics: Amazing Spider-Man #2. Click to see values
Amazing Spider-Man #2
Record sale: $72,000
Minimum value: $125

Click to get your copy appraised FREE!


Why Amazing Spider-Man #2 is a Key Issue Comic
Amazing Spider-Man #2: First Appearance of Vulture and Tinkerer!

With Spider-Man now appearing in two official comic books (Amazing Fantasy #15 and ASM #1), we have to wonder – where are all the Spider-Man villains?
Finally, in Amazing Spider-Man #2, Vulture and The Tinkerer get their first appearances.

Sure, Vulture and Tinkerer are nowhere near the level of Doctor Octopus, Hobgoblin, or Green Goblin, but every great hero versus villain story has to start somewhere.
Guide to Amazing Spider-Man 2 Comic Book Values

ASM #2 brings up an interesting topic – how does Spider-Man shoot webs? Despite getting superhuman powers, "spider sense", and the ability to stick to walls, Spider-Man wasn't organically endowed with the ability to create webs.
To shoot webs, Spider-Man created web shooters and liquid webbing, as shown in Amazing Fantasy #15. In ASM #2, we get a close up look at how his web shooters work.
Later, in the "Disassembled" storyline (Spectacular Spider-Man, vol 2, #17), Spider-Man undergoes a huge transformation and can organically shoot webs from his wrist.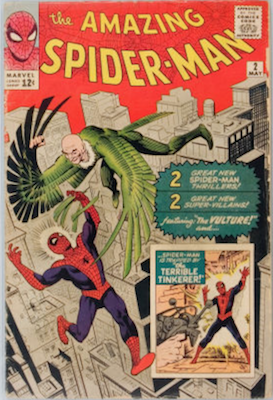 An average copy of ASM #2 looks like this, in GD-VG shape. It's worth in the $250-300 range. Click for values
With two major Spider-Man villains making their first appearances in ASM #2, its value in high grade can reach four figures and beyond. It is scarce in higher grade.
In average condition (these usually turn up in 3.0 to 4.5 shape), the book is worth around $300-350.
Because ASM #2 is such a significant event in Spider-Man history, almost every copy, no matter the condition, is guaranteed to be worth something.
Unlike the stock market, comic books are almost a sure bet, and Amazing Spider-Man comics are no different.
Have this book? Click to appraise its value NOW!
Go from Amazing Spider-Man #2 to the Marvel Comic Superheroes Price Guide