IT'S HERE! Click for the 2021 edition of 100 Hot Comics!
NOTE: We use eBay to provide references to live prices of comic books. Clicking a text link or image marked 'Check live prices' will take you to eBay.

Key Issue Comics:
Avengers Comic 2, 1st Appearance of the Space Phantom, Hulk Leaves Team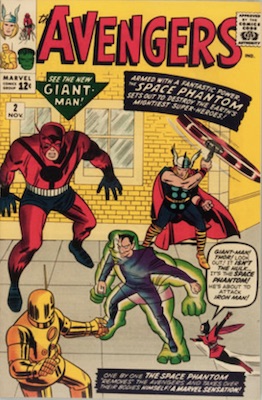 Key Issue Comics: Avengers Comic 2, 1st Appearance of the Space Phantom, Hulk Leaves Team. Click for values

Why Avengers Comic 2 is a Key Issue Comic
New teams always have their stumbles and falls, and in Avengers comic 2, things are no different.
Space Phantom, a servant of Immortus, shows up at Tony Stark's mansion and magically impersonates Hulk, Giant-Man, and Iron Man. Once again, the Avengers are all tricked into fighting each other.
After the team comes together to outwit Space Phantom and send him to Limbo, Hulk leaves the Avengers because he feels disliked.
This is the last time the Hulk would be a member until Avengers #2 (volume 2) in 2012. As we all know, this won't be the last time someone quits the Avengers.
If you notice on the cover, "Hulk" only has three toes, whereas he usually has five. That should have been the first clue Space Phantom made a copy of Hulk!
Guide to Avengers Comic 2 Comic Book Values

As the Avengers franchise grows more popular, classic issues of the series continually rise in value. Like original issues of Batman and Superman, these early issues of Avengers are comic collector gold.
Despite this being the 2nd appearance of the Avengers, Avengers #2 is still a valuable comic, depending on condition of course.
Here are the most recent sales. We have seen some softening in recent months, most likely due to Covid-19 and the effect of the pandemic on prices of 'average' books.
By 'average' we mean, common enough comic books in middling shape. High-grade examples do seem to selling for solid amounts.
9.6 $8,300

9.2 $3,100

9.0 $2,160
8.5 $1,180
8.0 $1,000
7.5 $890
7.0 $660

6.0 $450

5.0 $370

4.0 $360

3.0 $285

2.5 $230
2.0 $170

1.5 $210(!!)

0.5 $75

Have this book? Click to appraise its value NOW!
Click Here to Get Your Free Appraisal!
Go from Avengers comic 2 to the Marvel Comics Characters Price Guide