IT'S HERE! Click for the 2021 edition of 100 Hot Comics!
NOTE: We use eBay to provide references to live prices of comic books. Clicking a text link or image marked 'Check live prices' will take you to eBay.

Key Issue Comics:
Journey into Mystery 83, Origin and First Appearance of Thor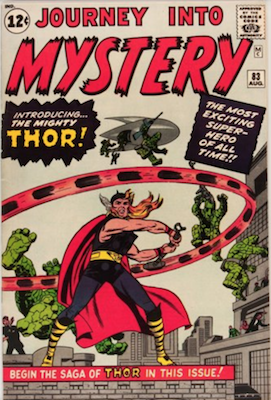 Key Issue Comics: Journey into Mystery 83, Origin and First Appearance of Thor. Click for values

Why Journey into Mystery 83 is a Key Issue Comic
Journey into Mystery #83 saw the origin and first Appearance of Thor!
WARNING: REPRINTS EXIST. See below for details and how to identify whether you have a reprint.
With the rise of the superheroes in the Silver Age, Stan Lee and Jack Kirby wanted to make someone even stronger than the Incredible Hulk, but they weren't sure of the best way.
Taking inspiration from Norse mythology, Marvel decided that Thor, the Viking God, would their next big character.
Thor makes his first appearance in Journey into Mystery #83 (1962), along with his legendary hammer Mjolnir.
But before Thor was a god of legend, he was the normal Doctor Donald Blake. While on vacation in Norway, Blake sees an alien ship (Stone Men from Mars) landing near him.
Hiding in a cave, he finds a walking stick. When struck on a rock, the stick becomes Mjolnir and Blake is transformed into Thor!
While his origin is slightly changed later, it turns out that Blake had always been Thor, but his father, Odin, wanted Thor to experience life as human and wiped all memories of godhood from his mortal brain.
Beginning with Journey #83, the series was dedicated to the adventures of Thor.
By issue #126, it was renamed simply to The Mighty Thor.
Guide to Journey into Mystery 83 Comic Book Values
The first appearance of Thor is a piece of comic book history, and Journey into Mystery 83 can net owners a nice payday.
The record sale for a JIM #83 in CGC 9.4 condition is $217,000.

Here are price guides by grade:
0.5 $700
1.0 $1,200
1.5 $1,400
1.8 $1,500
2.0 $1,600
2.5 $1,700
3.0 $2,400
3.5 $2,600
4.0 $3,000
4.5 $3,100
5.0 $3,900
5.5 $4,200
6.0 $6,000
6.5 $6,400
7.0 $8,500
7.5 $10,000
8.0 $14,000
8.5 $19,000
9.0 $30,000
9.2 $45,000
9.4 $217,000
If you have a copy of JIM #83, click here to get it appraised FREE.
How to Identify a Golden Record Reprint
It can be easy to get excited when you see a Golden Record reprint of the mega Marvel keys from the early 1960s. Even I have been fooled a couple of times!
The main way to identify the GRRs:
They have NO PRICE on the front cover!
They are thinner, because they don't have ad pages inside
The back cover is different
The big giveaway is the lack of a price box. It's an easy one to overlook when you see a high-grade key issue and your pulse begins to race... See images below.
Front Covers of Golden Record Reprint Issues Have No Prices Printed on Them. Here is the GRR of Journey #83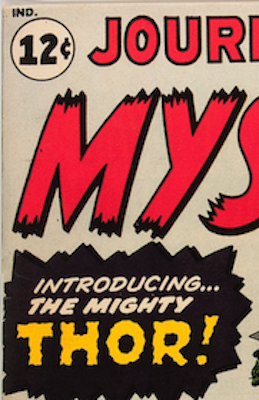 Front Covers of Original Marvel Issues Have Prices Printed on Them. Note the box with the text in it is black
Front Covers of Golden Record Reprint Issues Have No Prices Printed on Them. Note the text box is dark blue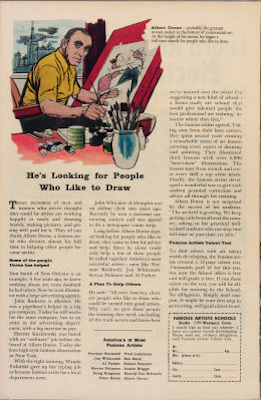 Back Covers of Originals Feature Ads From Clients of Marvel
Back Covers of Reprint Editions Feature Golden Records House Ads
The four titles reprinted by GRR were FF #1, Avengers #4, Journey into Mystery #83, and Amazing Spider-Man #1.
The reprinted comics had slightly different covers, along with an LP record of the story.
While the Golden Record reprints are worth a fraction of the originals, they are still collectible -- especially since for many collectors, the original issues are well beyond their budget.
Mint condition Golden Record comics are now highly sought-after. They are often found in great shape, because the record protected the comic book from damage over the years.

Click Images to See Value of Golden Record Reprints
Have this book? Click to appraise its value NOW!
Related Pages on Sell My Comic Books
Journey into Mystery Comic Book Price Guide
Most Expensive Comics of the Silver Age
Thor Marvel Comics
Go from Journey into Mystery 83 to the Marvel Comic Superheroes Price Guide