IT'S HERE! Click for the 2021 edition of 100 Hot Comics!
NOTE: We use eBay to provide references to live prices of comic books. Clicking a text link or image marked 'Check live prices' will take you to eBay.

Golden Age The Flash Comic Book Price Guide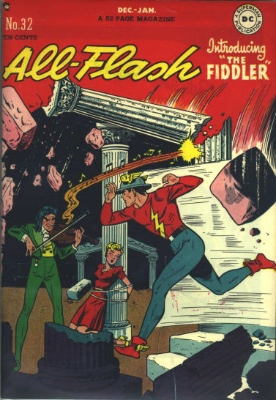 Golden Age the Flash comic book price guide
Click to read Silver Age Flash Comic Book Guide
Clark Kent will always be Superman, but The Flash has had a few alter egos.
The three main identities are Jay Garrick, Barry Allen, and Wally West. Garrick is a college student who accidentally breathes in water vapors while attending his lab class. Soon, he finds out that his reflexes and running capabilities have grown to superhuman strengths.
For a while, the boy is a college football star before he acquires his trademark red shirt and lightning bolt to become The Flash.
Only wearing a helmet, some issues claimed he had a secret identity, while others read as if most people knew who he really was from his football glory.
Barry Allen, a forensic scientist for the police department, was known for never showing up to work on time along with a generally slow demeanor. This all changes when a lightning bolt crashes through the ceiling exploding chemicals all over Allen, which gives him his super speed and strength.
In this version, he names himself The Flash, after his favorite comic book hero, Jay Garrick.
The runner also wore a mask and suit to hide his true identity. Wally West essentially became The Flash in the same manner as Barry Allen and has also been referred to as Kid Flash.
You can see values of the Silver Age Flash from DC Comics here.
Need copies of The Flash comic book valued? Send us an email, and we'll help you.
Flash Comics #1: Origin and First Appearance of The Flash
Record sale: $450,000
Minimum value (poor but complete): $7,000
Check values here | Have us value your copy FREE!
While most people regard Barry Allen as The Flash, the original Flash was Jay Garrick.
First featured in Flash Comics #1, the speedster wears blue pants and a red shirt—both highlighted with golden lightning bolts.
On his head, he wears a metal helmet passed down from a grandfather who fought in WWI. With yellow wings on the side of the helmet, it resembles that of the Greek god, Mercury (if Mercury could run at superfast speeds and still wear a helmet).
From DC Comics, the first issue hit the stands in 1940 and also featured The Hawkman, Johnny Thunder, The Whip, and Cliff Cornwall.
The images came from Harry Lampert and the story from Gardner Fox. In the first issue, The Flash immediately admits his identity to his girlfriend Joan Williams.
In terms of anonymity, most people couldn't get a picture of him due to his quick speeds.
The Flash Comic Book #1 is a very rare comic. If you've come across one, then be sure to have us appraise it for you!
Flash Comics #2: Second Appearance
Record sale: $40,000
Minimum value (poor but complete): $1,000
Check values here | Have us value your copy FREE!
Even though The Flash was definitely the lead singer, he didn't mind letting the other members of the band take some spotlight.
In Flash Comics #2, The Hawkman takes center stage, while The Flash grabs a spot on the side panel with the other famous characters introduced in the first issue. 
The four stories were The Terror of Goll, The Globe Conquerors, Johnny Becomes a Boxer, andVigilantes of Seguro.
Dennis Neville designed the cover and the writers were Gardner Fox and John B. Wentworth. Harry Lampert, Dennis Neville, Stan Aschmeier, and George Storm took care of the pencil work.
Not as rare as issue #1, but these seldom show up in any condition.
Why This Guide is AWESOME for Wannabe Comic Investors

If you have either tried (and failed) to make money flipping comic books, or are frustrated by the huge array of choice out there, then this is the eBook for you.

It's packed with 32 in-depth analyses of easy-to-buy and sell comic books from the Bronze to Modern ages.

These are titles we have personally made a lot of money buying and selling. So can you.

Make more than your money back with your first successful trade (or by NOT buying a losing book!).

If you are not completely satisfied, we have a 365-day money-back guarantee.

Click to read more, or order your copy today!
The Flash Comic Book #104: Last Golden Age Issue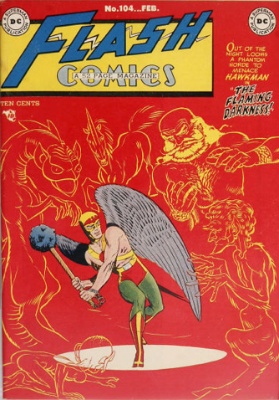 As Silver Age Flash comics collectors will know, the numbering of the stand-alone series (after four Showcase appearances) begins at Flash #105. Here is the reason!
The final Golden Age issue of The Flash comic book was Flash Comics #104. This comic retold the origin of the super-fast superhero.
This is a very difficult comic to find.
Record sale: $31,000
Minimum value (poor but complete): $500
Check values here | Have us value your copy FREE!
All-Flash Quarterly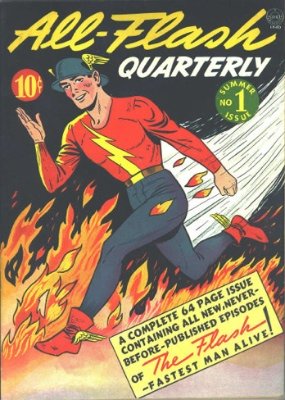 In the 1940s, The Flash also starred in All-Flash Quarterly.
Running from 1941 until 1947, All-Flash Quarterly ran for six issues before turning into All-Flash, then running bi-monthly.
All-American Publications published these issues featuring the loveable sprinter. All-Flash Quarterly #1 provides The Origin of the Flash, and also shows off his girlfriend, Joan.
Mister Norris and Wallace also make appearances, along with the villain, Joe Callen.
Record sale: $33,000
Minimum value (poor but complete): $300
Check values here | Have us value your copy FREE!
Comic Cavalcade
Showcasing more than one star all of the time, these Comic Cavalcade issues were very popular.
Portrayed as "A Galaxy of America's Greatest Comics", popular characters included Wonder Woman, The Flash, and the Green Lantern.
Unfortunately, these and many other comics didn't survive through the "DC Implosion", where the landmark publisher decided to suddenly cancel dozens of comics in 1978.
If you have come across Golden Age copies of The Flash comic book, then click here to have them valued free!
More of our Comic Price Guides