House of Secrets Comic Book Price Guide
House of Secrets Comic Book Values
House of Secrets was the name of a Silver Age anthology series that featured mystery, suspense and/or horror stories, published by DC Comics from 1956-1966, and again from 1969-1978.
Below we provide record sales and minimum values for all the major issues. Click any image or link to see current prices, or have yours appraised FREE by us.
Click Here to Get Your Free Appraisal or Consign Your Books to Auction!
House of Secrets #1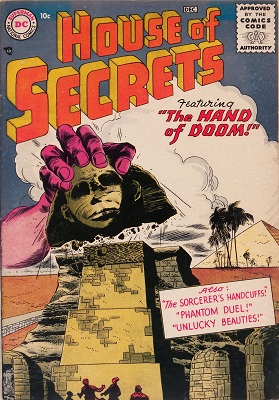 HOS #1: First issue
Record sale: $4,060
Minimum value: $10
The premiere issue, House of Secrets #1 appeared in December of 1956.
Even without the appearance of a character who would later become important or the work of a distinguished artist or writer, this first issue of HoS is important and desirable to collectors.
It is quite a rare comic from the dawn of the Silver Age.
You might not look twice at this comic if it turned up at a yard sale, but you'd be missing out if you ignored it. Copies in good shape can sell for several hundred dollars.

House of Secrets #61: First Appearance of Eclipso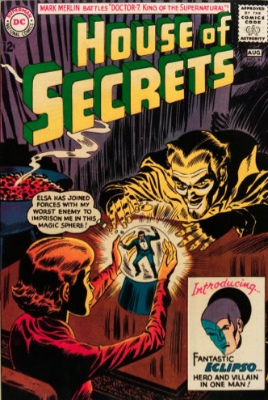 HOS #61: First appearance of Eclipso
Record sale: $1,700
Minimum value: $30
In July of 1963, HoS #61 introduced the first "superhero" type character to appear in its pages that had any staying power.
In the story entitled Eclipso, the Genius Who Fought Himself, Eclipso was billed as "hero and villain in one man."
Copies of HoS #61 became more valuable after Eclipso was retconned for the early 1990s series The Darkness Within. Copies in good shape trade for several hundred dollars.
(Article continues below)
All Our Horror Comics Price Guides
The House of Secrets #81: Introducing Abel
HOS #81: First Appearance of Abel
Record sale: $1,155
Minimum value: $20
Featuring cover art by Neal Adams, HoS #81 appeared in September of 1969, and established a new formula for the series. There would now be a host, named Abel.
Yes, he *was* the biblical Abel, and his brother Cain was the host of "brother" series House of Mystery. From then until the series was canceled, Abel would introduce each story in each issue.
The House of Secrets #92: First Appearance of the Swamp Thing by Bernie Wrightson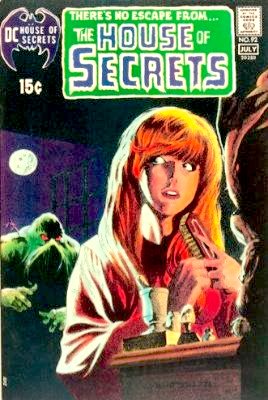 HOS #92: First Appearance of Swamp Thing
Record sale: $14,000
Minimum value: $70
HoS #92 was the first issue to feature cover art by Bernie Wrightson, and also introduced a character who would prove, later, to be a game-changer for DC: The Swamp Thing.
Although the Swamp Thing of this story is not exactly the same Swamp Thing who would later become famous, the genesis of the character is the same.
The story, written by Len Wein and illustrated by Bernie Wrightson, created a significant response in the readership, enough so that Swamp Thing comics, with Wein and Wrightson helming, would premier in 1972 and run for 24 issues in its first incarnation.
The character, of course, under Alan Moore, would become very significant later.
Why This Guide is AWESOME for Wannabe Comic Investors

If you have either tried (and failed) to make money flipping comic books, or are frustrated by the huge array of choice out there, then this is the eBook for you.

It's packed with 32 in-depth analyses of easy-to-buy and sell comic books from the Bronze to Modern ages.

These are titles we have personally made a lot of money buying and selling. So can you.

Make more than your money back with your first successful trade (or by NOT buying a losing book!).

If you are not completely satisfied, we have a 365-day money-back guarantee.

Click to read more, or order your copy today!
House of Secrets Neal Adams Covers
Click any link or image to check the current market values for these great old Neal Adams cover issues.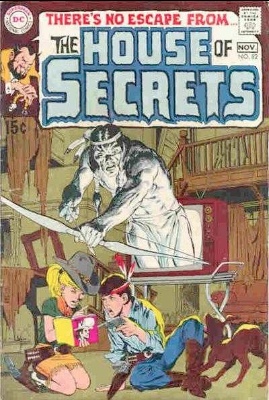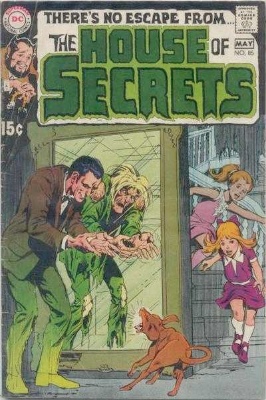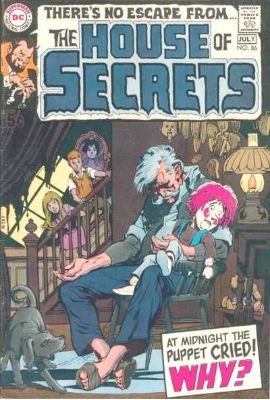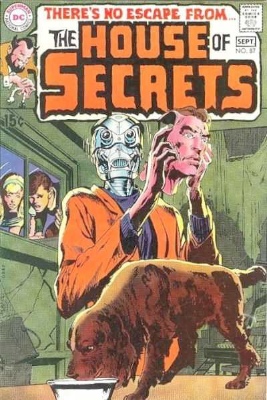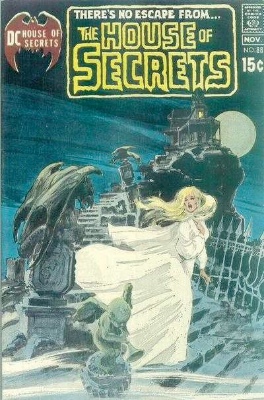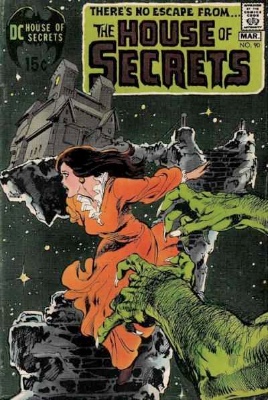 House of Secrets Bernie Wrightson Covers
All the Bernie Wrightson HoS covers. Click any to see values.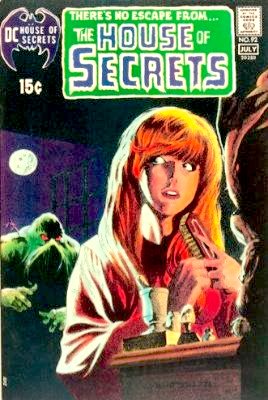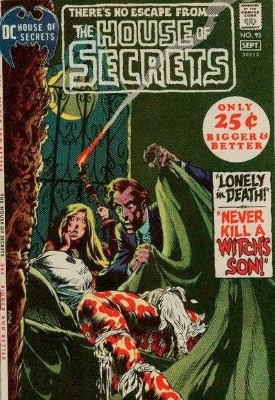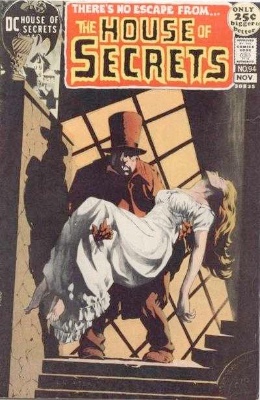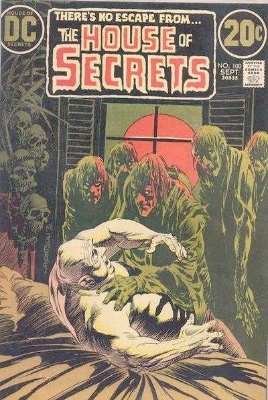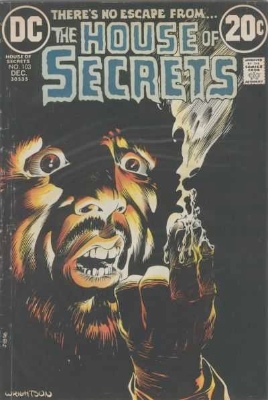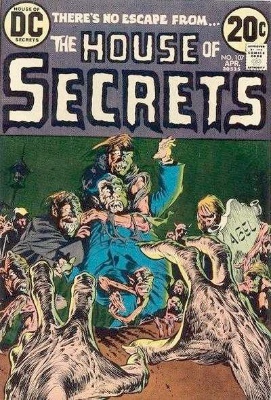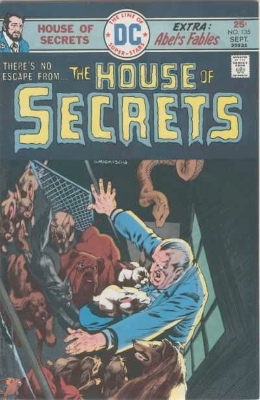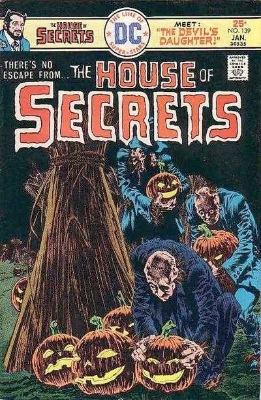 House of Secrets Michael Kaluta Covers
Michael Kaluta is also a highly collected artist. Click for prices.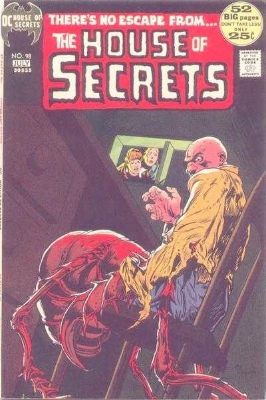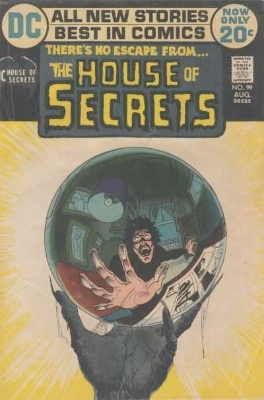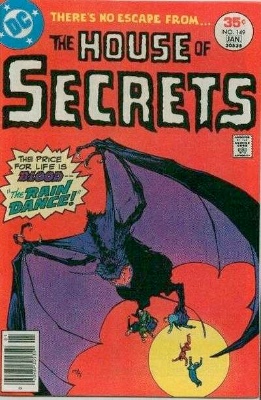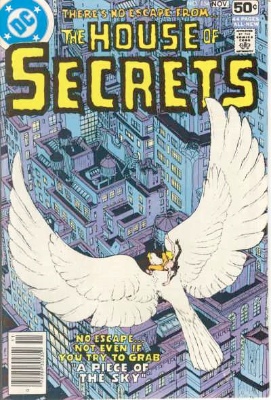 All Our Horror Comics Price Guides
History of House of Secrets Comic Books
When it was rebooted after the three-year gap in 1969, it became the 'brother' series to DC's House of Mystery, and together the two titles represent one of the last gasps of the anthology style as the Silver Age became the Bronze Age.
Like any "horror" anthology series of the Silver Age, HoS had to stick with somewhat tame subject matter.
In the Comics Code era, it just didn't pay to take risks, and DC Comics certainly didn't want to have any title that made money go the way of the EC Comics titles that had fallen victim to post-Seduction of the Innocent hysteria.
In the 1970s, things would eventually relax, and by the mid-1980s, the emergence of the direct sales market would render the code obsolete, even for DC and Marvel.
Ironically, it was a title born from a character introduced in the relatively tame House of Secrets that brought about the real change.
House of Secrets #92 introduced the Swamp Thing, and after 15 years and some changes, Saga of the Swamp Thing #29 in October of 1984 was the first "mainstream" comic published by one of the "big two" to forgo the Comics Code seal of approval.
In general, with the exception of the aforementioned #92, most issues of HoS do not command huge prices. But like any important Silver or Bronze Age comic, the values generally follow this pattern: early issues from the first run are worth more than later issues.
#92 is the most sought-after, because of the Swamp Thing. Values of issues from the second run vary greatly, mostly based on the cover art. The Wrightson, Adams, or Kaluta covers fetch higher prices than others from the same time period.
Have Your House of Secrets Comics Valued!
If you've got some copies of House of Secrets (especially #1, #23, #61, #92, and any issues with covers by Neal Adams, Bernie Wrightson, or Michael Kaluta), then click here to have them valued FREE by Sell My Comic Books!
More of our Comic Price Guides