Value of Key Hulk Villains
Hulk Villains Comic Book Price Guide
There can be no superhero more "misunderstood" than the Hulk, and none more powerful.
That said, the Marvel villains he has faced have always been extremely powerful as well, although none have matched Ol' Greenskin for sheer strength.
Aside from the common trait of great power, Hulk's villains tend to share a certain other quality: Gamma radiation.
Ever since Bruce Banner was first turned into the Hulk after a Gamma radiation bomb blast gone wrong in 1962, most of his greatest foes have derived their super-powers from Gamma radiation as well.
While those villains have come a long way since the early 1960s (and the Marvel Men "Incredible Hulk" theme song which rhymed "gamma rays" with "unglamoraise"), very little has changed, even in the 21st Century.
Have Your Hulk Comics Valued!
If you have any vintage Incredible Hulk comics, click for a free appraisal today. We'll make you a Dollar offer if it's time for you to sell.
Click Here to Get Your Free Appraisal or Consign Your Books to Auction!
General Thunderbolt Ross; and Puny Humans (First Appearance: Incredible Hulk #1, May, 1962)

Record sale: $375,000
Minimum value (poor but complete): $3,000
 Have yours appraised!
General Thunderbolt Ross
General Thaddeus "Thunderbolt" Ross has always been involved in the Hulk's existence.
He was in charge of the Gamma Bomb project on which Bruce Banner was working, the project that inadvertently turned Banner into the Hulk.
He disliked Banner from the start, seeing him as a brainy weakling, and was flabbergasted by his daughter Betty's infatuation with Bruce.
Obsessed with the Hulk after his creation, Ross went as far as committing treason to capture him.
Eventually, he was merged with Zzzax for a time, and then became the Hulk villain Red Hulk, and along the way dies and is resurrected more than once.
Puny Humans
Since the beginning of Hulkdom (well, "Hulkamania" is taken), ol' Jade Jaws has been at odds with the entire race of homo sapiens sapiens.
In general, they represent no more than a distraction to him, an annoyance. Nonetheless, the "puny humans" as the half-articulate early Hulk called them (his vocabulary and diction would of course vary tremendously over the years) were always a source of trouble in the sense that they always got scared of Hulk.
They just wouldn't leave Hulk alone, as he wished to be. And they still don't.
See more about Incredible Hulk #1 comic prices.
The Leader (First Appearance: Tales to Astonish #62, December, 1962)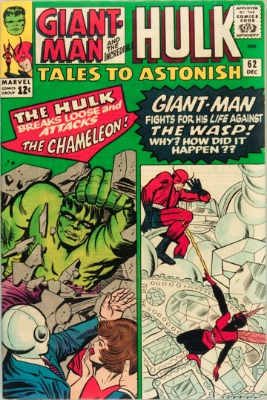 Record sale: $3,500
Minimum value: $30
Have yours appraised!
First in a series of gamma-ray-powered Hulk villains is The Leader, who debuted in Tales to Astonish #62.
The Leader was originally a lowly janitor named Samuel Sterns, a man of no particular intelligence.
While cleaning up in a chemical plant, Sterns was caught in an explosion. Several "radioactive chemicals" exploded, bombarding him with gamma radiation, transforming him into a green-skinned version of his former self (like the Hulk), but instead of the Hulk's tremendous physical strength, Sterns' brain was affected.
It grew to enormous size (and so did his cranium), and Sterns started calling himself The Leader and using his incredibly enhanced intellect to try to take over he world and remake it in his own green-skinned image. He is still active.
The Abomination (First Appearance: Tales to Astonish #90, April, 1967)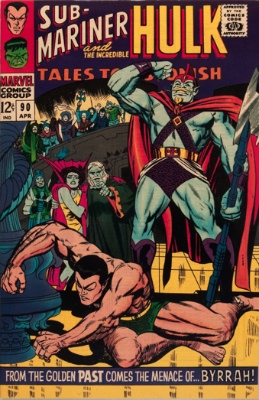 Record sale: $19,200
Minimum value: $40
Have yours appraised!
Yet another gamma-powered Hulk villain debuted just before the Summer of Love.
The Abomination was originally a KGB spy named Emil Blonsky, who deliberately exposed himself to gamma radiation in an attempt to acquire super-powers, using a machine that Bruce Banner had created as part of a planned suicide attempt.
Blonsky got more radiation than Banner had, and became larger and more powerful than the Hulk, as well as lighter green and inexplicably scaly.
After numerous changes and retcons, he is currently filed under "dead."
The Absorbing Man (First Appearance: Journey Into Mystery #114, March, 1965; First Battle With Hulk: Incredible Hulk #125, March, 1970)
Crusher Creel was originally a Thor villain, but eventually became one of the Hulk's most frequent opponents. (Thor vs Hulk is more of a hero vs hero fight, so we don't count Thor as a Hulk villain!)
Before he became the Absorbing Man, Creel was a petty criminal and down-and-out boxer.
A meeting with Loki gave him super-powers when Loki gave him a strange potion to drink. It enabled him to absorb the properties of anything he touched (hence the name).
Having died and come back to life more than once, he is currently active and still absorbing all and sundry.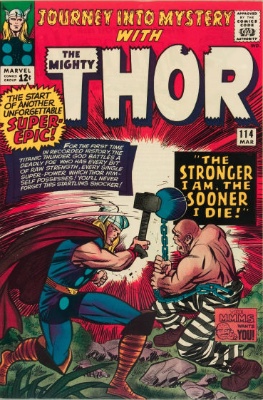 Record sale: $8,370
Minimum value: $50
Have yours appraised!
Record sale: $1,200
Minimum value: $10
Have yours appraised!
Doc Samson (First Appearance: Incredible Hulk #141, July, 1971)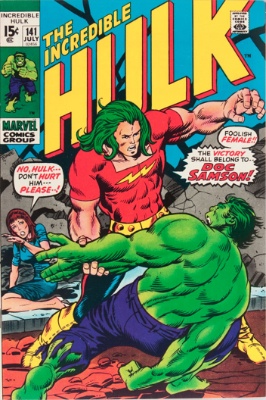 Record sale: $3,840
Minimum value: $30
Have yours appraised!
Dr. Leonard "Doc" Samson was a college professor and psychiatrist who had the opportunity to work with Hulk/Banner, providing counseling along with treatments designed to siphon off excess gamma energy.
The treatments temporarily worked, allowing Bruce Banner to remain as Bruce Banner for longer than ever since he'd first become the Hulk.
Samson exposed himself to some of the stored radiation, becoming yet another gamma-powered Hulk villain. This time, it was his hair that turned green, also growing long, in a style somewhat like Thor's.
His pretty-boy looks caught the attention of Betty Ross, enraging Banner, who willfully exposed himself to more gamma radiation so he could once again become the Hulk to fight off this fancy-pants newcomer.
Doc Samson's great strength is lesser than the Hulk's, and when combined with his costume and hairdo, give him a somewhat "Gorgeous George" quality.
He is currently "deceased," but there is a "Dark Samson" that represents his bad side, roaming around. Don't ask.
Hulk Villains: Wendigo
(First Appearance: Incredible Hulk #162, April, 1973)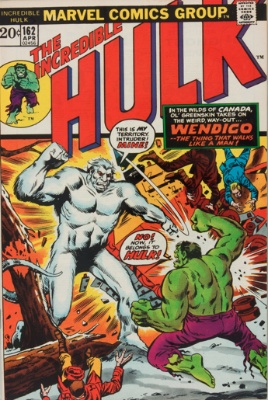 Record sale: $4,800
Minimum value: $29
Have yours appraised!
High in the Canadian Rockies, there is a curse that strikes anyone who, through desperate hunger, eats human flesh: the curse of the Wendigo.
When the curse takes hold, the unfortunate cannibal in question is granted super strength, speed, and durability, a covering of white fur, and a savage mentality.
The Wendigo has more than enough strength to battle the Hulk to a standstill, and more than one Wendigo has done so.
Wolverine (First Cameo, Incredible Hulk #180; First Full Appearance: Incredible Hulk #181, November, 1974)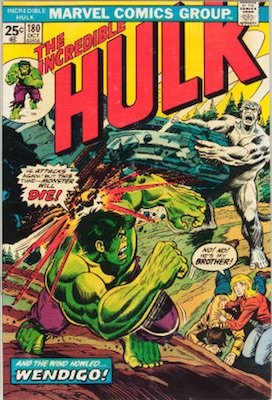 Record sale: $40,800
Minimum value: $80
 Have yours appraised!
Record sale: $150,000
Minimum value: $120
 Have yours appraised!
Canadian but not a cannibal (at least not as far as we know), Wolverine made his full debut battling the Hulk in Incredible Hulk #181, back in November of 1974.
Originally envisioned not as a mutant, but simply as a super-powered agent of the Canadian government, Wolverine battled Hulk to a standstill with his Adamantium claws.
Of course, Wolverine has since then gone on to be Marvel's most popular and ubiquitous character, and the one most likely to be featured on a greasy and stained T-shirt worn by men in their 30s who still live in their parents' basements.
See Hulk #181 on the 100 Hot Comics list.
Zzzax (First Appearance: Incredible Hulk #166, August, 1973)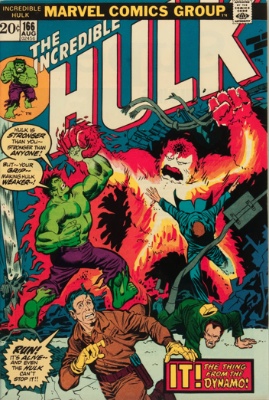 Record sale: $530
Minimum value: $10
Have yours appraised!
Zzzax (got to love Mighty Marvel) is a creature made of pure electrical energy, as a by-product of an attempted terrorist act at Con Edison in New York City.
An excess overload of electricity built up and somehow took on the personalities of the terrorists and some of the engineers, and voila—Zzzax!
Don't try this at home, kids. 
Zzzax battled the Hulk many times, and depending on how much electricity he can absorb, can be even more powerful than ol' Greenskin.
At one point, General Thunderbolt Ross was merged with Zzzax, but the two Hulk villains have since parted ways.
Moonstone (First Appearance: Incredible Hulk #228, October, 1978)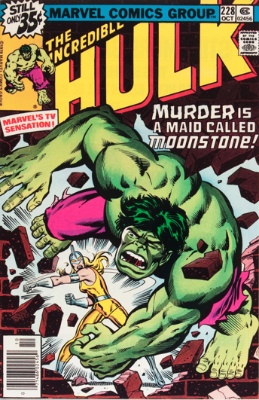 Record sale: $950
Minimum value: $10
 Have yours appraised!
The second Moonstone was Karla Sofen, who had been the psychologist of the original Moonstone, Llyod Bloch, and who had tricked him into giving her the moonstone itself.
She took the stone and absorbed its powers into her body, giving her the ability to fly, become intangible, the usual speed, strength, and stamina, and the ability to look hot in skintight suits without the support of foundation garments.
She has battled the Hulk on more than one occasion, and has now made the transition, after some prison time, into superhero status.
Auction Your Hulk Comics!
We will appraise your comic books for FREE and give you a killer deal when you consign them to auction with Goldin. Use the button below to get in touch!
Click Here to Get Your Free Appraisal or Consign Your Books to Auction!
More of our Comic Price Guides