Justice Society of America Comic Book Price Guide
Justice Society of America Comic Book Price Guide
The importance of the Justice Society of America cannot be overstated. 
It was the first superhero team, and as such is the template for DC's own, later, Silver Age Justice League of America, Marvel's Fantastic Four, the Avengers, the X-Men, and all the other teams to come since. 
The team would make its first appearance in All-Star Comics #3, in December of 1940.
All-Star Comics #3: First Appearance of the Justice Society of America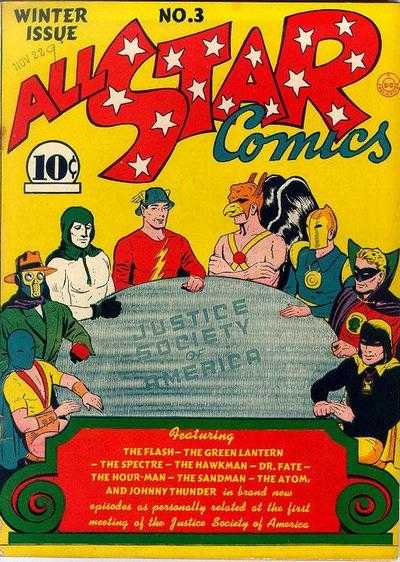 Record sale: $125,000
Minimum value (poor but complete): $3,500
All-Star Comics #3 (December, 1940), written by Gardner Fox and illustrated by Everett E. Hibbard, shows the first group meeting between the heroes Green Lantern, Flash, Hawkman, The Spectre, Hourman, Sandman, Dr. Fate, and the Atom.
Johnny Thunder and his magic Thunderbolt are along for the ride, to provide some comic relief. 
Prompted by the star-struck Johnny, each hero tells the others the story of his most exciting adventure, resulting in more of an anthology feel than a true super-team effect. 
Even so, this comic is rare and valuable. Even copies in poor shape are quite desirable, and since it does not feature prominent heroes like Batman or Superman, may be off the radar for non-comic-collectors. 
All-Star Comics #4: First Group Adventure of the JSA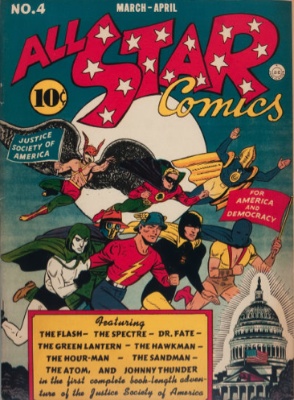 Record sale: $31,200
Minimum value: $200
The April, 1941, All-Star Comics #4 marks the first time that the JSA actually fought as a team, in a story entitled For America and Democracy, written by Gardiner Fox and illustrated by several artists, including Martin Nodell and Sheldon Moldoff. 
In All-Star #4, each member of the JSA combats a separate faction of a group of fifth-columnist villains, coming together at the end, to join forces against the mastermind, Fritz Klaver, with an assist from Johnny Thunder's Thunderbolt.  
All-Star Comics #4 is very desirable to collectors. Even poor-quality copies fetch a significant sum.
All-Star Comics #8: Starman and Dr. Mid-Nite Join the Team; First Appearance of Wonder Woman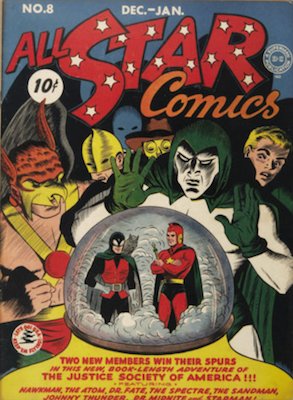 Record sale: $936,000
Minimum value (poor but complete): $6,000
There are many reasons to covet a copy of All-Star Comics #8. It's a rare comic book in any condition, and features the first ever appearance of Wonder Woman.
In this April, 1942 issue of All-Star, Starman and Dr. Mid-Nite joined the JSA, because of a very odd rule that had nothing to do with the continuity of the stories, and everything to do with business behind the scenes. 
Because of an agreement that existed between the still-not-fully-merged All-American and DC, when a character got his or her own book, that character would cease to appear full-time in All-Star's JSA adventures.
Flash and Green Lantern had gotten their own books, so Starman and Dr. Mid-Nite come on board with this issue to replace them, in a story called Two New Members Win Their Spurs.
Wonder Woman made her first appearance ever in the pages of All-Star Comics #8, although not alongside the Justice Society of America.
Relegated to a back-up feature, Wonder Woman would not become a member of the JSA until All-Star Comics #11, but since by then she had a title of her own, she would be relegated to 'honorary member' status, serving as the JSA's secretary.
1942 was certainly pre-feminism, and it would certainly be easy to say that sexism kept Diana Prince out of the JSA, if not for that strange rule. 
This major milestone adds significantly to the value of what would already be a valuable early Golden-Age comic, and All-Star Comics #8 is extremely desirable to collectors.
Why This Guide is AWESOME for Wannabe Comic Investors

If you have either tried (and failed) to make money flipping comic books, or are frustrated by the huge array of choice out there, then this is the eBook for you.

It's packed with 32 in-depth analyses of easy-to-buy and sell comic books from the Bronze to Modern ages.

These are titles we have personally made a lot of money buying and selling. So can you.

Make more than your money back with your first successful trade (or by NOT buying a losing book!).

If you are not completely satisfied, we have a 365-day money-back guarantee.

Click to read more, or order your copy today!
Flash #137: JSA Re-Emerge in the Silver Age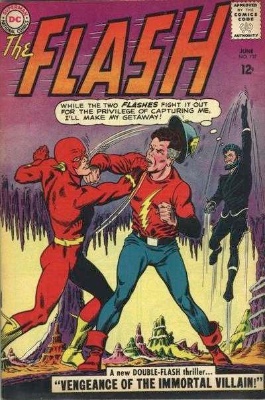 Record sale: $3,400
Minimum value: $30
After several encounters with Jay Garrick, the Golden Age Flash, over the course of a few years, the DC powers that be finally decided to establish the relationship between the older heroes of the 1940s and 1950s with their Silver Age counterparts.
The result was the reappearance of the JSA, older but wiser, and now retired, in Flash #137, in June of 1963. 
In this comic, the JSA comes out of retirement after Barry Allen deduces that a villain named Vandal Savage has kidnapped all of his pal Jay Garrick's former JSA teammates.
Barry vibrates in such a way to travel to that alternate earth, here referred to for the first time as Earth Two, and helps Jay to rescue the captured JSA members. Together they defeat Savage, and decide to reform to stop anything like this from happening again. 
This comic is tremendously desirable for the first Silver Age JSA appearance, as well as for being the place where Earths One and Two are established as the homes of Silver Age and Golden Age heroes, respectively. This explanation would last until the Crisis of 1986.
Justice League of America, #21 and #22: The First JSA/JLA Team-Up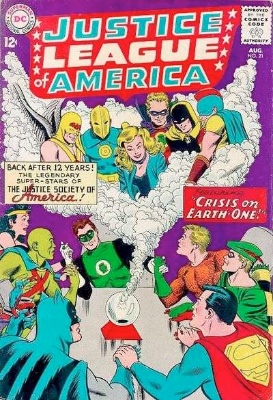 Record sale: $32,400
Minimum value: $20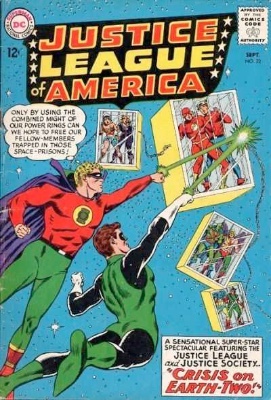 Record sale: $5,000
Minimum value: $20
JLA/JSA crossovers may not bring in the highest prices of any comics featuring the Justice Society of America, but these issues of the JLA comic, written by Gardner Fox and penciled by Mike Sekowski, are historically important.
Like any important Silver Age comic, they will fetch a pretty good sum in top condition.
Adventure Comics #461 and #462: Death of Earth Two Batman
Bruce Wayne, long since retired from regular action as the Earth Two Batman because of advancing age, and his job as Police Commissioner of Earth Two's Gotham City, is drawn out of retirement in this two-part JSA story written by Paul Levitz and penciled by Joe Staton.
In the story, titled Only Legends Live Forever, a villain named Bill Jensen, sent to jail years before by Bruce Wayne, is somehow imbued with a strange superpower.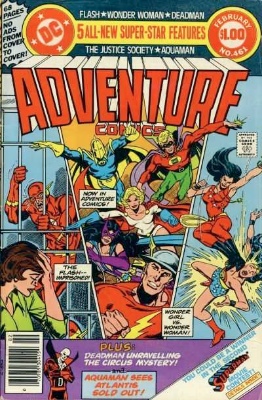 Record sale: $315
Minimum value: $1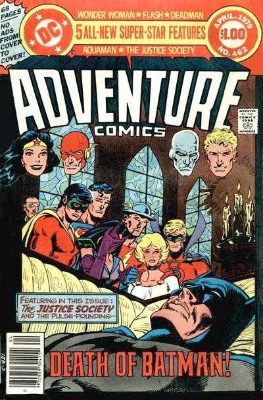 Record sale: $350
Minimum value: $5
In order to get revenge against Commissioner Wayne, he begins destroying Gotham. The Justice Society of America fight him, but his powers are too great, and Bruce realizes that he will have to come out of retirement one last time as Batman to stop Jensen.
He rescues Jay Garrick, just as Jensen tries to throw the unconscious Flash to his death, but a sudden and inexplicable burst of Jensen's mysterious super-powers flares up and kills both him and Batman. 
Adventure #462 is probably the last important JSA story before the Crisis, and as such is quite desirable to JSA collectors.
History of the Justice Society of America
They would remain the lead feature in All-Star until its run ended with All-Star Comics #57 in March, 1951, when the title was renamed All-Star Western.
The JSA would not appear again until the Silver Age, after Barry Allen, the Silver Age Flash, met his Golden Age counterpart, Jay Garrick, in a series of dimension-crossing stories (that established the Earth One/Earth Two continuity that would last until the Crisis On Infinite Earths in 1986) leading up to the 'reformation' of the JSA in Flash #137, in June, 1963.
After that, they turned up occasionally in the pages of Flash, and regularly for a time in the pages of The Justice League of America, for an annual two-issue team-up.
In the 1970s, fan demand for more of the JSA resulted in a revival of All-Star Comics, which began, appropriately enough, with All-Star Comics #58 in January of 1976, picking up with the numbering right where they'd left off, as if All-Star Western had never happened.
It didn't last too long, but the buzz was enough that they made it to All-Star Comics #74, in September of 1978. 
A brief run for the Justice Society of America in Adventure Comics in 1979 (Issues #461-466) was the last time the JSA would have a book of their own.
The legacy of the so-called Earth Two heroes would live on for a time in the All-Star Squadron (a parallel super-team set during WWII), Infinity Inc. (featuring children and wards of the JSA), and occasional crossovers with the JLA, until the events of the Crisis.
That effectively ended business for the Justice Society of America, with the merging of Earth One and Earth Two creating tremendous confusion about what actually had taken place, and what was now canonical. In effect, the JSA were retconned out of existence. 
Have Your Justice Society of America Comics Valued!
If you've got some old comics featuring the JSA, or other similar comics, then click here to have them valued FREE by Sell My Comic Books!
Click Here to Get Your Free Appraisal or Consign Your Books to Auction!
More of our Comic Price Guides