List of X-Men Villains With Comic Book Values
List of X-Men Villains: Price Guide and First Appearances

The X-Men have, in their long and varied (and sometimes troubled) history faced a fairly consistent sequence of villains, who tend to fall into two groups.
Evil mutants like Magneto and his Brotherhood of Evil Mutants, and those who simply wish to wipe mutants out, like the Trasks and their Sentinels.
Of course, the various X-Men groups have fought other types of Marvel villains, but in the section of the Marvel Universe occupied by mutants, things generally stay, well, rather mutant-oriented.
Let's look at the super-villains, mutant and otherwise, that the students and graduates of Charles Xavier's School for Gifted Youngsters have faced since they first exploded onto the scene in 1963.
Have Your X-Men Villains Comics Valued
Click to have a FREE appraisal of your X-Men comic books, and a Dollar offer if you want to sell.
Magneto (First Appearance: X-Men #1, September, 1963)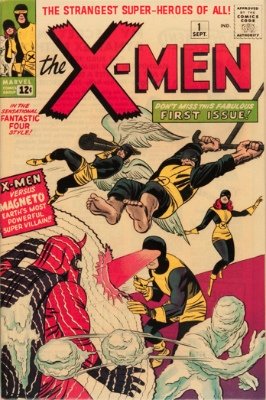 Record sale: $492,0940
Minimum value: $20
Have yours appraised

Magneto is the one constant in the world of the X-Men villains, having been their primary nemesis (and Charles Xavier's foil) since the franchise began, in much humbler fashion than it exists today, in September of 1963.
Magneto is a mutant named Max Eisenhardt who can generate and control magnetic fields, and therefore anything with a significant metal content, including the human body (which is loaded with iron and copper, among other metallic elements, don't you know).
For the first 15 or so years of his existence, Magneto was simply a bad guy, the bad guy who founded the Brotherhood of Evil Mutants. In the years since, his origin has gradually been revealed as a Holocaust survivor who wishes mutants to avoid the fate of the Jewish people of Europe.
He has gone from villain to antihero to hero and back again. As portrayed by Sir Ian McKellan in the X-Men movies, he has become perhaps the most well-known super-villain of all.
Juggernaut (First Appearance: X-Men #12, July, 1965)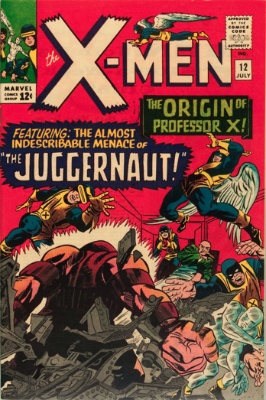 Record sale: $43,700
Minimum value (poor but complete): $110
 Have yours appraised

Juggernaut is Cain Marko, step-brother of Charles Xavier, and lifelong sadistic bully.
After maltreating Charles as a youth, they serve together in the Korean Conflict, and Marko stumbles upon an ancient temple devoted to the god Cyttorak. There, he touches the Ruby of Cyttorak and becomes a human juggernaut, unstoppable, nearly invulnerable, and immensely strong.
His only weakness is to mental attack, and his armored helmet is designed to protect him from exactly that sort of danger.
Eventually, we learn that Marko is an avatar of the god Cyttorak, and when Cyttorak's power leaves him, he becomes a "normal" human again.
The Sentinels (First Appearance: X-Men #14, November, 1965)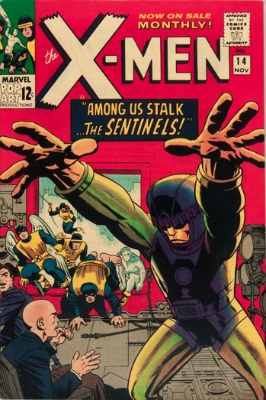 Record sale: $43,200
Minimum value (poor but complete): $180
 Have yours appraised

The brainchild of Bolivar Trask, the Sentinels were a group of giant powerful robots programmed to hunt, capture, and kill mutants.
Trask was alarmed by the mutant powers of his son, Larry, whose precognitive abilities allowed him to predict his mother's death. Trask hid his son's mutant status from him, and built the Sentinels to capture, study, and eradicate any and all mutants.
After his own death, Trask's son Larry took over the mission, without knowing that he, too, was a mutant. Since then, the Sentinels have appeared many times, and are always a menace to the X-Men and mutants everywhere.
X-Men Villains: Mystique (First Appearance: Ms. Marvel #16, May, 1978)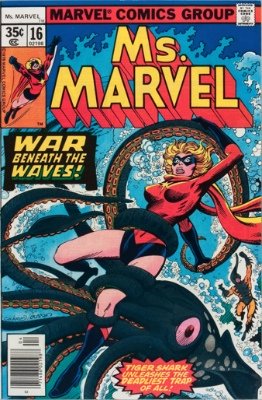 Record sale: $15,000
Minimum value: $30
Have yours appraised

Perhaps best known from the X-Men movies, in which she tends to be naked and blue, Mystique is a shape-shifting mutant X-Men villain who is revealed to be more than 100 years old, and the mother of both Nightcrawler and the villain Graydon Creed.
At one point she joined the X-Men, to work as a double-agent for Charles Xavier.
She is a cunning strategist and skilled at espionage, can take any form, and speaks more than 14 languages.
Proteus (First Appearance: Uncanny X-Men #125, September, 1979)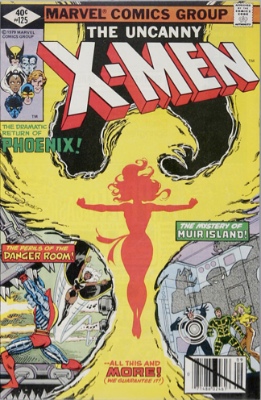 Record sale: $560
Minimum value: $20
 Have yours appraised

Proteus was Kevin MacTaggert, son of Moira MacTaggert and the product of rape.
He had the ability to warp reality and possess the bodies of others, and had an unstable body that required special energy fields, lest he burn himself out.
Kept in a special cell by his mother for many years, he eventually escaped and left a trail of carnage in a quest to find and kill his father.
He did so, possessing his father's body, and was eventually killed in a battle with the X-Men.
Hellfire Club (First Appearance: Uncanny X-Men #129, January, 1980)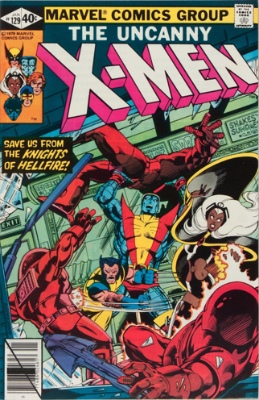 Record sale: $4,800
Minimum value: $20
 Have yours appraised

The Hellfire Club was first introduced at the beginning of the Dark Phoenix saga, and is a secret society for the wealthiest and most powerful people in the world, designed to further their own ends.
The Hellfire Club is involved in assassinations, coups, and other behind-the-scenes activities to further their own wealth and power.
Believing Jean Grey was the descendant of former club member Lady Grey, Hellfire Club member Mastermind (Jason Wyngarde) attempts to use psychic trickery to turn her into the club's Black Queen.
This failed, since the "Jean Grey" of that time was in reality an alien entity named "Phoenix," and thus began the era of Dark Phoenix.
The Hellfire Club has been involved with the X-Men in various ways ever since.
Dark Phoenix (First Appearance: Uncanny X-Men #134, June, 1980)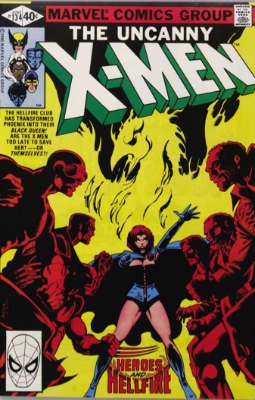 Record sale: $1,120
Minimum value (poor but complete): $10
Have yours appraised

After the Hellfire Club's machinations in attempt to turn her into their Black Queen (in Uncanny X-Men #132) seemed to have succeeded, it is revealed in #134 that "Jean Grey" is not who she seems to be.
Rather, she is a cosmic entity named Phoenix, who took on Jean's identity after Jean apparently died saving the X-Men.
Phoenix, to distance itself from ties to the Jean Grey identity, attacks the X-Men, eventually sacrificing itself out of concern for them, unable to stop "being" Jean.
Apocalypse (First Appearance: X-Factor #5, July, 1986)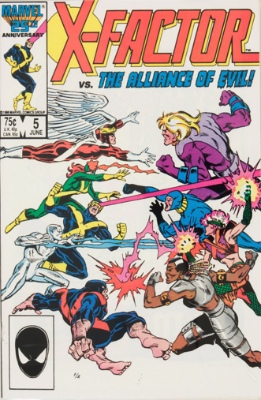 Record sale: $950
Minimum value: $10
Have yours appraised

Apocalypse is a 5000-year-old mutant with immense power and an unusual, grey-skinned appearance who has wandered through the millennia, occasionally worshiped as a god.
He is telepathic, telekinetic, can control the shape and material of his body, can project and absorb energy, and is essentially immortal.
Apocalypse has figured as the villain in all of Marvel's mutant titles.
He is perhaps the only super-villain who could rival Magneto for the title of "most important X-Men villains."
This cameo issue is one of the hot comic books which have risen rapidly in value. His first full appearance is in X-Factor #6, and is more highly prized than #5.
Mr. Sinister (First Appearance: Uncanny X-Men #221, September, 1987)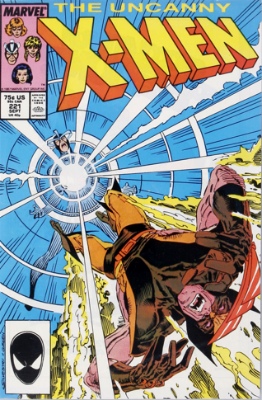 Record sale: $5,400
Minimum value: $10
Have yours appraised

Mr. Sinister was Nathaniel Essex, a 19th-century British biologist who was driven out of his humanity by the loss of his son.
He was drawn into the Hellfire Club and then transformed by the mutant Apocalypse into a ghostly-white being of tremendous power and near-immortality.
In one of modern comic-dom's most implausible storlyines, he was revealed to have been watching over Scott Summers (Cyclops) in the orphanage where Scott lived as a youth, before ending up in Charles Xavier's school. Another of the cool X-Men villains that has seen price rises.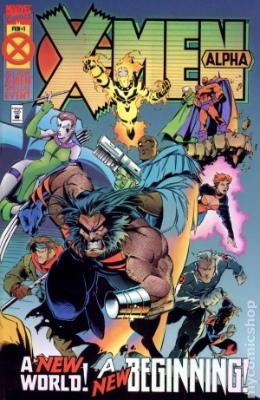 Record sale: $890
Minimum value: $10
 Have yours appraised

During the "Age of Apocalypse" saga, which began in X-Men: Alpha #1, in February, 1995, many X-Men heroes become X-Men villains for a time.
In a series of retcons and revisions so convoluted that no one can make sense of them to this day, a new and alternate timeline is created after Charles Xavier and a mutant named Legion travel back in time to attempt to kill Magneto.
The resulting alternate timeline has Magneto forming and leading the X-Men, and several of the X-Men, notably Bobby Drake and Hank McCoy, emerge as significantly evil presences.
More of our Comic Price Guides