Martian Manhunter Comic Book Price Guide
How much are your Martian Manhunter comics worth?
J'onn J'onnz (pronounced "John Jones") is a strange character. See the values of his key issue comic book appearances here.
Detective Comics #225 (November 1955): First Appearance of The Martian Manhunter (J'onn J'onzz)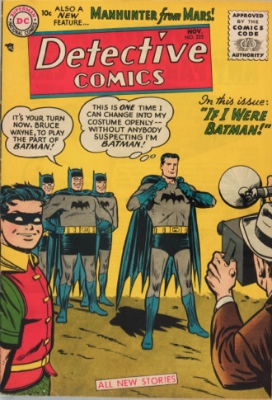 Record sale: $75,000
Minimum value (poor but complete): $300
Detective Comics #225 is notable not for a Batman story, but for the first appearance of J'onn J'onzz, the Martian Manhunter. This occurs in a backup story called The Strange Experiment of Dr. Erdel.
Brought to earth from Mars, accidentally, by Dr. Erdel, who is working on a teleportation machine, J'onn J'onzz is compelled to stay by a teleportation malfunction. He decides to use his Martian mind-over-matter powers to extract gold from seawater, making himself wealthy.
Bothered by crime on earth (there is none on Mars), J'onn decides to stay and fight crime on his new home world. He becomes "John Jones," detective for the Middleton Police Department. Another imaginative city name from DC Comics!
In this story, his powers are not well-defined. In fact, that would become an MM trademark. Every time he needed one, a new power he'd (just by chance) never used before would pop up, ready to go. Over the next several years, it would come to seem like MM could pretty much do anything.
Brave and the Bold #28 (March, 1960): J'onn J'onnz Joins The Justice League of America
Record sale: $120,000
Minimum value (poor but complete): $400
With Brave and the Bold #28, DC Comics decided in March of 1960 to reboot their original super team, the Justice Society of America, as the Justice League of America. Just as the JSA had been the first super team comic of the Golden Age, the JLA was the first of the Silver Age. 
The lineup of the JLA included Batman, Superman, Wonder Woman, The Flash, Green Lantern, Aquaman, and our friend, J'onn J'onnz, the Martian Manhunter.
Along for the ride was Snapper Carr, JLA mascot, in the role that Johnny Thunder had played in the JSA comics. Comic relief, it seemed, was as much a necessity in the early Silver Age as it'd been in the Golden Age. 
The style is somewhat pale in light of what DC's competitors over at Marvel would shortly be doing with the Fantastic Four, but DC was first in both the Golden Age and Silver Age with super teams. 

BB #28 is extremely valuable to collectors, thanks to its historical significance, as well as to recent red-hot JLA movie speculation.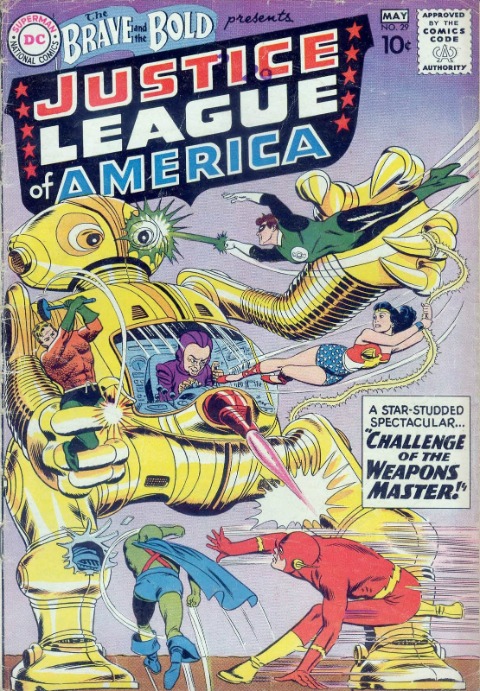 Brave and the Bold #29
J'onn J'onnz stars in team
Record sale: $38,000
Minimum value: $50
Have Yours Appraised
Brave and the Bold #30
J'onn J'onnz stars in team
Record sale: $17,000
Minimum value: $20
 Have Yours Appraised
Justice League of America #1: J'onnz in the Super-Team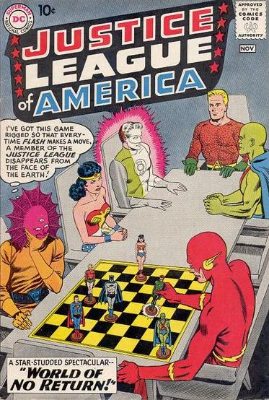 Justice League of America #1
This super-hot comic book is rocketing in value, due to apparently substantiated JLA movie rumors. You can see full reports of prices in our JLA Comics article
Record sale: $75,000
Minimum value: $100
 Have Yours Appraised
Why This Guide is AWESOME for Wannabe Comic Investors

If you have either tried (and failed) to make money flipping comic books, or are frustrated by the huge array of choice out there, then this is the eBook for you.

It's packed with 32 in-depth analyses of easy-to-buy and sell comic books from the Bronze to Modern ages.

These are titles we have personally made a lot of money buying and selling. So can you.

Make more than your money back with your first successful trade (or by NOT buying a losing book!).

If you are not completely satisfied, we have a 365-day money-back guarantee.

Click to read more, or order your copy today!
Detective Comics #326: "Death" of the Martian Manhunter's Alter Ego?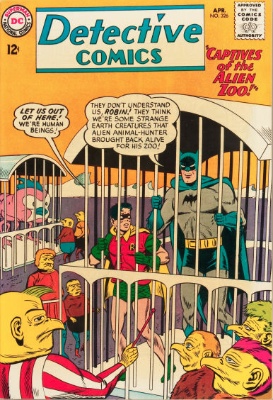 Record sale: $1,700
Minimum value (poor but complete): $1
Detective #326 is the end of an era for J'onnz. A story called The Death of John Jones, Detective served as the final episode of Martian Manhunter's run as back-up feature in Detective. 
A criminal named Durskin has stolen the ancient Idol-Head of Diabolu, which it turns out, conveniently, has all the evils of mankind contained inside it. One of the evils is a giant, glowing, yellow, snake-like creature that devours all matter in its path.
Manhunter is in his John Jones identity when the snake-creature devours the car he is driving. He transforms into J'onn J'onnz at the last minute and escapes, but all who witness the event assume that the "human" John Jones is dead. Martian Manhunter vows to solve the case and avenge Jones' death. 
The Elongated Man would begin a long run as the backup feature in Detective with #327.

House of Mystery #143: (June, 1964) First Appearance of Martian Manhunter in HoM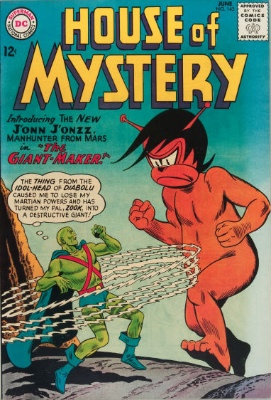 Record sale: $825
Minimum value (poor but complete): $5
The first appearance of Martian Manhunter in House of Mystery #326 was auspicious, particularly because it was the first full-length MM story.
Writer Jack Miller and artist Joe Certa came with MM from Detective, so the proceedings are very much like what had come before, except now in a full-length format. 
In a story that promised The NEW J'onn J'onnz, called The Giant Maker, MM is menaced yet again by the Idol-Head of Diabolu. This time, a creature from the Idol-Head has caused MM to lose his Martian powers, and has caused his sidekick, Zook, to turn into a savage giant.
Zook was a cute and cartoony comic-relief sidekick, a rough analogue to Bat-Mite, and had been with MM since about midway through his run in Detective. In general, he did MM no favors in terms of making him seem cooler to readers. 
This issue is more valuable than you might think, since it is the first full-length MM story.
Justice League of America #71 (May, 1969): Martian Manhunter Leaves Earth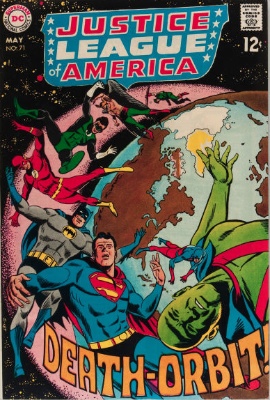 Record sale: $425
Minimum value (poor but complete): $1
Justice League of America #71 would be the end of regular appearances in any DC Comics by MM until the 1980s.
In this story, entitled ...And So, My World Ends, MM is troubled to find out that a Martian named Benn Blanx is trying to blackmail the people of Mars into returning to their former warlike ways by engulfing the planet in a strange blue flame.
The JLA and MM get involved, but by the time they best Blanx and get to Mars, most of the inhabitants are dead or dying. J'onn J'onnz decides to head into deep space with the survivors to help them find a suitable new home, ending his time on earth and as a member of the JLA for quite a while to come. 
Other Batman-Related Price Guides on SMCB
History of Martian Manhunter in Comics
The Metal Men had their own comic, and so did Hawk and Dove, if only for 6 issues. Martian Manhunter never had his own book in the Silver Age or the Bronze Age.
Created by writer Joseph Samachson and artist Joe Certa, J'onn J'onnz was intended as a back-up-feature kind of hero. Well, there you have it: Manhunter's original niche. He's in the same category as characters like Adam Strange, the category of heroes with limited appeal.
Today, of course, it's a different story. It may be hard to imagine for younger readers, but if you'd told the average comic book reader in the '70s that The Flash was going to become very important and be highly regarded as the signature character created at the dawn of the Silver Age, they'd have looked at you like you had three heads.
Technically, DC's Martian Manhunter is a Golden Age creation, having first appeared in the pages of Detective Comics #225 in late 1955.

Since most folks reckon that the Silver Age started with Barry Allen's appearance in Showcase #4 in July of '56, this distinction would seem logical. However, if we think of the Silver Age as an attitude and a style rather than something defined by dates, we must place J'onn J'onnz there, and not in the Golden Age.
In every way that matters, Martian Manhunter is very much the epitome of what was lackluster in terms of DC's early Silver Age comics: he was colorful but bland, a character with very little that seems in any way realistic about him, or that readers can relate to. Marvel owned the Silver Age because their characters weren't like that -- Peter Parker was someone you could relate to, even if you didn't have the proportional strength and speed of a spider.
Now, don't get us wrong. There's nothing wrong with Martian Manhunter. He now occupies a prominent place in the DC universe, and everyone who reads comics knows him.
His beginnings, at the dawn of the Silver Age, were less auspicious. Initially a back-up feature in Detective, the Manhunter joined the JLA as an inaugural member, and stayed until the late '60s.
His back-up feature moved to House of Mystery for a while, and ended in 1968. By that time, he was no longer a JLA regular, and the following year, in JLA #71, he decided to head back out into space, leaving the JLA and earth for most of the next 15 years. 
In the '80s, Martian Manhunter came back, and after that, his fortunes were significantly more, well, fortunate. Those comics are for a later article, and another time. For now, let us content ourselves with an investigation on what, exactly, made Mr. J'onnz such a misfit hero in the Silver Age, but so important later.
Have Your Martian Manhunter Comics Valued
If you've got some copies of Silver or Bronze Age comics featuring Martian Manhunter, especially Detective Comics #225, The Brave and the Bold #28, or Justice League of America #71, then click here to have them valued FREE by Sell My Comic Books!
More of our Comic Price Guides