EC Comics: Crime SuspenStories Comic Book Price Guide
Crime SuspenStories Comic Book Values
EC Comics is infamous for producing some of the most graphic comic book art to ever be published. They're among the most collectible of all horror comics.
Severed heads, eye injuries, brains blown out, hangings... EC had it all.
While not every EC issue is valuable, the most gory and extreme covers are the ones you'll be happy you found.
In the case of Crime SuspenStories, #17, #20 and #22 are the ones to look for.
Please note: EC comics have been reprinted numerous times. It is usually pretty easy to tell if you have an original, due to the 10c cover price.
Crime SuspenStories #1
Record Sale: $7,100
Minimum Value: $50
Crime SuspenStories #2

Record Sale: $3,360
Minimum Value: $30
Crime SuspenStories #3

Record Sale: $3,600
Minimum Value: $40
Crime SuspenStories #4

Record Sale: $2,760
Minimum Value: $30
Crime SuspenStories #5

Record Sale: $2,155
Minimum Value: $20
Crime SuspenStories #6

Record Sale: $2,760
Minimum Value: $30
Crime SuspenStories #7

Record Sale: $1,550
Minimum Value: $30
Crime SuspenStories #8

Record Sale: $2,640
Minimum Value: $30
Crime SuspenStories #9

Record Sale: $2,900
Minimum Value: $30
Crime SuspenStories #10

Record Sale: $1,300
Minimum Value: $40
(Article continues below)
All Our Horror Comics Price Guides
Crime SuspenStories #11

Record Sale: $3,840
Minimum Value: $40
Crime SuspenStories #12

Record Sale: $1,730
Minimum Value: $40
Crime SuspenStories #13

Record Sale: $2,300
Minimum Value: $40
Crime SuspenStories #14

Record Sale: $2,880
Minimum Value: $50
Crime SuspenStories #15

Record Sale: $2,430
Minimum Value: $50
Crime Suspense Stories #17: Classic Brains Blown Out Cover
Crime SuspenStories #17

Record Sale: $13,700
Minimum Value: $70
Crime SuspenStories #16

Record Sale: $2,400
Minimum Value: $60
Crime SuspenStories #18

Record Sale: $1,035
Minimum Value: $40
Crime SuspenStories #19

Record Sale: $1,000
Minimum Value: $50
Crime Suspense Stories #20: Classic Hanging Cover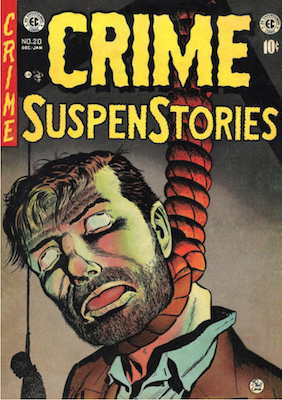 Crime SuspenStories #20

Record Sale: $4,000
Minimum Value: $100
Crime SuspenStories #21

Record Sale: $1,000
Minimum Value: $30
Crime SuspenStories #23

Record Sale: $1,000
Minimum Value: $40
Crime SuspenStories #22: All-Time Classic Decapitation Cover
Crime SuspenStories #22

Record Sale: $15,200
Minimum Value: $200
Crime SuspenStories #24

Record Sale: $2,040
Minimum Value: $30
Crime SuspenStories #25

Record Sale: $870
Minimum Value: $20
Crime SuspenStories #26

Record Sale: $1,560
Minimum Value: $30
Crime SuspenStories #27

Record Sale: $1,600
Minimum Value: $30
More of our Comic Price Guides