Captain America Villains and Their First Appearance Comic Book Values
Value of Key Captain America Villains
It's strange, considering that he's the symbol of the USA and all, that Captain America's super-villain enemies just aren't as varied or interesting a bunch as Spider-Man's enemies, for example, or Batman's.
Have Your Captain America Comics Valued FREE
If you've got some copies of first appearances or origins of Captain America villains, then click here to have them valued FREE by Sell My Comic Books!
Click Here to Get Your Free Appraisal or Consign Your Books to Auction!
QuickList of Captain America Villains
Click any on the pictures or links in this list of Captain America villains to jump to a full description, first appearance, and value! See a list of Marvel Villains in the MCU here.
Captain America Villains: Adolf Hitler (First Appearance: Daring Mystery Comics #6, September, 1940)
Yes, Hitler. Why not? Cap fought him often enough, especially during his original Timely Comics Captain America WWII heyday.
Of course, Der Fuhrer did not make his first Marvel Universe appearance in a Captain America story or title, but once Cap made the scene in March of 1941, how could pitting the two against each other possibly miss?
In fact, the cover of Captain America Comics #1, Cap's very first appearance, features the iconic image of Hitler reeling from a right hook to the jaw, courtesy of our own Star-Spangled Avenger.
Hitler would appear countless times during WWII, and then in flashbacks during the Silver Age, and would be notably cloned by Arnim Zola to menace Cap again in the 1970s.
Record sale: $4,930
Minimum Value: $250
Captain America Villains: Red Skull (First Appearance: Captain America Comics #1, March, 1941)
The Red Skull debuted with Cap, and the two have been entangled together ever since. Of course, the history is not simple.
Originally, the Skull was George Maxon, owner of an aircraft company, and traitorous to the US. Later, he was revealed to be a pretender by the "real" Red Skull, Johann Schmidt, in Captain America Comics #7.
They battled on and off, and after a long disappearance (punctuated by now only semi-canonical mid-1950s appearances), the Johann Schmidt version of the Red Skull was brought back to stay in the Silver Age, in Tales of Suspense #79, in July, 1966.
He has no super-powers, but is an evil genius. At one point, his mind ended up in a clone of Steve Rogers' body.
Record sale: $3,120,000
Minimum Value: $25,000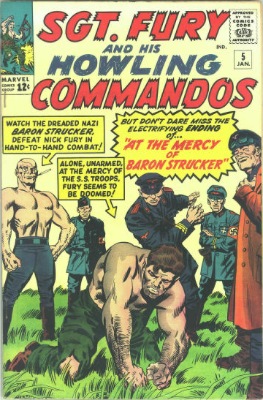 Captain America Villains: Baron Strucker (First Appearance: Sgt. Fury and His Howling Commandos #5, January, 1964)
The child of Prussian nobility, Baron Wolfgang von Strucker was introduced in the WWII-chronology Silver Age Nick Fury comic, but soon made the leap into the present time when he again began battling Fury in his new guise as the Supreme HYDRA.
His first encounter with Cap happened, confusingly, in The Invaders #30, set in WWII but published in July of 1978. Later, he would become one of Cap's main nemeses, in various incarnations and reincarnations.
Strucker wears the Satan Claw, which gives him super-strength and allows him to shock his enemies, and carries the deathspore virus, which can kill with only a touch.
Record sale: $4,780
Minimum Value: $30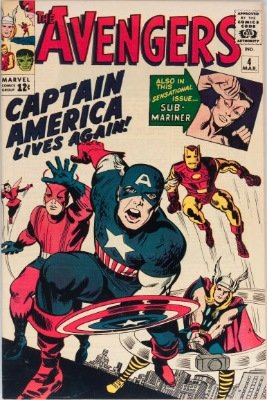 Captain America Villains: Baron Zemo (First Appearance: The Avengers #4, March, 1964)
Baron Henrich Zemo is responsible for Captain America's transition from WWII to the Silver Age.
When the Avengers find Cap frozen in the Atlantic and revived him from suspended animation, we learn that it was Zemo who (apparently) killed Cap's sidekick, Bucky Barnes and caused Cap's suspended animation after he tied them both to an experimental plane that was rigged to explode.
Zemo was seeking revenge against Cap for the incident, which glued his hood to his face permanently.
Eventually killed by a landslide he caused himself, Zemo's son, Helmut, became the next Baron and another enemy for Captain America.
Record sale: $143,400
Minimum Value: $250
Captain America Villains: Georges Batroc (First Appearance: Tales of Suspense #75, March, 1966)
Georges Batroc is a mercenary who has battled Cap working for the likes of THEM and HYDRA, and various other employers over the years.
He has no superpowers as such, but is a self-taught master of savate, the French discipline of foot-boxing.
He has often faced Captain America leading various groups known as "Batroc's Brigade," sometimes with other super-villiains, and sometimes with common criminals and thugs.
His first appearance in Tales of Suspense #75 was not a huge key issue, until Batroc made his cameo appearance in Captain America 2: The Winter Soldier (see below for Bucky's role in this story arc).
Record sale: $1,600
Minimum Value: $10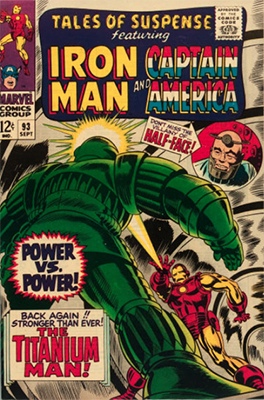 Captain America Villains: Modok (First Appearance: Tales of Suspense #93, September, 1967)
Created by HYDRA, Modok (or MODOK) was George Tarleton, scientist for A.I.M., who became the subject of an experiment that vastly increased his mental powers and the size of his head, to the extent that his body could no longer support his grossly enlarged cranium.
Originally, he was MODOC, or "Mental Organism Designed Only for Computing," but after he rebelled against his A.I.M. masters, he rechistened himself "Mental Organism Designed Only for Killing," becoming the head of A.I.M. and emerging as a major super-villain.
He battled Cap multiple times throughout the Silver and Bronze Ages, and afterwards in various incarnations.
Record sale: $700
Minimum Value: $10
Captain America Villains: Dr. Fasutus (First Appearance: Captain America #107, November, 1968)
Dr. Faustus is Johann Fennhoff, a brilliant psychiatrist and criminal mastermind.
He chose to try to drive Cap insane to glorify himself as the only man who could defeat Captain America.
After inveigling himself into the position of Cap's psychiatrist, Faustus slips him some hallucinogenic drugs and attempts to convince him that he has gone insane.
The plan fails, and Cap knocks Faustus out handily. His obsession remains, however, and Dr. Faustus would return to battle Cap again and again.
Record sale: $2,100
Minimum Value: $10
Captain America Villains: Arnim Zola (First Appearance: Captain America #208, April, 1977)
Arnim Zola is a scientist who first used his knowledge of genetics to aid the Nazis.
Among his accomplishments was creating clones for Hitler, and developing a process by which a person's mind could be transplanted into another body.
He performed this process on himself, transferring his mind into a new body with only an ESP box where the head would normally be, and a screen that displays his "face" in the body's chest.
His bizarre appearance, genius intellect, and skill in genetics make him a consistently powerful and unusual foe for Cap.

Record sale: $400
Minimum Value: $20
Captain America Villains: Winter Soldier (First Appearance: Captain America Vol. 5 #6, January, 2005)
The Winter Soldier is actually Bucky Barnes.
Few characters have been revived and retconned as often as Bucky, and in this iteration, we learn that Bucky did not die in the airplane explosion, but rather ended up losing an arm and going into a similar state of suspended animation to Cap's.
He was found by the Soviets years later, given an artificial arm, and brainwashed into a new life as an assassin.
With the help of his old pal Steve Rogers, Bucky's brainwashing is reversed, and he becomes a force for good.

Record sale: $1,140 ($550 variant edition)
Minimum Value: $10
More of our Comic Price Guides