See the 100 Hot Comics for Investment in 2022!
NOTE: We use eBay to provide references to live prices of comic books. Clicking a text link or image marked 'Check live prices' will take you to eBay.

Value of Golden Age Venus Comics
Venus Comics Price Guide 1948-52
Venus was a strange Timely Comics title that changed over its brief run, reflecting broader changes in comic book taste during the period.
By the end of its run, it had turned from a glamor title, via something looking like a humor title in the vein of Archie or Millie the Model, through romance, then sci-fi and finally into horror!
If you've found old Venus issues or any other vintage comics, then use the button below to request a free appraisal or cash offer.
Click Here to Get Your Free Appraisal!
Value of Venus Comics #1-#19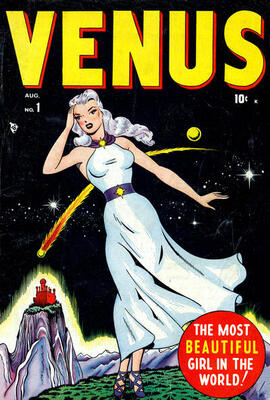 Venus #1 (1948)
Record Sale: $24,000
Minimum Value: $80
Check Live Prices | Have Yours Appraised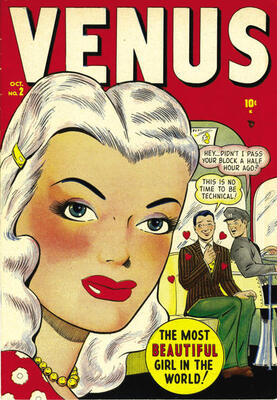 Venus #2

Record Sale: $10,200
Minimum Value: $100
Venus #3

Record Sale: $6,600
Minimum Value: $50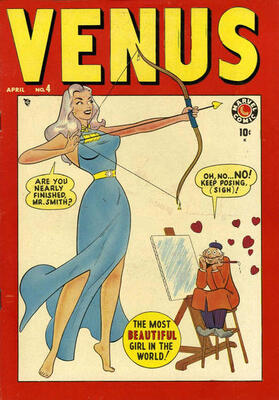 Venus #4

Record Sale: $1,770
Minimum Value: $30
Check Live Prices | Have Yours Appraised
Venus #5

Record Sale: $2,220
Minimum Value: $70
Venus #6

Record Sale: $1,100
Minimum Value: $200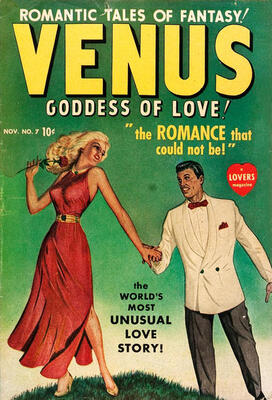 Venus #7

Record Sale: $910
Minimum Value: $140
Venus #8

Record Sale: $1,800
Minimum Value: $150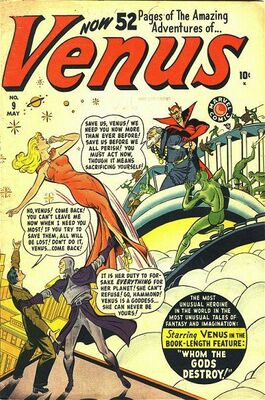 Venus #9

Record Sale: $1,500
Minimum Value: $200
Check Live Prices | Have Yours Appraised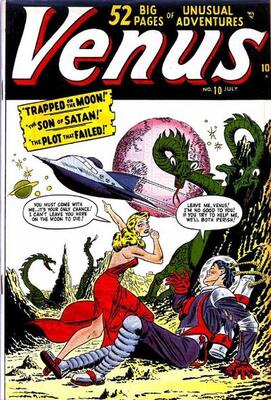 Venus #10

Record Sale: $2,270
Minimum Value: $80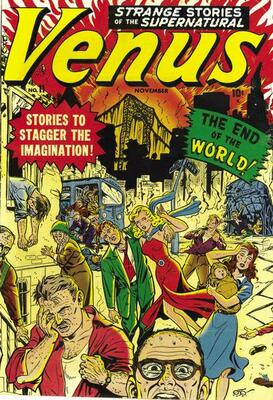 Venus #11

Record Sale: $1,430
Minimum Value: $60
Venus #12

Record Sale: $1,500
Minimum Value: $140
Check Live Prices | Have Yours Appraised
Venus #13

Record Sale: $1,400
Minimum Value: $80
Venus #14

Record Sale: $2,000
Minimum Value: $110
Venus #15

Record Sale: $2,400
Minimum Value: $100
Check Live Prices | Have Yours Appraised
Venus #16

Record Sale: $3,360
Minimum Value: $60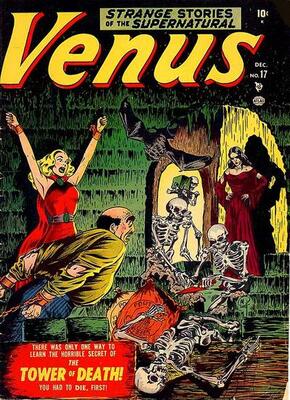 Venus #17

Record Sale: $10,160
Minimum Value: $70
Venus #18

Record Sale: $4,660
Minimum Value: $320
Venus Comics #19
Final issue; classic horror cover
Record Sale: $52,500
Minimum Value: $800
All Our Horror Comics Price Guides
More of our Comic Price Guides