Undervalued Comics: FOOM 10, Friends of Old Marvel 10, 1st New X-Men Team
Undervalued Comics: FOOM 10, Friends of Old Marvel 10, 1st New X-Men Team. Click to find a copy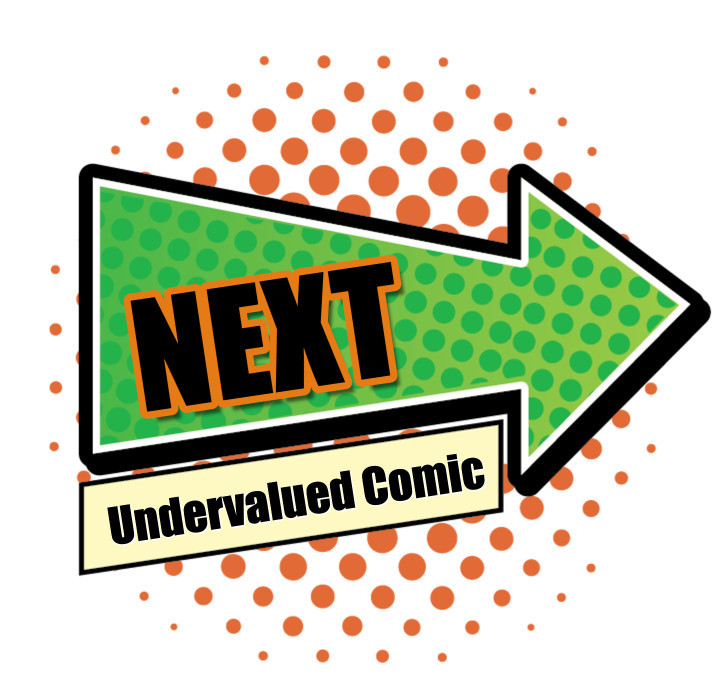 Click to see the next undervalued comic book in our series!
Why FOOM 10 is an Undervalued Comic... Or Is It?!
So, what do you when everybody agrees a certain book is not only valuable, but should be even more valuable... and they're wrong?
What if the thing everybody cites as the reason said book has value, is simply not correct?
Well, you could keep quiet. If all the lemmings insist on charging over a cliff, sit back and sell 'em a map, right?
But here's the thing — we're not in business to blow sun up your bum. Not only are we going to tell you why this book is not undervalued, we're going to tell you that it may, in fact, be OVER-valued.
So, if you happen to be the cat who recently shelled out $33,600 on a CGC 9.8 copy of FOOM #10, take a seat, my man, 'cause we're about to rock your world.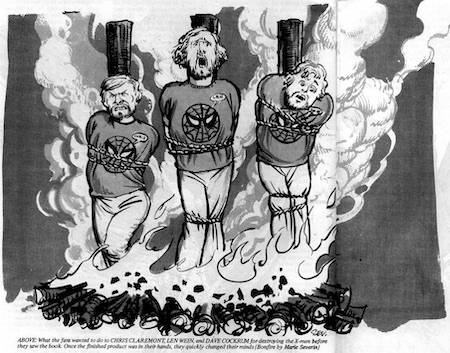 FOOM 10: Burning Creators
If you don't know, FOOM — which stood for "Friends of Ol' Marvel" — was an in-house fanzine published by Marvel in 22 quarterly issues, from 1973 to 1978, or nearly the full length of the Bronze Age. The series is indeed renowned today for showcasing the first appearance in print of many Marvel super-stars, as well as the first published work from dozens of future Marvel artists.

And in that light, many internet databases, auction sites, and online price guides claim FOOM #10 features the first appearance of the all-new, all-different X-Men.
Even grading certification service CGC has encapsulated this book with the notation: "Pre-dates Giant Size X-Men #1 & X-Men #94."
Now if that was true, it would make it FOOM #10 the very first published appearance anywhere of new X-Men Colossus, Nightcrawler, Storm, and Thunderbird, while also marking just the fourth appearance of Wolverine.
So, yeah, that would be kind of a big deal, if true. But cue the sad trombones, it's not.
Don't believe us? Okay, don't take our word for it. Cast your peepers instead on this 2008 blog post from Scott Edelman:
"I was the editor of FOOM back then, and issue #10 was an X-Men special, in honor of the relaunch which had occurred just a few months earlier in the pages of Giant-Sized X-Men #1."
So, the editor of the book himself says it was released after Giant Size X-Men #1.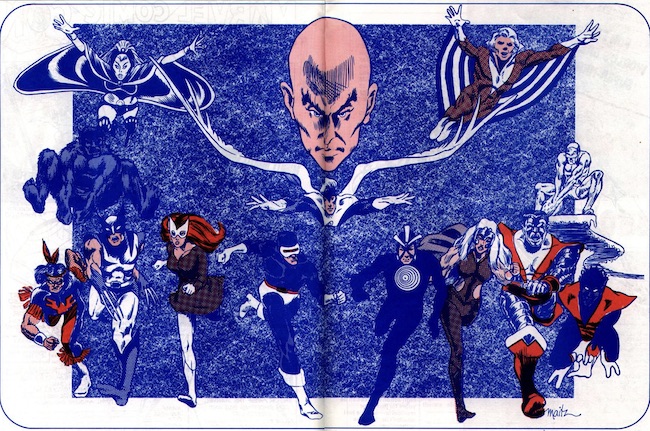 FOOM 10 Center Poster
But maybe you're still not convinced. Maybe you're all, "Well, if all the eBay listings say X about Y, and the guy who actually made Y says Z, he totes mad, yo. Hashtag Okay Boomer."
Fine. Let's look inside the book then:
The "Department of Information" column previews Marvel comics with October cover dates, scheduled for release in July 1975. Among the stories listed is "Night of the Demon," from X-Men #96.
In his introductory editorial, "X-Men! X-Men! Read All About 'Em!" Edelman says, "By the time you read these words, you'll probably already have seen a Chris Claremont-scripted issue or two," and,
A Marie Severin cartoon of New X-Men creators being burned at the stake carries the caption, "What the fans wanted to do to Chris Claremont, Len Wein, and Dave Cockrum for destroying the X-Men before they saw the book. Once the finished product was in hands, they quickly changed their minds."
Wein wrote Giant Size X-Men #1. Claremont then scripted over Wein plots in X-Men #94-95, before taking full reins with #96. And while any of the above bulleted items could be seen as forward-looking statements, the use of past tense certainly seems to indicated X-Men #94, at least, was in circulation before FOOM #10 hit
Still not convinced? Wow, you're a tough nut to crack. Okay then, let's look at some known publication dates.
All the indexing websites agree Giant Size X-Men #1 was cover-dated May 1975. But you have to be careful when researching comic books. The truth is the book does not list a month. On the cover and in its indica, it just says "1975."
Citing a U. S. Copyright Office filing, the Grand Comics Database (GCD), located online at comics.org, says Giant-Size X-Men #1 landed on newsstands nationwide February 25, 1975.
However, Mike's Amazing World of Comics, a website that makes something of a specialty out of researching and sharing on-sale dates, goes one step further. It does't just quote the Copyright Office filing, it shows it.
And while the Feb. 25 date matches,  Mike says dates listed in all copyright filings for Marvel comics published after April 1969 are ship dates from the printer, not the first date of retail sale. Thus, Mike contends Giant Size X-Men #1 didn't grace newsstands until April 1, 1975.
Which is correct? Well, for that answer let us turn to Stan Lee's "Bullpen Bulletin" columns, archived online at bullpenbulletins.blogspot.com.
The Bulletin published in Incredible Hulk #188 says the X-Men were at that time, "currently cavorting in their brand-new GIANT-SIZE mag!"
Hulk #188 carried a June 1975 cover date. Meaning it hit newsstands in March of that year. Mike says March 4. Given that the Bullpen Bulletin column lumps Giant Size X-Men #1 in with Marvel's June dates books, we can say with a fair degree of certainty it also hit retail outlets sometime in March.
In other words, for FOOM#10 to predate Giant Size X-Men #1, it must have come no later than Mike's date of April 1, 1975.
So, what is the born-on date for FOOM #10? Its indicia says "June 1975." If it was dated by the same conventions as newsstand comic books and magazines, that would put it on stands in March.
But here's the thing — FOOM was not circulated via normal newsstand distribution channels. It was available via subscription only. Marvel would have had no reason, other than habit, to post-date it. No retailer needed to know when to pull it from sale, no distributor needed to know when go around asking for unsold copies.
That being the case, and given what the mag carries in its guts, we can well presume June is indeed when the Mighty Marvel Mailroom dropped FOOM #10 in the mail. Most indexing sites go with the June date. The exception is gocollect.com, which offers a "publication date" of May 31, 1975. Mike does not display a copyright notice for FOOM #10, but it does supply an "approximate on-sale date" of July 1.
The GCD, for what it's worth, does not track data on FOOM because it did not contain at least 10 percent comics-format material, the site's threshold for indexing.
At any rate, Mike says X-Men #94 hit stands June 10, while #95 went on sale July 22. The GCD, taking the Copyright Office filings literally, claims April 29 and June 24. Those books are cover dated August and October, respectively.
So, our final analysis: There is just about zero justification for saying FOOM came first, other than, "It's what everybody says, so it must be true."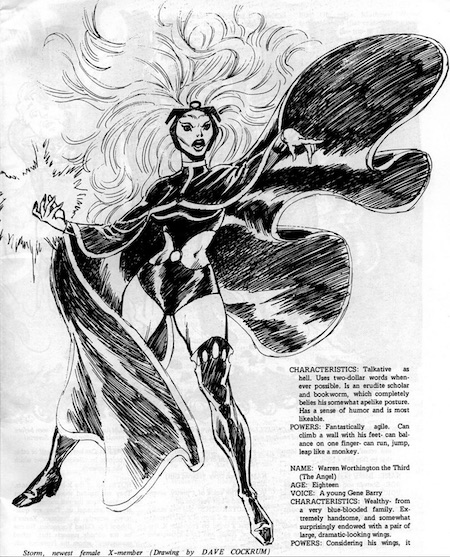 FOOM 10: Storm
Based on the preponderance of evidence, we say FOOM #10 most likely arrived in subscriber mailboxes, depending on where they lived, either just before or just after they'd scooped X-Men #95 up off their local news racks.
But even so, having said all of the above, just because this book is almost certainly not what most sources claim, that doesn't mean it's not worth having. At the very least FOOM #10 could be the fourth appearance anywhere of those mutants who made their debut in Giant-Size X-Men #1.
Maybe the third. And that would also make it just the fifth of sixth published appearance of Wolverine (not counting the prototype seem in FOOM #2).
Also, FOOM #10 is without question the first appearance of the new X-Men outside of the actual comics.
So, if you're buying, we'd advise you to press anyone advancing the FOOM-came-first theory. Hit them with the information above. Make them prove their claim. Maybe you can get a discount.
And if you're selling, be sure to tell people what you are offering, being clear that it is almost certainly not what most sellers say it is.
Another reason to get into this book, by the way, is its relative rarity. To date, the CGC census records just 160 copies with a Universal label. And of that, about 65 percent are graded 7.0 or better. This means that if you should score a lower-grade copy, you could fill a market niche by satisfying the curiosity of anyone who doesn't happen to have $34k kicking around.
Of course, what buyers will get for their curiosity is not a lot.
The new X-Men spotlight is limited to the brief Edelman mention and Severin cartoon listed above, along with a Cockrum cover and interior sketch of Storm. There's also a centerfold poster of new and old X-Men by Don Maitz, an artist best known for his covers to sci-fi and fantasy novels, and as the delineator of the pirate you see on bottles of Captain Morgan's Spiced Rum.
Everything else in the issue is related to to the old X-Men, including an odd, eight-page article entitled, "Mutation of the Species." Written from the perspective of Fred Duncan, an FBI agent who first appeared way back in 1963's X-Men #2. It has Duncan getting ahold of some files on the X-Men written by a fellow agent named "Stanley" and learning details about the team, including such tidbits as who each member sounds like.
A young Anthony Perkins as the voice of Cyclops? Maybe. But can you really imagine The Beast sounding like Tony Randall?
These descriptions came from notes made early on in Marvel history by Stan Lee, later found in carbon copy form by Edelman, as he recalled in a 2012 blog post, "buried in the back of a file cabinet . . . slipped between the drawers."
Anyway, the article continues as a kind of astral plane conversation between Duncan and Prof. Xavier, and ends by stating almost offhand that it may be time for Xavier to recruit a new team of mutants.
Guide to FOOM 10 Comic Book Values

This oblique reference to the new X-Men may be why so many people presume FOOM #10 predates the celebrated Giant Size re-launch of the X-franchise. But that just does not seem to be the case, and, to be true, would require ignoring all of the other carbon-dating clues contained within the issue.
Anyway, the upshot is this — people are dropping $1,000 and more on this book in grades as low as 3.5 and shouting to the rafters about how they got a steal. Sad to say, we think the only thing stolen was their money.
Because if they bought it on the understanding it pre-dates Giant-Size X-Men #1, they were sold a bill of goods. And while the book has value, $1,000 is a lot of cheddar, we think, for what it actually is.
Huh. Maybe we should start a new series on "Overvalued Comics?"
Drop us an email and let is know what you think!
(Special thanks to Joseph Lenius of the Comic Book Historians Facebook group for providing a digital copy of FOOM #10 for our review.)
CGC 9.8 — $33,600
CGC 9.6 — $14,166
CGC 9.4 — $5,000
CGC 9.2 — $737 (Aug. 2020)
CGC 9.0 — $3,000
CGC 8.5 — $771 (Oct. 2020)
CGC 8.0 — $2,500
CGC 7.5 — $2,132
CGC 7.0 — $1,539
CGC 6.5 — $1,600
CGC 6.0 — $1,071
CGC 5.5 — $1.550
CGC 5.0 — $552
CGC 4.5 — $660
CGC 3.5 — $1,100
CGC 2.5 — $389
Have this book? Click to appraise its value or Consign Yours for Auction!
Click Here to Get Your Free Appraisal or Consign Your Books to Auction!