Undervalued Comics:
Our Army At War 83, 1st True Sgt. Rock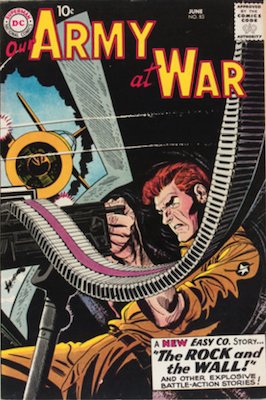 Undervalued Comics: Our Army At War 83, 1st Sgt. Rock. Click to find a copy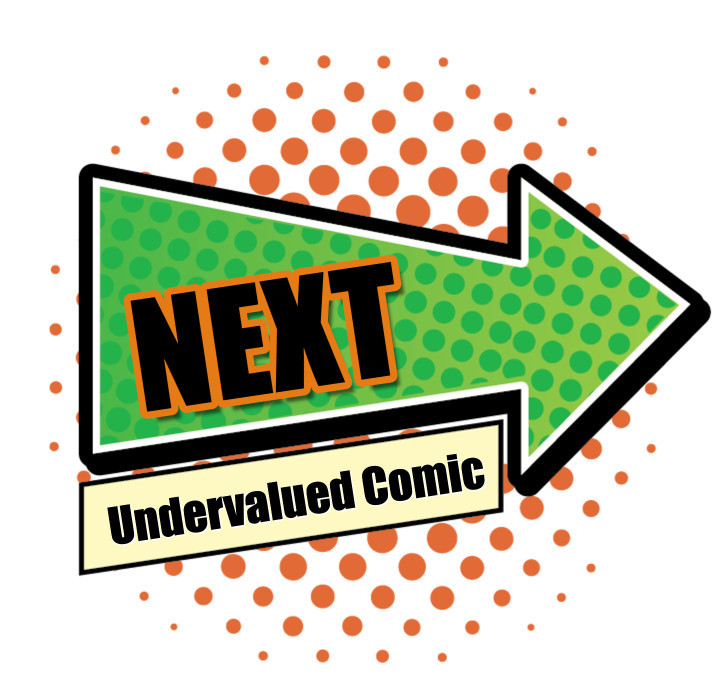 Click to see the next undervalued comic book in our series!
Why Our Army at War 83 is an Undervalued Comic
We've told you before about Sgt. Rock, and well we should, because, at least in terms of longevity, he's about the most significant character in comics with his underwear on the inside.
From our previous discussion, you'll recall the erstwhile leader of Easy Company had a long gestation period. It took several years for Rock to reach the form in which we know him today.
But even then, it was not entirely clear that DC had created a thing. Or, perhaps more correctly, it wasn't clear just who had created it.
Modern panelologists recognize Our Army at War #83 (on sale Apr. 2, 1959) as the first true Sgt. Rock story, with writer/editor Robert Kanigher and artist Joe Kubert his acknowledged creators.

But as late as its year 2000 Millennium Editions series, DC itself was calling Our Army at War #81 the first official Sgt. Rock tale.
The lead story in that latter issue, "The Rock of Easy Co." stars a character who seems otherwise fully on-model for Sgt. Frank Rock – otherwise except that he's called "Sgt. Rocky."
And here's where things get a mite touchy – that tale was written by Bob Haney, with art by Ross Andru and Mike Esposito.

Our Army at War 83: Sgt. Rock 1st Final Panel
To help bridge the gap, many sources today list Kanigher as "plotter" of the Haney script. And in a 1990 interview for the first issue of Robin Snyder's History of Comics, Kaniger claimed he was more than just that.

"I re-wrote most of Haney's scripts," he said. "The chances are that I re-wrote Haney's [Sgt. Rocky] story from start to finish and even titled it.


Kanigher was what we might call, in modern parlance, an "active" editor. Like his contemporary Mort Weisinger, who oversaw the Superman family of titles, Kanigher worked out stories with his writers in advance, sometimes starting tabula rasa, other times assigning a springboard plot he'd already settled upon of his own accord.
But unlike Weisinger, who by all accounts was generally happy with whatever his writers turned in – happy apart from complaining to anyone who'd listen that they couldn't do anything right – Kanigner would as ofter as not tear up what he got and do it himself.
For an interview in History of Comics #4, Haney referred to the style of the "great God editor" Kanigher as "kamikaze editing."
"That editing was, in the main, a travesty" he said. "In about the time of the average Mike Tyson fight, he'd slash out every panel and rewrite them pretty much as they were already written."
So, who really created Sgt. Rock – Kanigher or Haney?
"What I am saying is that I wrote the first story containing the basic Rock identity. Nothing more or less," Haney himself concluded.
This, of course, fails to account for even earlier prototypes than Haney's "Rock of Easy," including Kanigher's "The Rock," from G.I. Combat #68, or the even-earlier, "Combat Anchor Man," from All-American Men of War #28, written by neither man, but by the otherwise unheralded France E. Herron.
But regardless of which putsch you pick in the late-term pregnancy that finally gave birth to Sgt. Rock, both issues are almost criminally undervalued.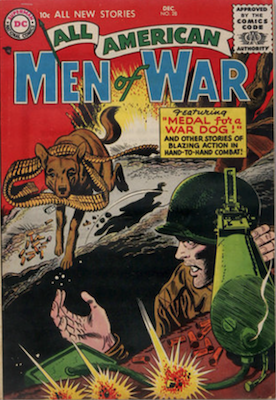 All-American Men of War #28: Sgt. Rock Prototype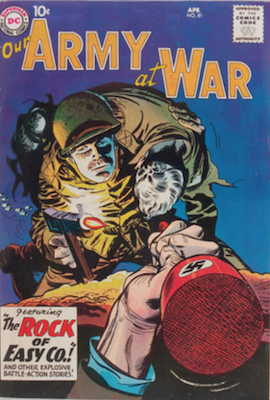 Our Army at War #81: Sgt. Rock Prototype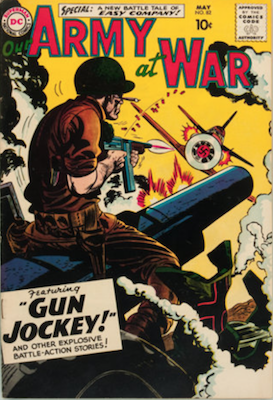 Our Army at War #82: Sgt. Rock Prototype
Neither book is particularly plentiful, to be frank, (no pub intended). CGC reports having certified just 186 copies of Our Army at War #81, including 10 restored, one signed, and two qualified editions.

Our Army at War #83, meanwhile, can boast just 208 certified copies, including eight restored, four signed, and one qualified.
That's not a lot to choose from. And given the way war comics were eschewed for decades by the same spandex fanboys who feed the back market today, not a lot of high grade copies are likely to turn up any time soon.
So, based on rarity alone, we're already looking at an outstanding investment value.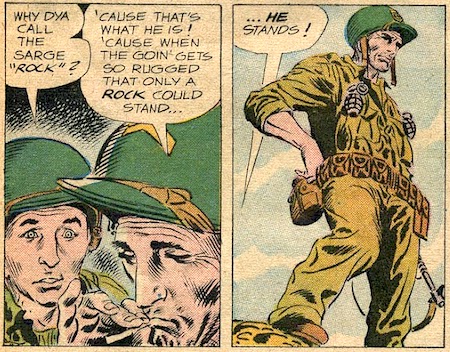 Our Army at War 83 Sgt. Rock Name, or Nickname?
And both books are an even better investment when one considers the sweet song they go for. Our Army at War #81 took a hit when DC switched gears and stopped citing it as the first final version of Sgt. Rock.

Today, it struggles to top four figures in anything below 7.0. Although there is a bigger-than-usual jump in sales prices from 6.0 to 7.0, showing that it is kind of all-or-nothing with this one.
Our Army at War #83, though, can be counted on to draw at least $1,000 in most any grade. But it still only goes for $2k in the mid- to medium-high grades. And that just seems wrong somehow.
Say what you will about Kaniugher's editing style, but DC's war comics were quality reading. The fact that Sgt. Rock fought World War II in the comics for about nine time longer than the actual war lasted should attest to that. And that was a hard trick to do on a fanbase built primarily of casual readers who came and went as the years rolled by.
While Superman got along on pretty much the same slatch of fans from the 1960s onward, Sgt. Rock had to lure in all-new recruits every three-to-five years or so, as his regular readers outgrew comics for other things. Like girls.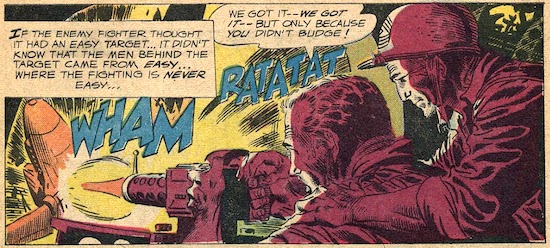 Our Army at War #83 Sgt. Rock Supports Wall
But maybe with Discovery on a DC Films kick, a Sgt. Rock movie can finally materialize. Lord knows Rock scripts have been circulating Hollywood since before Kangiher's 1990 interview with Snyder, as be mentions having one in hand then. 

For most of the 1980s and 1990s, almost every action-movie star you can name was linked to a Sgt. Rock movie, from Arnold Schwarzenegger, to Bruce Willis, to Matt Damon.
Today, it seems that Dwayne Johnson is one-and-done with Black Adam, but maybe he hasn't burned all of his bridges with DC.
Can you imagine Sgt. Rock played by THE Rock?
 Because we can promise you this, brother — on the day that movie is announced, you'll wish you owned one of these books then!
Guide to Our Army at War #81 Comic Book Values
CGC 9.0 — $7,111 (Mar. 2013)
CGC 8.5 — $5,400 (May 2019)
CGC 8.0 — $3,000
CGC 7.5 — $3,105 (Nov. 2003)
CGC 7.0 — $2,027 (Dec. 2016)
CGC 6.5 — $667 (Nov. 2018)
CGC 6.0 — $900
CGC 5.5 — $1,150
CGC 5.0 — $630
CGC 4.5 — $399
CGC 4.0 — $412
CGC 3.5 — $450
CGC 3.0 — $360 (Aug. 2018)
CGC 2.5 — $300
CGC 2.0 — $217 (Sep. 2019)
CGC 1.8 — $214
CGC 1.5 — $117
CGC 1.0 — $163
Guide to Our Army at War 83 Comic Book Values

CGC 8.0 — $16,730 (Aug. 2015)
CGC 7.0 — $14,400
CGC 6.5 — $5,906 (Feb. 2013)
CGC 6.0 — $4,427
CGC 5.5 — $3,605
CGC 5.0 — $2,650
CGC 4.5 — $2,640
CGC 4.0 — $2,040
CGC 3.5 — $1,680
CGC 3.0 — $1,500
CGC 2.5 — $1,900
CGC 2.0 — $2,000
CGC 1.8 — $998
CGC 1.5 — $1,060
CGC 0.5 — $453
Have this book? Click to appraise its value or Consign Yours for Auction!
Click Here to Get Your Free Appraisal or Consign Your Books to Auction!
Related Pages on Sell My Comic Books