Undervalued Comics: Blackhawk 133, 1st Lady Blackhawk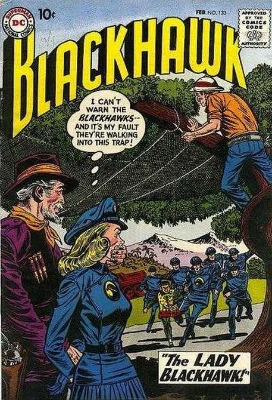 Undervalued Comics: Blackhawk 133, 1st Lady Blackhawk. Click to find a copy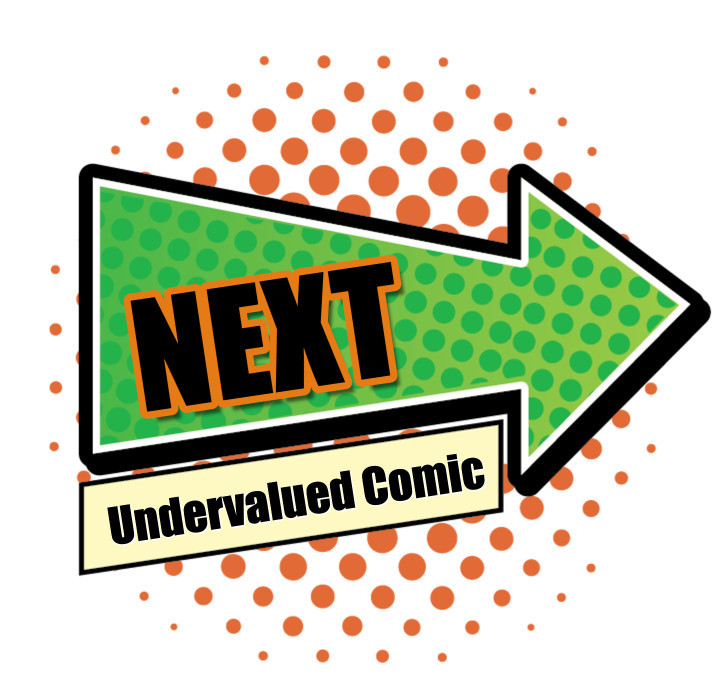 Click to see the next undervalued comic book in our series!
Why Blackhawk 133 is an Undervalued Comic
These days, it seems there's no character so minor their first appearance in comics can't translate into big bucks once they appear in a Marvel movie or TV series.
No matter how old the comic book, even a cameo or "easter egg" can take a previously overlooked issue and spike it up the price charts. It can happen at any time, to any book.

Unfortunately, DC movies just don't generate the same kind of back issue buzz as Marvel properties.

But they could. Or at least, Blackhawk 133 might — all because of one particular character who made her debut in that issue. But before discussing that, we need to cover a little bit of background.
Blackhawk's big-screen flight path
It's no secret in Hollywood — in fact, it's become the conventional wisdom — that super-star director Stephen Spielberg is a big Blackhawk fan. Has been from childhood. And as such, or so they say, he's always wanted to make a Blackhawk movie. It's said to be the one box on his movie-making wishlist left unchecked.
An oft-repeated rumor is that Spielberg only made 1941, his aviation-based comedy set during World War II, because what he really wanted to do was to make a Blackhawk movie, but he couldn't get the rights.
For what it's worth, Dan Aykroyd, who played a tank commander in 1941, was allegedly Spielberg's pick to portray Blackhawk leader, Janos Prohaska. What rights issues there may have been at that time is hard to say.
Steven Spielberg on set: rumor has it he is a huge Blackhawk fan
Blackhawk was created by the Eisner & Iger shop for Military Comics #1, put out in May 1940 by the Quality Comics Group co-owned by Everett "Busy" Arnold.
The set-up had Polish-American Blackhawk leading a multinational squadron of crack air fighters as they fought to free Europe from tyranny and oppression. And it was a hit right out of the box, by some accounts outselling everything but Superman.

(As an aside, the first actor to play Superman in live action, Kirk Alyn, was also the first to portray Blackhawk, in a 15-part Columbia movie serial released in 1952.)
Anyway, although Eisner initially owned a piece of Quality Comics, he sold his rights to Arnold in 1943, partly due to tyranny of a different kind — wartime paper rationing. It was then that Arnold canceled Eisner's Uncle Sam Quarterly, continuing the series from #9 as Blackhawk.
So Eisner was never in the ownership tangle. But in his later years, Chuck Cuidera — who had drawn the first 11 Blackhawk adventures before getting his draft notice — told anyone who would listen that it was he, not the long-presumed Eisner, who created Blackhawk. Cuidera even claimed he'd begun work on Blackhawk before ever setting foot inside the Eisner and Iger bullpen.
It's unclear whether Cuidera was making those claims in the late 1970s, after he'd dropped out of comics to pass his time inventing scuba gear, before getting rediscovered by fans and trotted out onto the convention circuit.
But we do know that at about the same time Spielberg was pulling the trigger on 1941, Warner was up to its eyeballs in legal wrangling over rights to its flagship characters in advance of the first Christopher Reeve movie.
Because of those proceedings, retired comic book creators like Cuidera were learning a lot more about "work-for-hire" than they ever knew when they were actually producing work-for-hire. Legally speaking, it was not a good time to kick the coop and make Golden Age greats squawk any more than they were already.
That said, a more likely source for the alleged rights issue might have been the fact that, quite possibly, nobody owned Blackhawk.
Blackhawk 133: Zinda, aka Lady Blackhawk 1st panel
Grounded by uncertainty
Arnold bailed on comics in 1956 following the big juvenile delinquency scare. One of his titles, Web of Evil, got name-checked by the US Senate, and with sales falling across the board anyway, it seemed a good time to pull the plug.
But on his way out the door, Arnold sold the bones of his company to DC Comics — or National Comics Publications, as it was legally known at the time.
DC inexplicably chose to mothball Plastic Man, but did continue publication of four Quality titles, including Blackhawk (with #108) and G. I. Combat (with #44). What was not generally known until decades later, however, is that Blackhawk was not part of the fire sale. Considered his most successful title at the time, Arnold instead leased that one to DC under a royalty deal.
Everything that's come out about that deal came out of Arnold's own mouth, in interviews he did in 1972, a couple of years before his death. No paperwork from the agreement has ever surfaced. Still, it's generally assumed that DC did eventually buy Blackhawk outright. But exactly when we don't know. DC itself doesn't even seem to know.
Here's another wrinkle. In the 1956 agreement, Arnold only sold titles and trademarks. He never transferred copyrights. And later on, neither he nor DC renewed those copyrights. So, almost all of the original Quality Comics material — and we're only saying "almost all" to hedge our bets — is now in the public domain.
Was the later sale of Blackhawk any different? Who knows? But it could well be that Spielberg's difficulty wasn't in getting rights to Blackhawk so much as figuring out who to pay. At any rate, when Spielberg first came calling, there was no Blackhawk comic. DC had canceled it in 1968. Then, following a brief six-issue revival starting in 1975, had canceled it again.
But according to writer Mark Evanier, when he was tapped to spearhead a second revival in 1982, It was specifically because DC's corporate overlords at Warner Communications had caught wind of Spielberg's interest in their axis-busting aviators. The new series was meant to wave a red flag in Spielberg's direction, signaling, "No rights issues here. We cool. Please give us money."
Evanier has said his Blackhawk resumed the series' original numbering rather than begin anew with a #1, as was then coming into vogue, solely to convinced any producer who might like to buy the Blackhawk rights with an eye on flipping them to Spielberg, that here was a property with legs.
Blackhawk 133: Zinda self-rejects
Franchise fever was just taking hold in Hollywood at the time, and a series with 250 issues already under its belt screamed that here was the stuff of multiple summer tentpoles. Just in case those producers didn't read comics, Warner Books also spit out a Blackhawk novel in 1982.
Weirdly, the climax of that book saw Blackhawk duking it out with what has been described as a "naked Nazi nymphomanic dominatrix." Even if Spielberg was interested in Blackhawk at the time, we have to assume that's probably not the treatment he had in mind.
But for whatever reason, bags of cash were not forthcoming, and by 1984 DC had canceled Blackhawk yet again. Which is too bad, because that series by Evanier and artist Dan Spiegle is excellent. For pure reading joy, if not investment potential, we highly recommend it.
Anyway, you probably know the rest. DC would go on to push out a Blackhawk project every few years, and every few years somebody with tinsel town connections would claim Spielberg was just on the verge of making it his next project.
Discovering new possibilities
But then in April 2018 came a genuine, actual, concrete announcement, as TimeWarner trumpeted that Spielberg was officially on board to direct a big-budget Blackhawk bonanza. 

And then nothing.
In October 2018, TimeWarner sold to AT&T. Then, just as the dust began to settle on that little corporate earthquake, Warner and all its subsidiaries, including DC, got spun off into a merger with Discovery Inc.
During the shuffling and reshuffling of deck chairs all that entailed, top-level suits were understandably more concerned with cutting costs than coughing up the $200 million Spielberg was said to need for a Blackhawk flick. And as a result, because even at 75 he's a busy guy, Spielberg's directing duties on Blackhawk have since been steadily downgraded from "done deal," to "probably," to "possibly," to the present word on the tweet, "Well, we hope he'll co-produce, at least."
Even so, it's likely the project will eventually take flight. Spielberg has coveted it for far too long. Meanwhile, his frequent go-to word guy, David Koepp —who wrote Jurassic Park, War of the Worlds, and, less impressively, Indiana Jones and the Kingdom of the Crystal Skull — has said as recently as this past March that his Blackhawk script is in the can and ready to shoot.
Granted, Discovery honcho David Zaslav hasn't mentioned Blackhawk in any of his recent media earnings calls. Still, he has claimed to have a 10-year plan for DC properties. And unlike DC Comics proper, he's not putting all his eggs in the Batman basket.
One has to think that Zaslav and his new co-heads of the newly renamed DC Studios — directing quirk-master James Gunn and chief bean counter Peter Safran — must have Spielberg's Blackhawk on their short list of drop dead deliverables to company stock holders.
After all, for breathtaking cinematic action, nothing beats an aviation movie. Heck, the very first winner of the Oscar for Best Picture was an air war movie. But, honestly, never mind Blackhawk, if Discovery could get Spielberg to do a movie starring Matter-Eater Lad, that'd be a massive win for DC right now.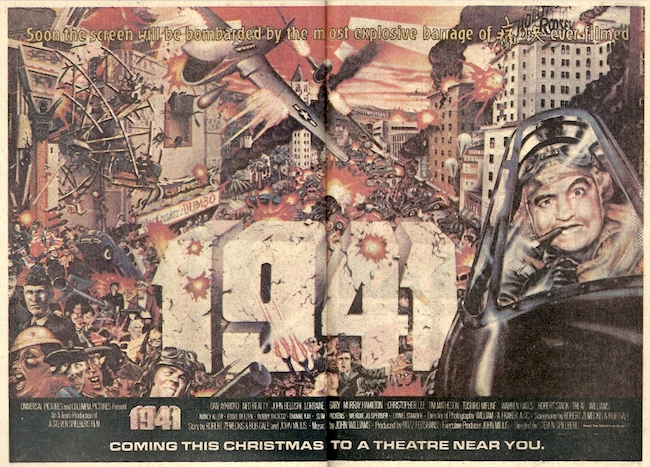 Was 1941 Spielberg's compromise for a Blackhawk movie?
Guide to Blackhawk 133 Comic Book Values

In addition to Polish-born Blackhawk, his eponymous Blackhawk Squadron, in its most frequent configuration, included:
fellow Pole and second-in-command Stanislaus;
sometime strategist and full-time ladykiller André, from France;
the shy Swede with acrobatic aplomb, Olaf;
Dutch weapons-master Hendrickson, a silver-haired veteran of the Great War;
Chuck, a tough-talking Texan with mechanical genius;
junior member Wu Cheng (a.k.a. "Chop-Chop"), a Chinese martial artist who kicked ass in the kitchen as well as on the battlefield.


In other words, even un-woke, you get it — Blackhawk was always kind of a sausage fest. Into this world marched Zinda, the self-anointed "Lady Blackhawk."
A blonde bombshell in a mini-skirted version of the traditional Blackhawk leather togs, Zinda — last name later revealed to be Blake — was a practiced aviatrix with all the skills needed to demand a place on the team, and a hot-tempered hellion with gumption enough to back it up.
But alas, Zinda was just a girl, so the 'Hawks said no. Naturally enough, having spent the first part of Blackhawk 133 saving the entire team from a stampede of wild animals, Zinda declines to take no for an answer.
As the Blackhawks take off to rescue Olaf from an African big-game hunter known as "The Scavenger," leaving Zinda on her own — because that's just what you do should you happen upon some random hottie in the jungle you've just declared too helpless to join your team — she schemes for some way to spring Olaf first.


Unfortunately, she's immediately captured by The Scavenger's men and used as bait to lure the real Blackhawks into a trap. And they walk right into it, getting tossed in animal cages for their trouble. But Zinda soon sets them free, revealing that her hair comb is actually a cleverly disguised hacksaw.
Out of the frying pan, into the fire — as the 'Hawk's crawl through the underbrush to ambush Scavenger's gang, Zinda spots a mouse. And of course, being a girl, she sits bolt upright and screams like a stuck pig, giving away the team's position.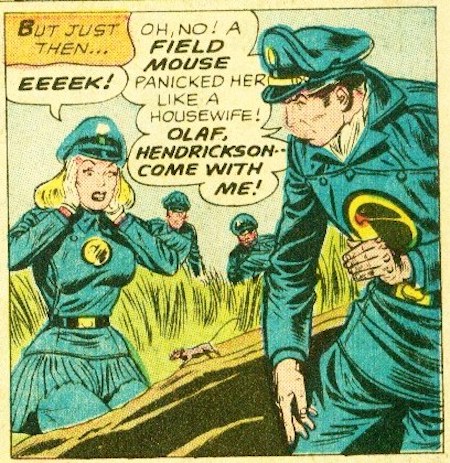 Blackhawk #133: fieldmouse defeats Zinda
All looks bleak, with guns drawn and re-capture now off the table. But then Zinda saves the day, revealing that her high-heeled boots are not just a fine fashion accessory for jungle adventuring. No, the heels conceal jets of knockout gas!


And so Zinda saves the day and seems to have an invite in the offing. But in the last panel she self-immolates, declaring herself in need of further training before she's ready for prime time.
Where she went to conquer her girlish fear of rodents was never revealed, but Zinda would return in Blackhawk #140. Obviously, fan reaction had been positive. And although she never officially join the team, Zinda would from that point appear fairly regularly, popping up at least a coupe of times per year.
Although it must be noted that in many of those later issues she was recast as the traitorous temptress, Queen Killer Shark. 

Zinda would miss out on subsequent Blackhawk revivals, replaced by new girl in town Natalie Reed and seemingly consigned forever to comic book limbo.
But in 1994, she'd get shunted into the present day during DC's time-warping Zero Hour event. Soon after, writer Chuck Dixon would recruit her into his Birds of Prey series, during which time she emerged as a minor fan favorite. Seriously. She got cosplayed.
It's A Woman's World
No matter how big a Blackhawk fan he may be, Spielberg is not going to make a movie that's dudes, dudes, and nothin' but dudes. There will be a female influence. And by influence, we mean driving force.
Given his long thread of interest in the property, the chick-in-charge will almost certainly be Zinda. And given modern movie-making ethos, movie-Zinda will most assuredly not go into full-bore screech mode at the sight of one frisky little field mouse.
In fact, Zinda will likely be portrayed as the brains of the entire Blackhawk operation, a better flyer, better fighter, and better firearms expert than any of the boys. Probably a better cook than Chop-Chop, too! And that's if she isn't gender-swapped to actuality BE Blackhawk.
So, once that Spielberg movie finally gets made, everyone from fanboy to feminist is going to want Zinda's first appearance. If only to laugh at the the mouse thing, the better to cheer on her big-screen debut, as she punches Nazis, backwards and in heels.
Blackhawk 133 is a Stupidly Cheap Key Issue
Luckily for you early adopters, Zinda's first appearance is ridiculously undervalued. This is surprising not just because of what the book is. Just on the basis of scarcity alone it should trade for more. A lot more.
To date, CGC has certified just 128 copies, two of which are restored and only 11 of which are graded 7.5 or better.
Blackhawk was a good seller for DC when if first came over from Quality. In fact, at the time of Zinda's debut, it still did well, moving more than 300,000 copies her month. As late as 1961 she and the 'Hawks actually outsold the Silver Age reboots of both Green Lantern and The Flash.
But when the crash came, it came hard, with sales falling nearly in half by 1967. And since then, fanboys have not exactly fallen over themselves to certify anything without a costume in it, least of all a book whose main claim to fame is trying to sneak a cootie-laded girl into the secret clubhouse. But that's toxic masculinity for ya.
The upshot is that you can currently score Blackhawk 133 for only a few hundred bucks in anything below 6.0, and not a ton more in all but the highest grades above that. Not that the grades go all that high. The current best-known copy is a 9.0 — nothing in truly near mint even potentially on the market.
So, if you can manage to score a decent-grade raw copy, more's the better. Rush it in for certification and hold on to it until cameras roll. Spielberg's been dying to make that Blackhawk movie for nearly half a century. He can't hold out for much longer.

CGC 9.0 — $7,200
CGC 8.5 — $2,327 (Aug. 2020)
CGC 8.0 — $2,975 (Sep. 2017)
CGC 7.5 — $1,458 (Sep. 2018)
CGC 7.0 — $716
CGC 6.5 — $451 (Aug. 2020)
CGC 6.0 — $748
CGC 5.5 — $282
CGC 5.0 — $390
CGC 4.5 — $284
CGC 4.0 — $264
CGC 3.5 — $285
CGC 3.0 — $239
CGC 2.5 — $144 (Oct. 2019)
CGC 2.0 — $175
CGC 1.8 — $78 (Mar. 2021)
CGC 1.5 — $199 (Apr. 2018)
Have this book? Click to appraise its value or Consign Yours for Auction!
Click Here to Get Your Free Appraisal or Consign Your Books to Auction!