Undervalued Comics: Casper the Friendly Ghost 1 (1949)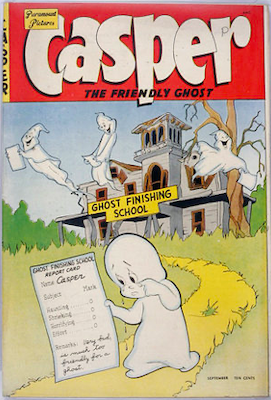 Undervalued Comics: Casper the Friendly Ghost 1 (1949). Click to find a copy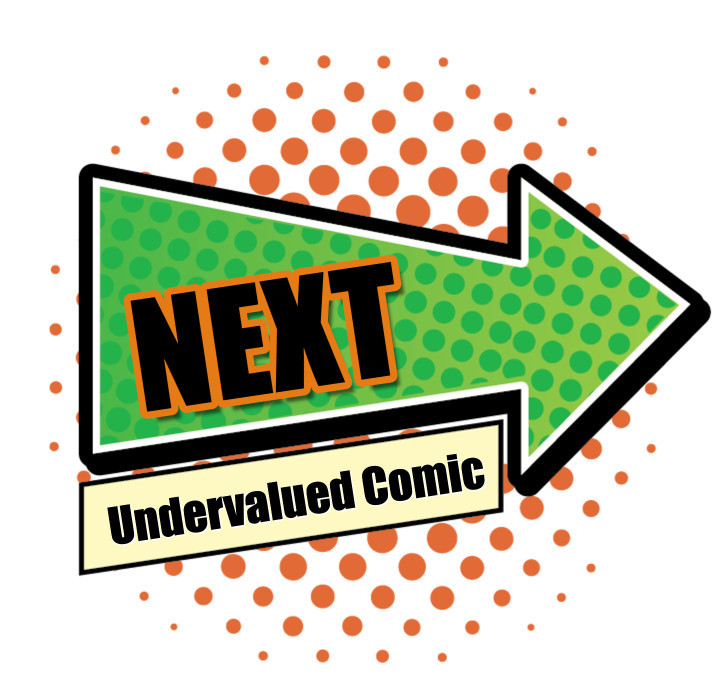 Click to see the next undervalued comic book in our series!
Why Casper the Friendly Ghost 1 is an Undervalued Comic
If super-heroes are dead to you, and you're looking for some other genre of comic book in which to park your money, you could do frightfully worse than Casper the Friendly Ghost 1.
Except for one thing — much like the incorporeal spirits Casper is meant to embody, Casper #1 doesn't actually exist. We'll explain. But first some background.

Casper the Friendly Ghost 1: First ever panel in a comic book
Casper was created in 1940 by cartoonists Seymour Reit and Joe Oriolo for a children's picture book. But unable to secure interest from publishers, and with Reit off fighting in World War II and so unable to balk, Oriolo instead made use of his contacts in the animation field and sold the character to Paramount Pictures.

For all rights to Casper — which was Reit's concept, Oriolo designed the look — the latter got a grand total of $175. That's about $2,900 in modern money.
Sure, the sale looks like a boneheaded deal today, given that Casper would go on to star in 55 theatrical cartoons, six television series, a major motion picture, five direct-to-video movies, at least six video games, hundreds of comic books, and a near infinite amount of merchandise, from pyjamas to pencil sets. But cut Oriolo some slack. All he knew at the time was that he had a few pictures he'd drawn up of his friend's crappy idea that nobody wanted.
Paramount didn't even make use of Casper right away, so the sale looked good for a couple of years, anyway. It would not be until after the war when Paramount's Famous Studios branch would release an animated short featuring the pubescent ghoul.
Titled, appropriately enough, "The Friendly Ghost," that 9-minute cartoon hit movie screens on November 16, 1945, fully realizing Reit's basic concept — Casper is the spirit of a young boy who just want to make friends, but has trouble doing so because, ya know, he's "a g-g-g-g-GHOOOOSSST!!"

So, the movie hit theaters . . . and then nothing.
It would take Paramount two and a half years to try a second Casper cartoon, and another full year after that until a third, with an additional 18 months until the fourth. And finally, that's when the dam broke. Possibly with the help of comic books.
Casper the Friendly Ghost 1: Casper's first scare
Two months after Casper's third theatrical release, St. John Publishing launched a Casper comic book series. The first issue of that run, published in June 1949, is the one we mean to refer you to in this article.
But here's the thing — while it does say "Casper the Friendly Ghost" on its cover, and many price guides list it that way, the actual, official title of the comic, per its indicia, is just Casper the Ghost.

Keep in mind, Famous Studios released the first three Casper cartoons as part of its "Noveltoons" brand. It was not until his fourth outing when Paramount gave the pint-sized poltergeist star billing under his own title card.
So, when the St. John series was released, the studio had not yet solidified "the Friendly Ghost" as a more-or-less permanent appendage to Casper's name.
For what it's worth, early Casper stories could be quite dark. In both the first cartoon and first comic, Casper finds himself so distraught over not being able to make a pal that he tries to commit suicide, the gag being that, much to his chagrin, he can't die twice.

Casper the Friendly Ghost 1: Suicide doesn't work
Guide to Casper the Friendly Ghost 1 Comic Book Values

The St. John series lasted just five issues, published twice per year though June 1951. And it is incredibly rare. The CGC census records just 50 Universal label copies of the first issue, the best being a pair graded at 8.5.
All 50 of these books are closely held by collectors. According to GP Analysis, just eight have traded hands since 2020, one of them twice.
When copies do hit the market, the sales are scary good. The book that sold twice was a 2.5 purchased in February 2021 for $680. It got flipped four months later for $1,920!

 And while not as spook-tacular, a peek at the chart below will show a 5.5 and a 6.0 selling within the last year for nearly $1,000 more that a 6.5 traded in 2013 — a price closely on par with a 7.5 (3rd best-known copy) that last hit the market in 2004.
Further down the chart (seen below) we find the same tell-tale signs of a book desperate to find a new level, such as a 3.5 recently outstripping a 5.0 sold in 2016, and everything from a 3.0 down to a 1.5 absolutely destroying the last known sale of a 4.0 in 2009.
CGC 8.5 — $7,170 (Nov. 2008)
CGC 7.5 — $3,910 (Oct. 2004)
CGC 7.0 — $4,650 (Jun. 2017)
CGC 6.5 — $2,629 (Aug. 2013)
CGC 6.0 — $3,600
CGC 5.5 — $3,350
CGC 5.0 — $2,088 (Oct. 2016)
CGC 4.0 — $566 (Nov. 2009)
CGC 3.5 — $2,280
CGC 3.0 — $1,375
CGC 2.5 — $1,920
CGC 1.5 — $824 (Ma5. 2019)
So, if you can scare up a copy of St. John's Casper the Friendly Ghost 1 in any grade — literally ANY grade — you've got yourself a genuinely rare gem indeed, old chum, one just about guaranteed to line your pockets. And should you find it the wild, raw, and get it certified . . . well, selling it will be almost like printing money.

Keep this in mind, regarding historic value — Casper the Ghost #1 also featured the comic book debuts of both Herman Mouse and Baby Huey. And while the St. John comic is Casper's fourth appearance anywhere, ever, it actually pre-dates the first Baby Huey cartoon by nine months.
Anyway, for rarity and historic value, St. John's Casper the Ghost #1 is definitely your investment vehicle of choice, especially given how horrifically low it is currently valued at in the price guides. Sure, the fanboy financiers out there only really value their spandex set. And sure, many people younger than 30, even 40, have never even seen an actual Casper cartoon. But the humble wraith haunts our public consciousness still, having appeared on more products that just about any of those long-underwear types.
Consider, too, Casper's potential to scare up future entertainment dollars. 

Harvey Comics, the publisher most indelibly linked to Casper, bought all rights to the Friendly Ghost in 1958. After Harvey went under in the early '90s, its assets, including Casper were acquired by Classics Media, which following a series of subsequent corporate mergers, now sits like a Russian nesting doll within Dreamworks, within NBC/Universal, within Comcast.


If the Comcast brain trust ever finds a mind to water its IP garden, the Harvey property with the most potential is almost certainly Casper & Co., including Spooky, Hot Stuff, and Wendy the Good L'il Witch. One decent movie or streaming show, and the Casper marketing machine will be right back at full steam, leaving you to wish you'd scored a Casper #1 when you had the chance.
Finally, at this point, you may be asking, "Okay, but was there ever a Casper the Friendly Ghost #1?"
Yes, but it'd take a while. For completeness' sake, let's review:
When Harvey acquired the Paramount Famous Studios license from St. John, it first continued the Little Audrey series, starting with #25, on sale June 20, 1952. Casper had a three-page feature in that issue, making it his first appearance under the Harvey banner. Good luck finding a copy though. CGC has only ever certified four copies, the best a 6.5.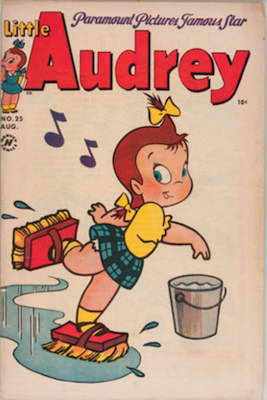 Little Audrey #25: First Harvey comic book appearance of Casper the Friendly Ghost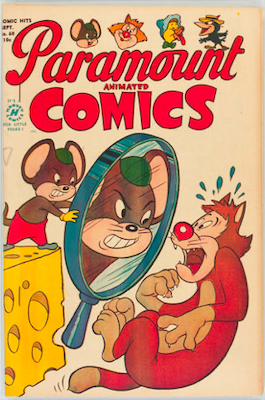 Harvey Hits #60: Second Harvey comic book appearance of Casper the Friendly Ghost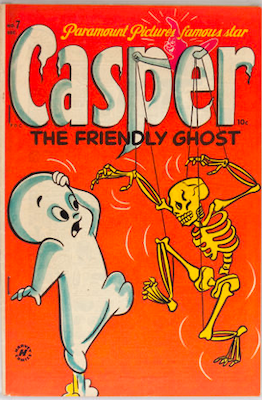 Casper the Friendly Ghost #7: Picks up numbering from the original St John series
Then, after a five-page feature in Harvey Hits #60, Casper got #61 all to himself, gracing newsstands with his first solo book at Harvey on August 25, 1962. CGC has certified seven of that one. So, your chances of landing a copy of that one are slightly better.
Harvey then immediately launched Casper into his own title, this one officially titled Casper the Friendly Ghost, but it picked up the numbering from the St. John series at #7, counting the Harvey Hits issue as #6. CGC has certified 11 copies of this book. So, look at that, you're odds are getting better all the time!
That series lasted to #70, released May 15, 1958. Then, following Harvey's purchase of the post-1950 Famous Studios stable for $1.7 million, it relaunched Casper with a new #1.
Paramount would release six more Casper shorts through July 1959, burning off 'toons already in production at the time of the sale, but the new Harvey series, launched June 15, 1958 —nearly six weeks before the close of the Paramount deal — would excise any cover mention of Paramount Pictures.
To further distance it from the previous incarnation, Harvey would invert the tagline and title for this new series, calling it, The Friendly Ghost, Casper. 

Ironically, while presumably much more plentiful than the 1949 Casper #1, CGC has certified fewer copies of the 1958 #1 — just 37.

 Under its rejiggered masthead, Casper would last nearly to Harvey's demise, ending with #280 in October 1990.
In its death throes, Harvey would spit out on last Casper series under its "Classics" reprint line. That series would last until August 1994, but its first issue, published on or about December 1, 1991 — a mere 42 years after the Casper #1 we're recommending to you — is the first genuine Casper the Friendly Ghost #1.
According to CGC, only two people have ever bothered to certify that one. Both copes are 9.4. However, the CGC census is not infallible. GPA records the sale of a 9.8 in August 2020. It went for $75. So, follow our advice or not, whatever you do, please make sure you invest in the correct Casper #1.

Have this book? Click to appraise its value or Consign Yours for Auction!
Click Here to Get Your Free Appraisal or Consign Your Books to Auction!