Undervalued Comics: Dell Giant 48, 1st Flintstones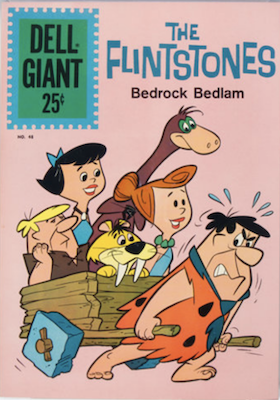 Undervalued Comics: Dell Giant 48, 1st Flintstones. Click to find a copy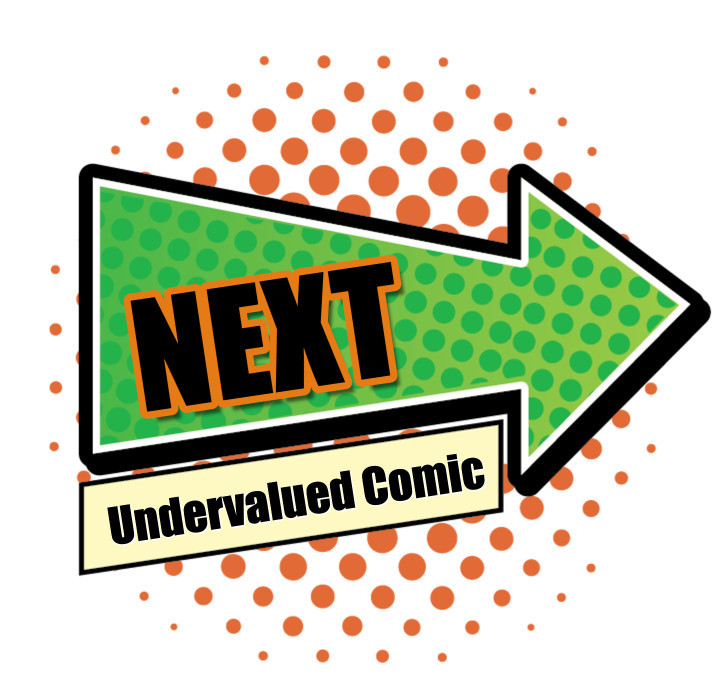 Click to see the next undervalued comic book in our series!
Why Dell Giant 48 is an Undervalued Comic
When trolling about for good comic book buys, the serious inventor simply must set aside their spandex-colored glasses.
Yes, super-heroes dominate the market. But going only as the market goes is oftentimes a good way to go broke. Instead, it's the properties nobody else is paying attention to that can have the biggest payoff. Even when that property is something that's not often thought of as a comic book.
Case in point, Dell Giant 48.

Published June 8, 1961, this was the first appearance in comic book format of everybody's favorite stone-age family, The Flintstones.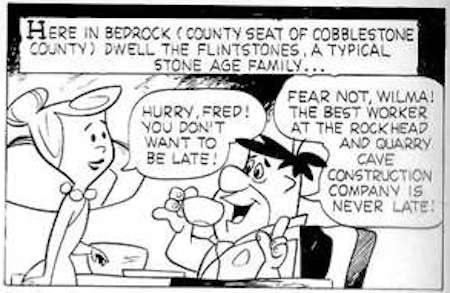 Dell Giant #48 :1st Flinstones Panel on the inside front cover
As you probably know, The Flintstones was a caveman take on Jackie Gleason's The Honeymooners. Produced by the Hanna-Barbara studio, it was the first prime-time animated series, making its debut on ABC Sept. 30, 1960.

This comic book introduction came along just two months after the conclusion of the Flintstones' first 28-episode season. Given production lead times, it was probably on the drawing board well before the season ended in April.
At any rate, this comic book debut came out early enough that the name of family pet Dino is spelled as pronounced — "Deeno." Also, Fred and Wilma's saber-toothed cat, rarely seen in the actual TV series outside of the closing credits, is not only seen here, but named. Although maybe that name, "Baby-Puss," is better left unsaid.
Meanwhile, Fred has a different, albeit still decidedly blue-collar job in the comic book. Instead of operating a bronto-crane at the Slate Rock and Gravel Company, he works for the Rockhead and Quarry Cave Construction Company.
Dell Giant #48: Fred Wants the Flintstones to Move
In fact, Fred's job experience comes into play in the first comic book story — an 8-pager titled, "Friendship Fall-Out" — in which he becomes so incensed at Barney that he decides to move, convinced that with his expertise he can pick out the perfect new home.
Spoiler warning: He can't.
Of note, most of the artwork in Dell Giant 48 was produced by Harvey Eisenberg, a layout artists worked under William Hanna and Jospeh Barbara at MGM during the 1930s. From 1946 to 1951 he was a partner with Barbara in Dearfield Publishing, which produced comic book titles like "Red" Rabbit Comics, Foxy Fagan, and Junie Prom. Try finding a copy of any of those titles today!
After Dearfield folded, Eisenberg stayed in comics, primarily at Dell Comics, where he worked on MGM titles he had animated, like Tom and Jerry, along with just about anything that came down the pike from the Hanna-Barbara studios. His skill on such books was such that, if the SAT had comic book related questions, you might see a construction like,
Harvey Eisenberg : The Flintstones :: Carl Barks : Donald Duck.
Anyway, Dell Giant was, as the name implies, a giant-sized book, square-bound at 84 pages, including the covers. However, while comics in similar format from Marvel and DC can be notoriously hard to find in high grade, Dell's big books seem to have generally held up better to the test of time.
Even so, they're not exactly easy to find. They were priced at 25¢ when most other comics were 10-12¢, which had the impact one might expect on per copy sales.
Guide to Dell Giant 48 Comic Book Values

Today, CGC records having certified just 66 copies of Dell Giant #48, including one with a qualified grade and one in a restored condition.
So, just 64 Universal labels to compete with? Yes, please!
Dell Giant #48: Flintestones Bone
Of course, in addition to rarity, one reason for the relative dearth in certified copies is that, until recently, the book didn't seem worth getting slabbed.

But that's changing. And fast.
A 6.0 sold in August 2021 for $400 — the same price fetched by a 9.2 in 2011.
Meanwhile, a 6,5 recently sold for more than $1,000, while a lowly 3.0 outpaced everything up to a 6.0, along with some older sales as high as 8.5.
So, if this is a book you have laying around raw in almost any decent grade, we'd recommend getting it certified and on the market stat. You'll be glad you did.
But there's still time to buy, especially if you find a seller who's still looking at where the market is, instead of where it's going.
You might also score a copy at a decent price on auction sites, such as goldin.co, where fanatics of the spandex set might not be interested in fighting you for something like this, or else simply won't know what you now do — that Dell Giant 48 is the first appearance of The Flintstones in comics.
CGC 9.8 — $2,629 (Feb. 2013)
CGC 9.6 — $4,080
CGC 9.4 — $1,261
CGC 9.2 — $400 (Dec. 2011)
CGC 9.0 — $1,920
CGC 8.5 — $143 (Feb. 2007)
CGC 8.0 — $600
CGC 7.0 — $200 (Aug. 2018)
CGC 6.5 — $1,020
CGC 6.0 — $400
CGC 5.5 — $151 (Mar. 2020)
CGC 5.0 — $214
CGC 4.5 — $311
CGC 4.0 — $209
CGC 3.5 — $100
CGC 3.0 — $310
Have this book? Click to appraise its value or Consign Yours for Auction!
Click Here to Get Your Free Appraisal or Consign Your Books to Auction!
Sell My Comic Books is the Number One Flintstones Comics Buyer