Undervalued Comics:
G I Combat 87, 1st Haunted Tank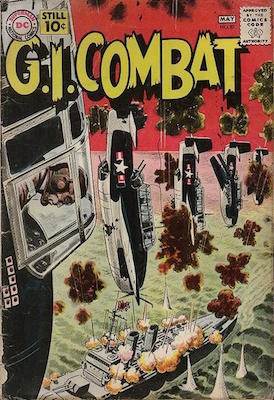 Undervalued Comics: G I Combat 87, 1st Haunted Tank. Click to find a copy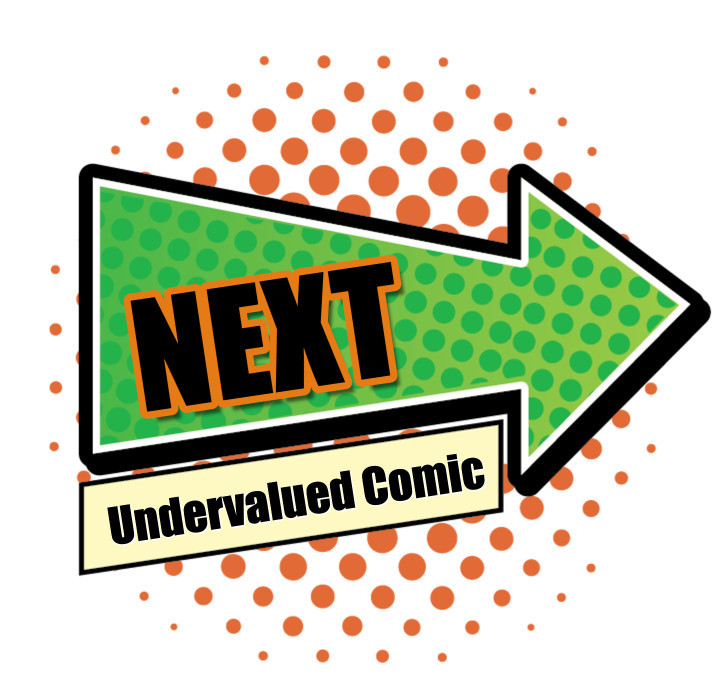 Click to see the next undervalued comic book in our series!
Why G I Combat 87 is an Undervalued Comic
Let's be honest, The Haunted Tank is probably not a feature that could be published today.
Given the pervading culture that seeks to erase anything and everything that makes us even remotely uncomfortable, a comic book series starring the ghost of a Confederate general would be a non-starter.
And yet, The Haunted Tank was the lead feature in DC Comics' G I Combat for more than 25 years. For longevity among war books, it stands second only to Sgt. Rock — nand also, maybe, Blackhawk, depending on how one counts.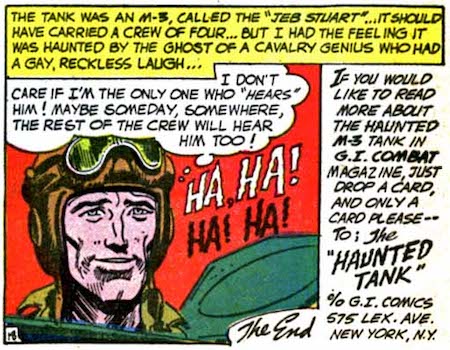 G.I. Combat #87: Jeb!
Despite this, and the fact so few exist in high grade, the Tank's debut in G I Combat 87 languishes laughably low on the back issue market, failing to crack four figures even in 7.0.

And we don't think that's just because of heightened resentment in recent years over the Confederate battle flag, flown proudly over the Haunted Tank in almost every appearance.
After all, comics with Nazi iconography remain big business.
But, of course, Nazis were always the bad guys. Heroic figures rushing into battle under the Stars and Bars seems as strange and unnatural to Millennial comic book fans as the Duke Boys and their similarly liveried General Lee.
No, it seems that, some 35 years after the Haunted Tank crew took their last call to action, with super-heroes having long-since cemented genre superiority, collectors have simply forgotten how big a deal the Haunted Tank once was.

But consider this — during the mid-1960s, G I Combat didn't just outsell Sgt. Rock's Our Army at War comics, the Haunted Tank crew also rolled over Flash, Green Lantern, Wonder Woman, and, until Adam West suited up, even Batman's Detective comics.
As late as the lunching of the Copper Age in 1980, G I Combat — and by extension The Haunted Tank — still outdrew many super-hero titles.
And that's partly a testament to artist Russ Heath, who co-created the Haunted Tank with writer/editor Robert Kanigher. While the static medium of comics does handle bodies in motion quite compellingly, objects in motion — such as race cars, jet planes, and, yes, armored tanks — tend to play less well.
G.I. Combat #87: Jeb's Hero
Yet Heath managed to keep the extended tank battles dynamic and engaging. It was a standard later artists on the series, like Sam Glanzman and Joe Kubert more than upheld.

For those not in the know, the Haunted Tank was a World War II era M-3 Stuart Light Tank, named after Confederate General James Ewell Brown "J.E.B." Stuart. This back when naming things after Confederate officers wasn't automatic tinder for a mostly peaceful protest.
This particular tank was commanded by a young lieutenant named Jeb Stuart Smith. On Jeb's crew were his boyhood pals, the Halcey cousins – Slim, Rick, and Arch.
Not unlike Sgt. Rock, it would take some time for Haunted Tank continuity to be set in stone. By G.I. Combat #114, Jeb would lose the "Smith" surname and go from being a deep-south good 'ol boy to a northern Yankee. Meanwhile, the Halceys, while remaining southerners, would have their family tree broken up. Instead, they'd gain alliterative names that'd make Stan Lee blush, becoming Slim Stryker, Rick Rawlins, and Arch Asher.
In the first tale, the ghost of J.E.B. Stuart — who haunted young Jeb more so than the tank — may or may not have saved the fightin' foursome's bacon, as it's strongly implied he moves and operates the M-3's 37mm cannon, taking out a larger Nazi "Tiger" tank while Jeb and the Halceys are knocked unconscious. But otherwise the Confederate Infantry leader plays no part in the battle, remaining a felt presences rather than an active participant.
G.I. Combat #87: Ghost Questions...
As the years would roll by, the General would take a more direct role, often leading occupants of the titular tank against Nazis while engaging in extended conversations with his young namesake. Jeb and his crew would go though several tanks during World War II, as they advanced from North Africa into the European theater.
Not everyone in the unit would live to see the end of that campaign. By series' end, African American P.O.W. Gus Gray would join the crew as it rolled into battle after battle under the Dixieland Banner, strange as it seems.
After the Tank's original run ended, with the cancellation of G.I. Combat in 1986, later iterations of the feature would star Stuart's 21st century descendants. Jeb himself served as an early-aughts spirit guide to his granddaughter, Lt. Jennifer Stuart, who commanded an advanced Cyber-Command Assault Vehicle.
By 2012, it's a grandson, Scott Stuart, whom Jeb guided. And in between, there was a mixed-race grandson, Sgt. Jamal Stuart — in charge of an M-1 Abrams tank during Operation Iraqi Freedom — who confers with Gen. J.E.B. Stuart.
The dialogue in that 2008 Vertigo mini series went about as you might expect.
Guide to G I Combat 87 Comic Book Values

Turning back that original Haunted Tank outing in G I Combat 87; finding a certified copy isn't exactly easy. The CGC census lists just 170 with a Universal label, along with nine signed copies, and four that have been restored.
But more to the point, no copy sent to CGC so fat has come out of its grading process with better than a 9.0 — and there's only one of those, along with one in 8.5. In fact, you have to drop all the way down to 7.0 before hitting double digits.
Given that rarity, it's worth getting this one certified in any grade in which you might find it. And if that happens to be a high grade, then you've got something special.
At least you will when everyone else catches up and realizes just how scary undervalued this Haunted Tank debut truly is. And that should happen just about any time now.
As we've noted in other entries in this "Undervalued Comics" series, one big clue that a book is getting to ready to pop is when recent hammer prices outpace the previous results on books a full grade point better. Such as, in the chart below, where we see a 2.5 ($510) outselling a 3.5 ($441), and a 4.0 ($550) outselling everything up to 5.5 ($449).
Of course, it doesn't help that the first appearance of the Haunted Tank is easy to miss in any random stack of war comics you might run across at auction, or in a garage sale. There's nothing in the way of cover copy to trumpet what's inside.
In fact, if you want the first appearance of the Haunted Tank, you have to be hip enough to look for the issue with dive bombers on the cover. So, happy hunting. But for the true comic book collector, it's the finding, not the selling, that's the fun.
CGC 8.5 — $3,884 (Nov. 2011)
CGC 8.0 — $3,780 (July 2020)
CGC 7.5 — $1,938 (Oct. 2020)
CGC 7.0 — $889 (July 2019)
CGC 6.5 — $650 (Dec. 2019)
CGC 6.0 — $721
CGC 5.5 — $449 (Dec. 2019)
CGC 5.0 — $500
CGC 4.5 — $569
CGC 4.0 — $550
CGC 3.5 — $441
CGC 3.0 — $312
CGC 2.5 — $510
CGC 2.0 — $411
CGC 1.5 — $200 (Apr. 2020)
CGC 1.0 — $125
CGC 0.5 — $201
Have this book? Click to appraise its value or Consign Yours for Auction!
Click Here to Get Your Free Appraisal or Consign Your Books to Auction!
Related Pages on Sell My Comic Books
Sell My Comic Books is the Number One G. I. Combat Comic Book Buyer