The Thing Comics, Charlton, 1952
Value of The Thing Comics
The Thing! was a horror series published between 1952 and 1954 by Charlton Comics. It's infamous for gruesome cover art, especially on The Thing! #7, which features a horrific eye gouge image.
A later Marvel Comics character called The Thing was a key member of the Fantastic Four. (Click to read more about those comics.)
If you've found any old horror comics series and want a free appraisal or cash offer, then use the button below to begin the process.
Click Here to Get Your Free Appraisal or Consign Your Books to Auction!
Value of The Thing Comics by Charlton
The Thing! #1 (1952)
Record Sale: $660
Minimum Value: $40
The Thing! #2
Record Sale: $920
Minimum Value: $50
The Thing! #3
Record Sale: $2,880
Minimum Value: $70
The Thing! #4
Record Sale: $960
Minimum Value: $60
The Thing! #5
Record Sale: $1,100
Minimum Value: $30
The Thing! #6
Record Sale: $2,280
Minimum Value: $30
The Thing! #7
Record Sale: $3,600
Minimum Value: $100
The Thing! #8

Record Sale: $1,730
Minimum Value: $100
The Thing! #9

Record Sale: $1,000
Minimum Value: $40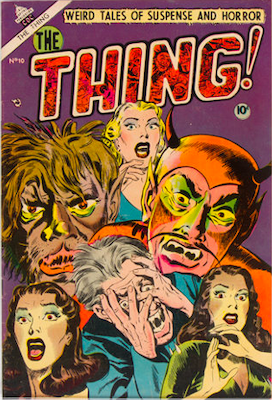 The Thing! #10

Record Sale: $750
Minimum Value: $20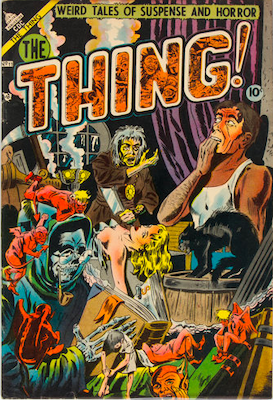 The Thing! #11

Record Sale: $2,400
Minimum Value: $40
The Thing! #12

Record Sale: $5,040
Minimum Value: $200
The Thing! #13

Record Sale: $2,370
Minimum Value: $70
The Thing! #14

Record Sale: $7,200
Minimum Value: $60
The Thing! #15

Record Sale: $7,200
Minimum Value: $120
The Thing comics #16

Record Sale: $1,440
Minimum Value: $60
The Thing! #17

Record Sale: $1,730
Minimum Value: $50
All Our Horror Comics Price Guides
More of our Comic Price Guides