Mad Magazine and Comic Book Values
Mad Magazine: Values of Back Issues
Founded by Harvey Kurtzman and William Gaines, the American comedy magazine known as Mad hit the shelves in 1952.

Originally a comic book, Mad developed readerships of over 2,000,000 in the 70s, known for the brilliant satirical pieces that filled each page.
The comic ran for 23 issues before being converted to magazine format, primarily to avoid the attention of the Comics Code Authority.
Public figures, politics, entertainment and pop culture are the usual targets for Mad's satirical stabs.
Nowadays, the mascot, Alfred E. Neuman, is generally slapped on the cover to stand in for a new movie or event that the comic focuses on that issue.
In the beginning, the cover art was much different, as if growing and morphing to find itself.
Sell Your Mad Comics and Magazines!
If you have a collection of MAD, especially #1 through #30, then use the button below to begin the sale process.
Click Here to Get Your Free Appraisal or Consign Your Books to Auction!
Mad Magazine Key Issue: Mad Comic #1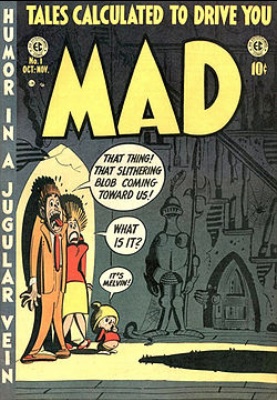 MAD comic magazine issue 1. Click for values
MAD Comic #1
Record Sale: $24,000
Minimum Value: $200
"Tales Calculated to Drive You… MAD." Published in October of 1952, the first Mad comic portrayed a frightened family awaiting some sort of beast named Melvin. For only ten cents, children could read a series of stories meant to drive them insane.
In a 2010 interview, Al Jaffee, a lifelong Mad contributor, made the statement: "Mad was designed to corrupt the minds of children. And from what I'm gathering from the minds of people all over, we succeeded."
Articles in the first comic book consisted of "Hoohah!" with art by Jack Davis; "Blobs" by Wally Wood' "Ganefs" by Bill Elder' and "Varmint" by John Severin.
Mad Magazine Comic #2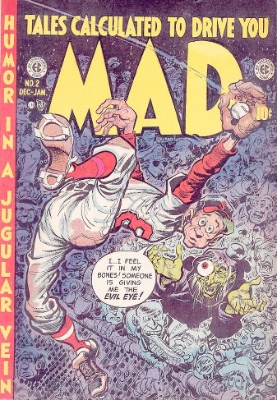 Mad Magazine comic #2 by EC Comics. Click for values
MAD Comic #2
Record Sale: $4,000
Minimum Value: $40
Mad Comic #3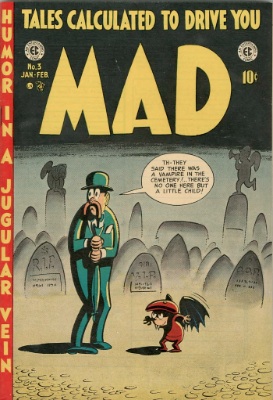 MAD Comic #3
Record Sale: $2,800
Minimum Value: $30
Why This Guide is AWESOME for Wannabe Comic Investors

If you have either tried (and failed) to make money flipping comic books, or are frustrated by the huge array of choice out there, then this is the eBook for you.

It's packed with 32 in-depth analyses of easy-to-buy and sell comic books from the Bronze to Modern ages.

These are titles we have personally made a lot of money buying and selling. So can you.

Make more than your money back with your first successful trade (or by NOT buying a losing book!).

If you are not completely satisfied, we have a 365-day money-back guarantee.

Click to read more, or order your copy today!
Mad Magazine Comic #4-23
Click any image or link to check the value of each issue.
(Article continues below)
Detailed Comic Book Price Guides for EC Series
Click any link to see full details of issue-by-issue prices for the series!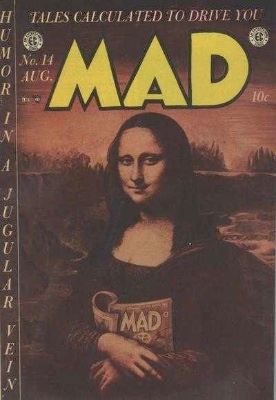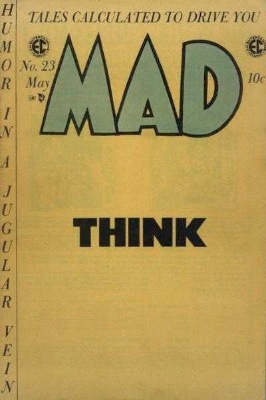 Key Issue: The First Ever Mad Magazine #24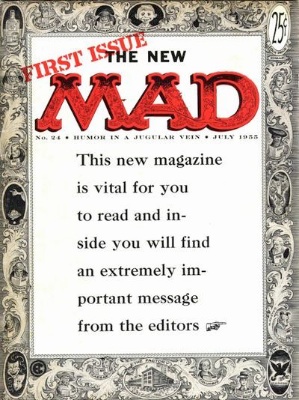 Mad Magazine issue #24, the first actual magazine format issue. Click for values
MAD Magazine #24
Record Sale: $2,000
Minimum Value: $20
In the 24th issue of the comic, Mad decided to turn into a magazine. This was largely due to the attention the publisher had received from the Comics Code Authority (essentially censoring its other titles).
Launching a new era, publisher William Gaines and editor Harvey Kurtzman paraodied the TV show, "This is Your Life," wrestling, space travelers, and Bufferin.
Key Issue: Mad Magazine #30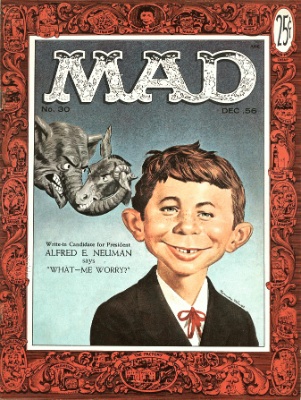 MAD Magazine #24
Record Sale: $2,650
Minimum Value: $20
In many ways, Alfred E. Neumann IS Mad Magazine. His face is probably what you think of when you hear the name of this iconic publication.
This first appearance on the cover of Mad is a key issue. A recent sale broke the record, with a CGC 9.6 selling for $1,750 at ComicLink.
Get yours valued for free if you have one.
Have Your Mad Back Issues #1 Through #50 Valued
If you have any early Mad Magazines, we would love to help you sell, value, or find insurance for these national treasures.
Simply send in a few pictures and we can get started to find out exactly what they're worth. Contact us here to start the process today.
Click Here to Get Your Free Appraisal or Consign Your Books to Auction!
More of our Comic Price Guides