Iron Man #1 Value?
by Bryan Shows
(Cambridge, Ontario)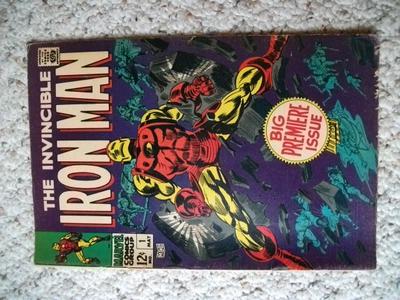 Iron Man #1 Value?
Iron Man #1. Some minor "cuts' near the bottom RH edge; Some fringe page "yellowing" around outside edges. What's it worth?

Editor's reply: Thanks for sending in your photos. I'll be happy to value your comic book.

Iron Man comics are hugely popular, and a spectacular series of very profitable Hollywood superhero movies have not hurt their values any!

As you probably know, this comic (despite being a #1) is far from being the first appearance of Iron Man. That was Tales of Suspense #39, a comic which has rocketed in value in recent years.

Iron Man also was a founder member of The Avengers, and so when Iron Man #1 came out (actually pre-dated by Iron Man and Sub-Mariner #1 a month or two earlier), it was a popular title, for sure. However, the values of this comic are lower than you might expect for a "real" #1, or first appearance of superheroes.

It's a shame about the damage to the bottom and right edges of the comic book. To me, this may drag down the grade as far as 6.5! Which is very low for such an appealing-looking copy of this #1 issue.

Ungraded by CGC, I would value this comic book in the $130-$150 range, as I'm sure that's what you'd get on eBay. Get it graded (if you get a 6.5), and you can double that price on the open market.

Of course if it grades slightly higher, then you can expect to get a bit more, maybe $450-$500 if you get a 7.0.

Thanks for sharing and good luck if you sell it!