Incredible Hulk #182 Value?

See the 100 Hot Comics for Investment in 2022!
Incredible Hulk #182 Value?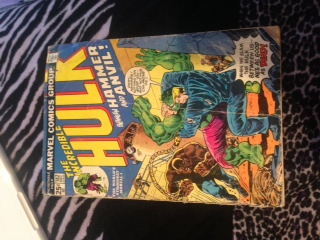 Incredible Hulk #182 Value?
Incredible Hulk #182 Value?

the bindings are not the greatest and its not in the best shape, but the inside's pretty much intact and it has some wear and tear!

Editor's reply: This copy of Incredible Hulk comics is important, because it's the third appearance of Wolverine in comics.

Wolverine, as you know, went on to star in the X-Men series, as well as several superhero movies.

Issues of Incredible Hulk #180, Incredible Hulk #181 (especially) and Incredible Hulk #182 have strong collector's value now as a result of the popularity of the man with adamantine claws.

BUT... Yours is in such bad shape that it is only a reader copy.

I'd guess it would sell for $20 on eBay. Check values here. Thanks for sharing.
Join in and write your own page! It's easy to do. How? Simply click here to return to FREE Comic Book Appraisal.