Incredible Hulk 181 Value?
by Jeff
(Boston)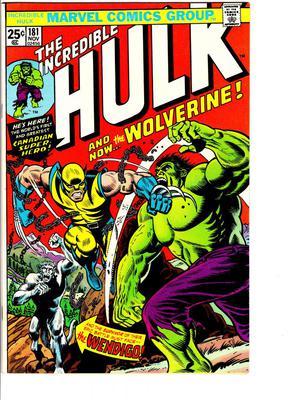 Incredible Hulk 181 Value?
Incredible Hulk 181 Value?

I've got an Incredible Hulk 181 that's been snoozing safely with a board and in a bag for 30+ years. It just awoke and realized that it might be worth a lot of coin. Curious what you think the grade might be. Thanks!

Editor's reply: Thanks for writing in, Jeff.

As you know, Incredible Hulk #181 is the first full appearance of Wolverine in Marvel Comics.

Hulk #180 is a cameo first appearance; oddly it has rocketed in value lately and is now challenging #181 in the value stakes, so if you happen to have one of those as well, then you're really sitting pretty!

The front and back cover photos don't show a lot of damage. Top right of the front cover looks a tiny bit blunted with some color loss? I can't see the spine from the photos either.

I'm going to hazard a guess that this will get a 9.2 to 9.4.

If so, you can expect somewhere in this region:

9.2: Around $2,000 if graded by CGC

9.4: Around $2,900 if graded by CGC

From this, you should probably conclude that getting your copy graded would be a good idea!

Otherwise, you can expect about $1,300-$1,500 for it.

Good luck if you decide to sell!