IT'S HERE! Click for the 2021 edition of 100 Hot Comics!
NOTE: We use eBay to provide references to live prices of comic books. Clicking a text link or image marked 'Check live prices' will take you to eBay.

Giant Size X-Men #1 Value?
by Quentin Carter
(Birmingham, al, USA)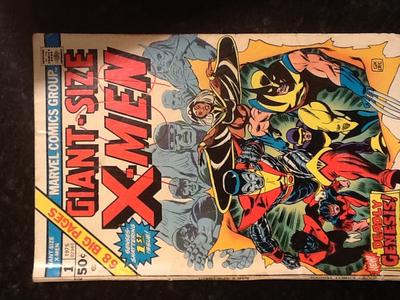 Giant Size X-Men #1 Value?
Giant Size X-Men #1 Value?

It has writing on the front (10 cents). It's in bad shape.

Editor's reply: This is a key issue in the history of The X-Men comic. This marks the moment that the super-team first welcomes Wolverine to their ranks, and the second appearance of Wolverine in comics after Incredible Hulk #181.

There will always be people who want a reading copy of a key issue. This one IS rough. However, presuming you paid 10c for it at a garage sale or something, you did all right. It's worth at least $50.

See values here, and thanks for writing.
Join in and write your own page! It's easy to do. How? Simply click here to return to FREE Comic Book Appraisal.