SPECIAL HOLIDAY PRICE:
$10 PLUS A FREE UPGRADE TO THE 2018 EDITION

WHEN IT'S READY!
Normally $37
More Than 30 Great Comic Book Investments for Beginners

If you would like to buy comics to resell for a profit, then this is the eBook for you.

We have identified 32 great comic books which are easy to make money on as a first-time, or developing, comic book flipper.

Get targeted, market-proven advice on easy-to-buy comic books

Sales history graphs show the price movement at a glance

Supporting data and background reading on why these are hot comic books to buy

Tips on comic books you won't find anywhere else

Input from the Comic Book Insider -- pick the brains of a high-up comic book professional

NORMAL PRICE: $37



HOLIDAY BONUS PRICE JUST $10!



INCLUDES FREE UPDATE TO 2018 EDITION WHEN IT'S READY!

We Will Email You the Updated Edition FREE
What's Inside the eBook?
We've chosen books which are easy to make consistent profits from.
Most are within everybody's budget
Some can regularly be bought for $10 or less, graded and sold for $80 or more
Others are more expensive and elusive
All will give you a solid ROI

The Comic Book Insider has opened up his little black book of great comic book investments, and presented a detailed analysis of 30 solid, straightforward investment targets for newbies.
This is a look inside the mind of a true industry pro, who has developed his investment strategies and hit-list of comic books over decades.
Click here to read more about the Comic Book Insider (opens in a new tab or window).
Sample Page from the Buy Comics Guide

Here's what you will get for each issue in this in-depth guide:
General breakdown of each issue:

Title


Year of publication


Why it's important (origin and first appearance of a superhero or super-villain, hot artist, movie etc.)


Introduction to put this issue into context

Detailed sales analysis:

Sales graph since the early 2000s for most titles, for sales in the same CGC grade


Detailed background on market conditions, why the issue has investment potential, and when to sell


Highs, lows and average prices by year, or by grade and year


Easy-to-use BUY NOW buttons to lock down your copy right away!

Each issue includes easy-to-understand analysis. If there is a reason to proceed with caution on the issue, we'll explain exactly why.
Also we tell you the MINIMUM grade your book needs to get before you can make a profit.
You'll get your copy of 30 Beginner Comic Book Investments instantly via email.

You'll also find these topics:
An introduction to the concept of investing in comic books in the internet era
What it means to flip comic books
Why you should turn over your investments instead of holding onto them for a better

The importance of accurate grading
Don't lose money on another gamble. Start with the right foundation and begin making cash by flipping comic books today!
Customer Testimonials
I reviewed the book over this weekend and have already used it to start looking for some Iron Fist key issues! Great read and hope that there is a bit more info on how to actually grade a comic on eBay through the scans. Great for me as I love old comics but don't want to get burned spending too much!
John P., Canada

I read the book and immediately put this new-found wisdom to the test.
The introduction explained the mindset needed to really make sound investments.
Each comic was explained as to why it was worthy as well as actual sale data to emphasize the point.
There was a blend of comics I had my eye set on, plus others I had not even really thought about.
So if you want to start investing in comics, first get this book and you will have an advantage that most of us wished we had when we started.
Adam H., USA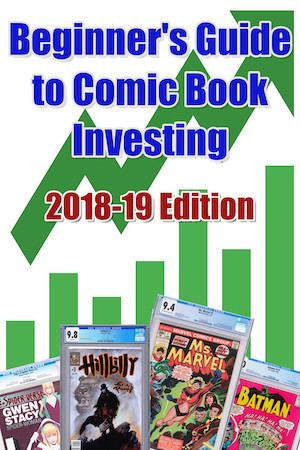 NORMAL PRICE: $37


HOLIDAY BONUS PRICE JUST $10!

How We Chose the Comic Book Investments for This eBook

We debated long and hard here at Sell My Comic Books, with the help of the Comic Book Insider, on how to narrow down our beginner list.
In the end, after much fighting and disagreement, we trimmed it to 32. (You can call the extra 2 our gift to you!) None of these could be cut -- they are all perfect beginner investments.
What Makes a Good Beginner Comic Book Investment?
Affordable

--

while there are some books here that will cost $100s, most issues can be purchased cheaply
Attainable

--

it's no use tipping obscure titles you'll never see on eBay or at cons. We want you to keep your money moving
Easy to resell

--

we focus on books which have a strong, established demand, so you can get your profit out quickly
Range of grades

--

the majority of the books on this list don't have to be 9.8 to make you a decent return

What Kind of Analysis is Shown For Each Comic Book?

Here are the elements you can expect for each issue. Note that some comic books benefit more from historical highs and lows, while others are better to look at short-term.

Sample of Sales Analysis and Explanation

If you need to be more careful when investing in a book, then we'll explain why.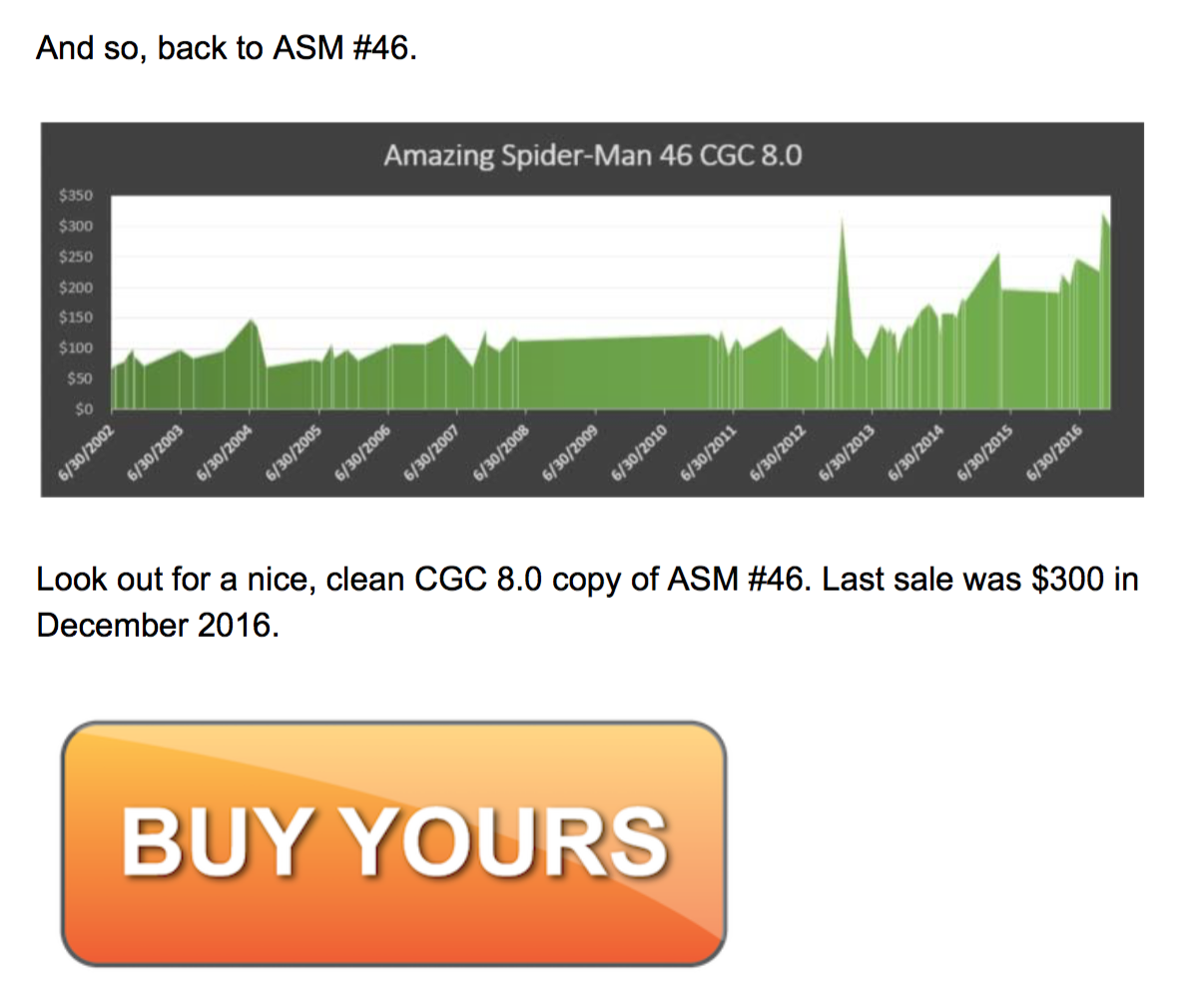 Sample of Sales Data Graphs

Real sales for the grade going back to the early 2000s in most cases.


3 More Reasons to Invest in this Valuable eBook

It pays for itself... Make more than your money back with one successful trade
Stop LOSING money by making random gambles that don't pay off; always pick winners instead of losers

100 percent satisfaction guaranteed. We'll refund your money anytime up to 365 days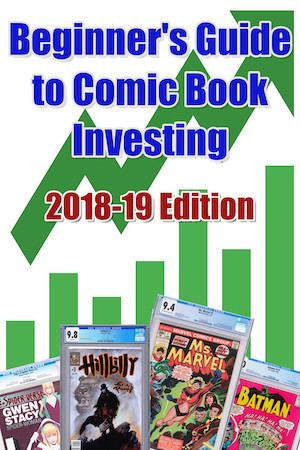 I just finished reading the eBook you wrote and I would like to congratulate you guys on the wonderful work you put together for the comic book investor! Well done!
Angelo P., Canada

Just got through reading my copy of the new ebook "30 Great Comic Book Investments for Newbies" from Sell My Comic Books. I like it. A lot.
It has a lot of good advice on flipping comics and offers a list of good choices to start with. As a starting point it's great.
If you are a business-minded investor I have no doubt you can take this information and turn a profit in no time. BUT, if you are a collector wanting to make money without selling your precious books (Hey, they're MINE. I spent 50 years collecting them and I need them ALL!), you HAVE to leave your collector's mindset at the door.
Overall I'd give this 4 out of 5 stars. Throw in that grading guide for online auctions and some guidance for determining the proper buy and sell point and I'd give it 5 stars.
Luke, USA
NORMAL PRICE: $37


HOLIDAY BONUS PRICE JUST $10!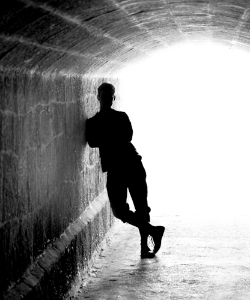 More About the Comic Book Insider

Our trusted advisor, high-up at a major comic book company, the Comic Book Insider must remain anonymous for fear of losing his job.
He's a trusted advisor to Sell My Comic Books.
You can read more about him and what he brings to the table here.

FAQs About This eBook
1) How Many Pages are in the eBook?
75 pages. Each comic book has a two-page analysis (a couple run to three pages). We also include supporting articles, and links to further reading.

2) How Soon Will I Receive my eBook?
We will email it to you immediately after you finish checkout. The email will come from E-Junkie.com.

Didn't get your email? Check your junk or spam folders first, then contact us via email and we'll figure it out.

3) How Can I Find the Books to Invest in?
Each page has links to find the books on eBay. Simply click any comic book image, or use the handy BUY NOW buttons in the eBook.

4) Is This REALLY Worth $37?
Knowledge is power. The info in this eBook took years of research and experience to put together.

Think of it like this. Either you will make $37 or more profit (probably dozens of times over) by following the tips in the eBook... OR...

You will save yourself $37 by NOT buying a bad investment.

This eBook will pay for itself very quickly!

5) What if I Need More Help With Comic Book Investing?
First, we'd strongly recommend you get on our Comic Book Cash mailing list. We publish regular articles about how to make more money by flipping comic books.

Anytime, you can request a free appraisal of any item on eBay. Just use the simple form here.

6) What's the Deal With this Insider Guy?
We cannot reveal his identity because he would lose his job. But we're privileged to have access to one of the finest minds in the comic book industry.

An hour of his one-to-one time (if you could even get him to sit down with you) would cost you $400.

You're picking his brain for less than a buck a tip!

7) What if I am Not Satisfied With My Purchase?
We will refund your money for any reason up to 365 days. Alternatively you can offset the refund against any of our other products.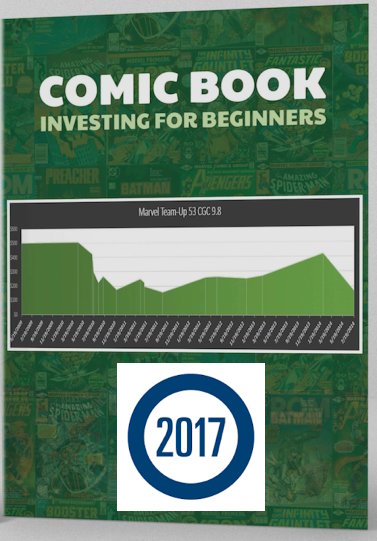 "I have to say that this investment guide was an excellent read.
As an owner of over 20 of the books detailed in this guide, I am grateful for the heads-up on these books.
A few of them I knew I should have graded for sure, but there were several that I just didn't feel were worth sending to CGC.
The information provided has helped me make the decision to send 15 books for grading that I probably would not have sent otherwise.
This guide has helped me to increase the value of my collection with less speculation by myself in regards to which books are worth grading.
As well, it has opened my eyes to a few titles I had never even considered investing in."
Matthew N., USA
NORMAL PRICE: $37


HOLIDAY BONUS PRICE JUST $10!