All-Star Comics #58 Value?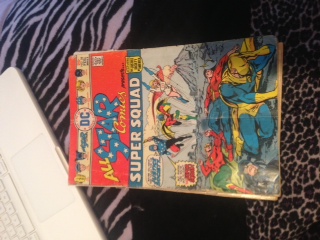 All-Star Comics #58 Value?
All-Star Comics #58 Value?

The bindings are not the greatest but the inside's pretty much intact and it has some wear and tear!

Editor's reply: Thanks for sharing this comic, it's actually weird timing, as I just published an article about All-Star comic book price guide just before you sent it in.

All-Star #3 saw the first Justice Society of America; as if that were not enough, Wonder Woman comics debuted with All-Star #8!

This is an interesting comic, because it is the 'comeback' issue. Golden Age issues of All-Star Comics ended with All-Star Comics #57 in 1951.

All-Star #58 appeared 25 years later in 1976. It marks the return of the Legion, and as such has historical significance in the DC Universe.

That's the good news. The bad news is, your copy is so rough that it has no value except as a reader copy.

Click here to check values for this comic, but I would not expect yours to sell for more than $10 on eBay. Good luck with it!
Join in and write your own page! It's easy to do. How? Simply click here to return to FREE Comic Book Appraisal.