IT'S HERE! Click for the 2021 edition of 100 Hot Comics!
NOTE: We use eBay to provide references to live prices of comic books. Clicking a text link or image marked 'Check live prices' will take you to eBay.

X-Men #100 Value?
by Jasmine Lewis
(Atlanta, GA, US)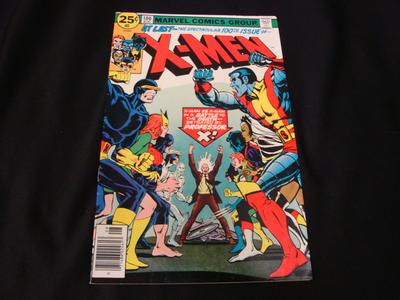 X-Men #100 Value?
X-Men #100 Value?

X-Men #100. HAS VERY TINY CREASES ON THE SPINE.IT HAS A HIGH GLOSS SHINE ON THE FRONT AND BACK COVERS.THE PAGES ARE IN EXCELLENT CONDITION.THE STAPLES ARE TIGHT.THE CORNERS LOOK GOOD.

Editor's reply: Thanks for writing and your patience while I got to your comic book.

It looks in really nice shape, maybe 9.4 or 9.6 with white pages.

You should send it to CGC for grading.

In 9.4 shape it would be worth about $240. In 9.6, it will be worth nearer $400. If it gets the 9.8 grade, over $1,000!

Check the current prices for this issue here.

You can read more about key X-Men comics here. Thanks and send more in soon.
Join in and write your own page! It's easy to do. How? Simply click here to return to FREE Comic Book Appraisal.