Uncanny X-MEN #141 signed by C. Claremont
by Rodrigo Palacios
(California, USA)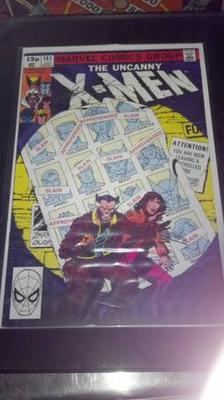 Uncanny X-MEN #141 signed by C. Claremont
Uncanny X-Men #141 signed by C. Claremont

Hi, I have a supposed 'rare' copy from England of Uncanny X-MEN #141. I've been told by other references that the UK price variant of 15p is of importance.

It is also signed by Chris Claremont. It's currently in a frame. I'd say the condition is very fine to near mint.

Editor's reply: No matter what you think about CGC comics, they have added clarity to several issues in the industry. One of those is what to make of signed comic books.

Essentially, a comic book that has ink on the cover is damaged. This seems a ludicrous situation in an industry that has always thrived on putting fans and artists and writers together at conventions.

However, unless a signature is properly witnessed and certified, how does a buyer know it's genuine?

That is what the CGC Signature Series is about. The comic book creator signs a previously-graded book in front of a CGC authentication staffer. They then grade the comic and give it a yellow Signature Series label.

You will definitely find a buyer for your X-Men #141.

It's a hot comic anyway, what with the X-Men Movie Days of Future Past coming out soon.

However, it's very hard to price. UK price variants are collected, but don't turn up very often in graded condition.

I would send yours to CGC for grading and take your chances.

Read more about the value of X-Men comic books here. Thanks for sharing.
Join in and write your own page! It's easy to do. How? Simply click here to return to FREE Comic Book Appraisal.