Tales to Astonish #27 Value? Fair to Good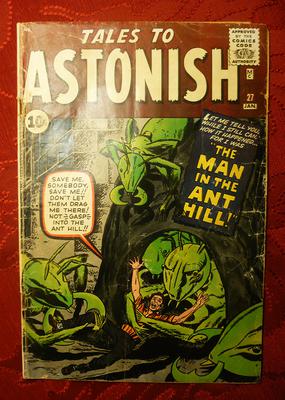 Tales to Astonish #27 Value? Fair to Good condition, with some tears and heavy spine wear
Tales to Astonish #27 Value? Fair to Good

Could you please appraise my copy of Tales to Astonish #27 (1962)?

Editor's reply: Very happy to see this classic book, which is hot property at the moment due to the Marvel Ant-Man movie planned for 2015.

As you can see from the graph below, prices of this book have skyrocketed. As soon as the movie was announced, speculators moved on the books which were available.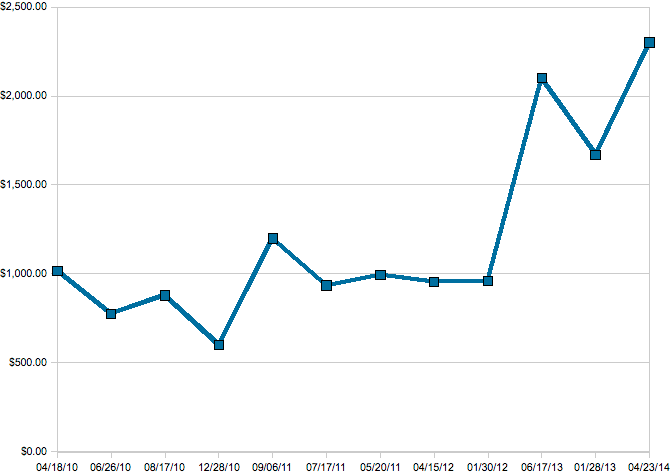 Some old collectors, probably enthused by the new higher value, sold their copies, satisfying initial demand.

But still, these are hard to find in any condition, and it's probably fair to say that Tales to Astonish #27, the first appearance of Ant-Man, was rather under-valued before all the fuss about the movie began.

That's the background. What about your copy of this fine old Marvel comic book?

To me, the big issues with your copy of Tales to Astonish #27 are the spine wear, and what looks like tears into the right front cover edge. It's hard to say for sure because the picture is very small, but I cannot imagine creases ending so abruptly. So I will presume they are tears.

So my best guess of the condition is somewhere in the fair to good range (1.0 to 2.0). Probably 1.5 to 1.8. The book is not missing any pieces, so I'd gamble on it being the upper end of that range, so 2.0. Maybe 2.5 on a good day.

My best guess at the current market value is $400 to $450. Please let us know if you're looking to sell, and good luck! Great old comic book.

Click to read more about Ant-Man comic book values.