Star Wars Comics Values
by Derek Marshall
(Scotland, UK)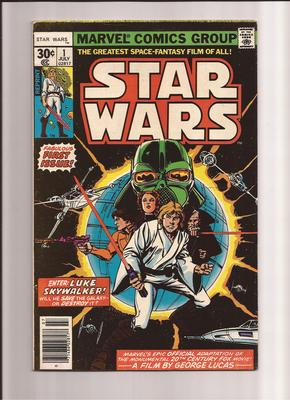 Star Wars Comics Values: #1
Star Wars Comics Values

The editions I have are:
#1(July)Reprint, 3(Sept), 4(Oct), 6(Dec), 39(Sept), 40(Oct), Annual No.2 (1982).
They look to be a mix of US & UK comics as the price on 3 & 4 is 12p.
i can supply more scans if you need them.
Thanks for your help.

Editor's reply: Thanks for sharing these.

The most interesting from a value perspective is Star Wars Comic Annual #2. Even so, it's probably worth only about $10-15.

#1 clearly states REPRINT alongside Luke Skywalker.

#3 and #4 are UK editions. This makes them rarer than the US versions, but nobody really cares unfortunately. Most people want the US originals.

Still, thanks for sharing. Read more about Star Wars comics here.
Join in and write your own page! It's easy to do. How? Simply click here to return to FREE Comic Book Appraisal.