Star Wars #1, 2, 3, 13, 15 Values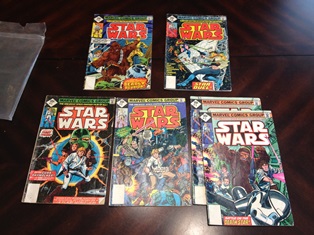 Star Wars #1, 2, 3, 13, 15 Values
Star Wars #1, 2, 3, 13, 15 Values

Star Wars #1

Star Wars #2

Star Wars #3 (2 copies)

Star Wars #13

Star Wars #15

The inside pages have yellowed and there are minor to moderate signs of use on the edges of the cover pages.

Thank you. Brent Sawyer.

Editor's reply: Hi Brent, thanks for writing in.

Sorry to tell you, but the diamond price tag means your Star wars comic books are reprints.

You can also see the word REPRINT just alongside Luke Skywalker's figure near the price area.

These struggle to sell on eBay for a couple of bucks, so you have a nice readable little lot, but not much value.

Check values of reprints here. Thanks for sharing.