Incredible Hulk #2 1962 Value?
by Mel Nielsen
(Bonfield, Illinois, 60913)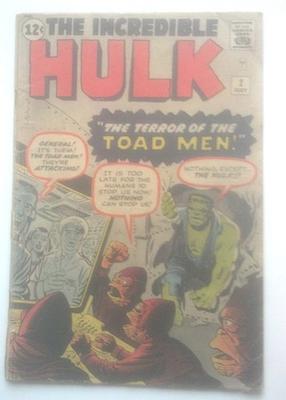 Incredible Hulk #2 1962 Value?
Incredible Hulk #2 1962 Value?

I have just one comic, The Incredible Hulk #2, 1962, "Terror of the Toad Men" which I found at a farm auction in Illinois.

The comic was wrapped in plastic but it still was weathered. The bottom right corner has creases and the bottom left is worn. The left side cover shows signs of wear. A few small tears around the edge.

On the inside front page (see pics) there is a small stamp marking in blue ink with a price 6¢.

Inside pages are cream to white. None of the ads have been clipped and all pages are there. The comic is intact. I would like to sell this comic and give the proceeds back to the family so please send an appraisal, let me know if I can provide any further details.

Editor's reply: Thanks Mel, this is a nice find, and a very decent thing for you to do to resell this on behalf of the owner.

Of all the early Incredible Hulk comic books, there is only one in which the Hulk is not green-skinned. Incredible Hulk #1 is now a very sought-after collectible, and has appreciated a lot in recent years. This has put it out of reach for many collectors.

However, Incredible Hulk #2 1962, this comic, is the first time the hulk was seen with his now-famous green skin. While it's also a very expensive book if in high grade, this kind of condition (poor but complete) makes it affordable for most people.

I was very pleased to pay you $200 for this comic book. I loved reading the Hulk's first green outing, and it will be in my personal collection for many years to come.