Flash Comics #10 Value?
by Chris Stanfill
(Glendale, CA)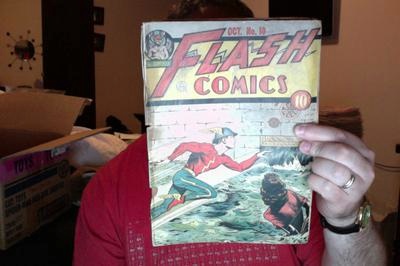 Flash Comics 10 Front
Flash Comics #10 Value?

Fair condition. Somewhat tattered but the cover is complete except for the edges. Looks like someone scribbled a bit with pencil in the top yellow section. All pages are here and still has original staples, but the cover is detached and split down the spine. Back cover is here, but has same pencil scribblings.

Editor's reply: Thanks for sharing this cool old comic book! This is definitely a rare comic, with only 26 graded by CGC in any condition, included restored and qualified examples.

The best of these, which turned up in the Billy Wright pedigree collection, was graded an unbelievable (for Golden Age comics!) 9.8 out of 10, and sold for just over $19,000.

Yours is closer to 1.0 than 10. I think it's probably somewhere in the 1.5 to 2.5 grade range. However, as long as it's complete, that may not really matter.

You might want to get it dry cleaned and pressed prior to grading it. Some of that pencil may come off and improve the eye appeal. (This will not count as restoration, by the way.)

Let's aim for middle ground and say it will obtain a 2.0. That would value it around $300-$400. Not many of these are sold, so that is a rough guesstimate based on a CGC 6.5 selling for $1,100 in May 2013.

Click here to check for current values.

You might get lucky and pick up $500 for it. There are so few to choose from that collectors might bid each other up to get this. A nice find for sure, even in this shape. Thanks for sharing!