IT'S READY! The 100 Hot Comics list is updated for 2020! Be prepared for some BIG surprises...
NOTE: We use eBay to provide references to live prices of comic books. Clicking a text link or image marked 'Check live prices' will take you to eBay.

Fantastic Four Treasury Edition Value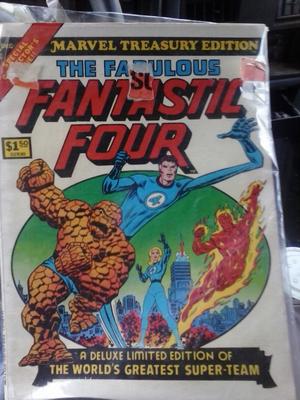 Fantastic Four Treasury Edition Value
Fantastic Four Treasury Edition Value

14 inches by 10 1/4 inches. COLOR TREASURY EDITION. Original price $1.50. 02930 is number under price on the cover.

Editor's reply: Over the years, Marvel, in particular, but also DC, has released over-sized treasury reprints of various key comics, or popular series.

It makes sense to allow fans to catch up on older stories that they might otherwise not be able to find, or afford, or to publish new stories without disturbing the run of the regular edition.

Your comic is Marvel Treasury Edition #2 (click to see them on eBay). It was published in 1974.

These oversized books don't fit into ordinary short or long boxes. They are definitely less popular than their regular-sized peers.

Still, in really top condition, you might get $30 for your comic. Click to see examples for sale now to compare the prices.
Join in and write your own page! It's easy to do. How? Simply click here to return to FREE Comic Book Appraisal.