Fantastic four #4 and #52 Values?
by Kyle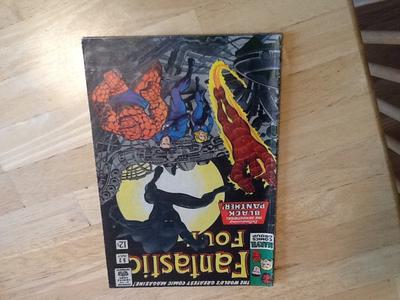 Fantastic four #4 and #52 Values?
Fantastic four #4 and #52 Values?

The comic books are intact and colorful, but sadly the 4 does not have the cover. There is some staining on 4. 52 is in good shape but has a crease down the side of it.

Editor's reply: Thanks for sharing these comics. Fantastic Four comics are among my all-time favorites!

A coverless copy of FF#4 is still worth about $40. You can see values for that comic here (with or without cover). There are lots of collectors who want reading copies and don't mind the lack of a cover.

You may be surprised to learn that Fantastic Four #52 is now a minor key issue. It's the first appearance of the Black Panther, a character that has long been talked about for upcoming superhero movies by Marvel. Wesley Snipes was supposed to play the character, before being typecast as Blade.

It's not in great condition, though complete. The back cover crease and loose-looking cover (around the staples) mean it's probably about a 5.0. Still, at the moment that is a $150 comic book. Check values for Fantastic Four #52.

Thanks for sharing.