Batman the Killing Joke Value?
by Vickie
(MD)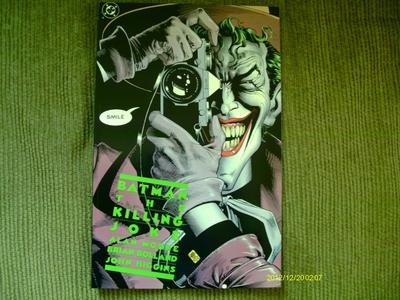 Batman the Killing Joke Value?
Batman the Killing Joke Value?

Never been read no spine stress. kept in plastic with acid free board. No crinkles, wrinkles, discoloration, I can't find any flaws at except slight dent that must have been there all along. Glossy finish is great. Had out of plastic to take pictures only. First print.

Editor's reply: The prices for this kind of Batman comic book TPC (trade paperback) have increased steadily. You'd have to get this graded by CGC to get the best return from it.

The ding is unfortunate. It may restrict the grade to 9.2, 9.4, maybe 9.6. In that grade, your book is worth between $50 and $75. You'd want to be sure of a 9.8 to make it worth grading. Check the current market values here.

Thanks for writing, that's a classic book.