Batman Comic #196 and #197 Value
by mary
(Rohnert Park, CA)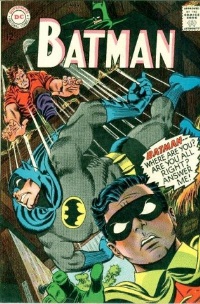 Batman Comic #196 Value: From About $10 to $200
Batman Comic #196 and #197 Value?


Thanks for writing, Mary. Without seeing images of your actual comics, I can't really help you with valuations. Send me another mail with images attached.
However, I can tell you the best and worst news for both the
Batman comic books
.
Batman Comic #196
This is not a special comic at all, being a run-of-the-mill issue.
The best-known copy of this comic book is CGC 9.6 graded (there are two). There have been no reported sales at this grade. However, a CGC 9.4 sold in 2011 for $263.
Check current prices here
.
Batman Comic #197
This issue is a "better" one, being the 4th Silver Age appearance of Catwoman.
There are three known copies graded CGC 9.6. One sold for $2,200 in 2011 (Oakland pedigree).
Check live prices for this comic here
.
Do send me pictures so I can help you properly value these.