Avengers #1 Value?
by Brady Kilpatrick
(San Diego, California, USA)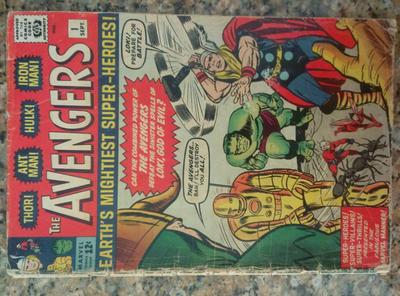 Avengers #1 Value? front cover
Avengers #1 Value?

average to above average shape
some tears on side
no rips
all pages present, attached fully, and together
minor to no discoloration or aging

Editor's reply: Thanks for writing Brady. Always exciting to find a Marvel key in any condition.

This one looks to be somewhere in the 1.5 to 2.0 region. Certainly not average to above average -- complete, but in fair to poor condition.

You can expect this to fetch between $400 and $1,000 depending on the grade CGC gives it.

If you sell it "as is", I would expect you to maybe get $390-500 for it.

Check recent sales here of similar comics to see what I mean.

Nice find.

Read more about Avengers comic values here.
Join in and write your own page! It's easy to do. How? Simply click here to return to FREE Comic Book Appraisal.