Action Comics #7 (Coverless)
by Rob
(Las Vegas, Nevada)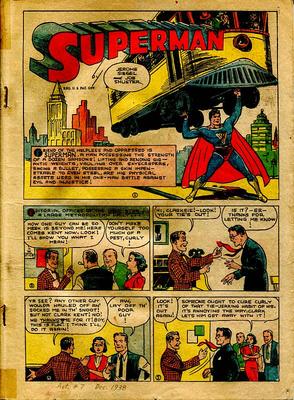 Action Comics #7 (Coverless)
Action Comics #7 (Coverless)

This is a solid, coverless copy in very good condition. There is some spine roll.

Editor's reply: while some people will buy coverless comics -- usually a person who has a badly damaged original with a sound cover, somehow found a loose cover with no contents, or somebody who is trying to rematch a poor copy with a reasonable cover with new contents -- to all extents and purposes, this is a damaged comic book.

Incomplete or coverless comics are only graded 0.5/no grade by CGC.

That's not to say it would not find a buyer. My estimate is it's worth around $300. Good luck if you decide to sell it, and do get in touch if you still have it.