Why New Mutants #98 is a Hot Comic
In case you missed it, the Deadpool movie is out in theaters, and doing really well by all accounts. A good decision to make it an R-rated film instead of trying to broaden the audience...
The value of the two key issue comic books in the New Mutants run has far exceeded the rest of the series. You can break up a run of 1-100, get more money for #98 and New Mutants #87: 1st Cable, (also on the Hot 100) than all the other 98 issues put together.
For years, this book has been confounding the 'experts' who said it could not get any more expensive. There are no fewer than 1,971 copies graded CGC 9.8 alone! (Not to mention ten graded 9.9 and one 10.0.)
However, a ceiling does seem to have been reached. While there are occasional cuckoo sales in the $1200 range, for the most part $800 for a CGC 9.8 seems to be the sticking point. That's what we suggest you buy.
It may be too late though. Although a movie sequel has been planned, the value may all be baked into the price of Deadpool comics. It might be wise to sit on your hands and wait.
NM98 is still almost the hottest book in the world though.
What to Invest In
A clean CGC 9.8 copy of New Mutants #98 is always going to sell easily. Whether it's too late to invest is another matter. Click to buy
Have this book? Click to appraise its value NOW!
Related Pages on Sell My Comic Books
Deadpool Marvel Comics Price Guide
First Appearance of X-Men Villains List
Most Valuable Comic Books of the Modern Age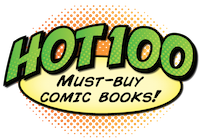 Click to return to the Hot 100 Investment Comic Books menu
Go from New Mutants #98 to the 100 Hot Comics menu
Want to sell, appraise or buy comics online? Start here!