What Are Your Deadpool Comics Worth?
There are very few valuable Deadpool comics. Let's just get that out there from the off. While the character is popular, he simply hasn't been around long enough.
(Article continues below)
---
Get Cash For Your Comic Books!
Is it time to sell? Find out by requesting a
FREE comic book appraisal today.

We'll value your books, and make a Dollar offer
if you want to cash in.

We also pay shipping.

I had a great experience with SellMyComicBooks.com. They were very upfront with me during the process of selling my comics to them.

They were quick to respond to me and give me feedback through the entire experience with them.

I felt very comfortable dealing with them. I would definitely use them again and will refer everyone to them.

Curt, Utah
---
Since this character first appeared in 1991, there aren't any rare comics at all. The condition of modern comic books is so crucial that any tiny fault renders them virtually worthless.
We're getting into nit-picking territory. Seldom do you have to worry if you're dealing with 1960s vintage comic books, but tiny faults on modern comics are the kiss of death for resale values.
However, if you do have key Deadpool appearances in super-fine shape (9.8 or higher), then send us details.
Sell My Comic Books will value them free of charge.
New Mutants #98: First Appearance of Deadpool
This is the only Deadpool regular issue with real value. Remember, it must be in absolutely top condition. Anything with "small faults" is great to have from a reader's point of view, but not worth selling at this point.
New Mutants #98 is the first appearance of Deadpool, and in 9.8 condition (near mint/mint), it's worth about $300. Prices have risen consistently in the past few years. Check current values here

If you happen to have it in mint (9.9) or gem mint (10), then this is a much more valuable comic, but comics in those kind of grades are extremely rare, even in a comic that's just over 20 years old.
The last 9.9 graded copy sold for around $4,000. That's 12+ times the 9.8 condition!
Get in touch to have your copy of New Mutants #98 valued.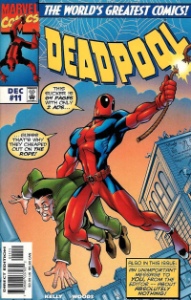 Other Appearances of Deadpool
Unless you have 9.9 or 10-rated copies of these other issues, CGC Signature Series, or some other special edition, there really is not a lot of value in any other Deadpool comics.
Deadpool appeared in a self-titled four-issue run from 1993.
Another four-issue series appeared in 1994.
The longest run was a series started in 1997. It ran until 2002. Issue#1 in 9.8 condition is worth about $85.
It's really too soon to get excited about Deadpool. New Mutants #98 continues to rise in value. Maybe it will be the Incredible Hulk #181 of the future...
Certainly you've got a good return if you bought it for cover price in 1991.
Why This Guide is AWESOME for Wannabe Comic Investors

If you have either tried (and failed) to make money flipping comic books, or are frustrated by the huge array of choice out there, then this is the eBook for you.

It's packed with 32 in-depth analyses of easy-to-buy and sell comic books from the Bronze to Modern ages.

These are titles we have personally made a lot of money buying and selling. So can you.

Make more than your money back with your first successful trade (or by NOT buying a losing book!).

If you are not completely satisfied, we have a 365-day money-back guarantee.

Click to read more, or order your copy today!
(article continues below)
---
Join Our FREE Comic Book Cash Newsletter!
It's packed with advice on how to make more money
when you buy and sell comic books (click for back issues and more info).

---
More of our Comic Price Guides
Deadpool Comics to Marvel Comics characters
Find out the value of other Marvel Comics superheroes, including Iron Man, Avengers, Thor, Marvel Mystery comics and many more.

The Walking Dead Comics Values
The hottest modern book, Walking Dead has rocketed in value in recent years. Find out what your issues are worth, including #1, #100 variants, and #35 error variant

Comic Book Price Guides
How do you value your comic book collection? We look at all the ways to assess your collection's worth, including online resources and books, or get yours appraised free by Sell My Comic Books.
Find out the value of your vintage comic books at
Sell My Comic Books!